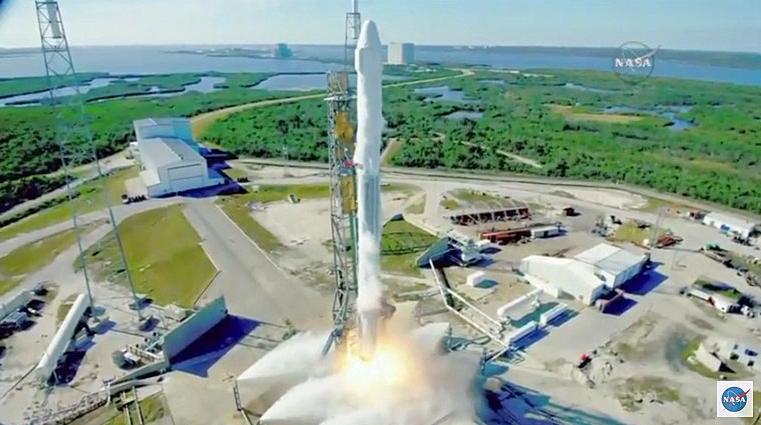 SpaceX supply ship lifts off from launch pad rebuilt after explosion
A previously-flown SpaceX Falcon 9 rocket carrying a "used" Dragon cargo ship loaded with 4,800 pounds of equipment bound for the International Space Station blasted off from Cape Canaveral Friday, the first flight off a launch pad that was virtually destroyed when another Falcon 9 booster exploded on the ground last year.
In a now-familiar but still thrilling sight, the rocket's first stage, which first flew in June to help launch another station cargo flight, flew itself back to a pinpoint landing at the Cape Canaveral Air Force Station seven-and-a-half minutes after launch. It was the California rocket builder's 20th successful booster recovery over the past two years and its eighth on land.
But the primary goal of the flight was to boost a Dragon cargo ship into orbit carrying needed supplies and equipment to the space station, presumably including Christmas gifts for the crew. And the rocket did just that, releasing the supply capsule into the planned preliminary orbit 10 minutes after liftoff.
If all goes well, the Dragon will reach the space station early Sunday, pulling up to within about 30 feet and standing by while astronauts operating the station's robot arm lock onto a grapple fixture. From there, the cargo ship will be pulled in for berthing at the Earth-facing port of the station's forward Harmony module.
The launching Friday was the first by NASA using a previously flown booster and only the second using a "flight proven" Dragon cargo ship. Recovering, refurbishing and relaunching booster stages is a key element of SpaceX founder Elon Musk's drive to lower launch costs.
Equally important to SpaceX, Friday's launch was the first off pad 40 at the Air Force station since a Falcon 9 exploded five minutes before an engine test on Sept. 1, 2016, destroying that rocket and its $200 million satellite payload and virtually wiping out the launch complex and its systems.
In the wake of the mishap, SpaceX rushed to complete modifications to historic pad 39A at the nearby Kennedy Space Center, launching 16 successful flights in a row -- 12 from the Florida spaceport and four from Vandenberg Air Force Base, Calif., before Friday's return to launch complex 40.
SpaceX needs both East Coast launch pads to fly off a backlog of satellites in its $10 billion manifest. The company plans to use complex 40 primarily for civilian and military payloads and to launch space station crew and cargo missions from pad 39A.
It also plans to use the repurposed NASA pad to launch the Falcon Heavy, made up of three Falcon 9 core stages strapped together. The booster, which will generate 5.1 million pounds of thrust at liftoff, is scheduled for its maiden flight in January.
SpaceX spent about $50 million rebuilding pad 40, modernizing its systems and beefing up its ability to withstand extreme weather.
"Instead of just rebuilding the pad as it was, we wanted to modernize it," Jessica Jensen, SpaceX manager of Dragon operations in Florida. "Basically, we wanted to take a 10-year-old pad and make it high tech."
The rebuilt pad now features more sensors and "a lot more computer control," she said. "What that means is we have ... a much more reliable pad for safer missions."
Running 10 days late because of work to finish pad preparations and to carry out additional inspections of the rocket, the Falcon 9's nine Merlin 1D first-stage engines ignited with a burst of flame at 10:36:09 a.m. EST (GMT-5), quickly pushing the vehicle away from launch complex 40.
Generating 1.7 million pounds of thrust, the rocket quickly accelerated, knifing through low clouds and arcing away to the northeast as it climbed directly into the plane of the space station's orbit.
Two minutes and 21 seconds later, after climbing out of the dense lower atmosphere, the first stage engines shut down and the stage fell away. The single engine powering the rocket's second stage then ignited to continue the push to space, its nozzle glowing bright red as it heated up.
The first stage, meanwhile, flipped around and restarted three of its nine engines to reverse course back toward the Air Force Station. The engines fired up again just before atmospheric entry, slowing the booster down to ease aerodynamic stress.
Computer-guided titanium "grid fins" at the top of the stage helped steer the rocket back toward the launch site, maintaining the proper tail-first orientation.
Finally, dropping like a stone toward Landing Zone 1 at the Air Force station, a single engine restarted, four landing legs extended and the booster settled to a smooth touchdown on a circular pad known as Landing Zone 1.
Two minutes later, the Dragon was released from the Falcon 9's second stage.
Packed in the capsule's pressurized compartment are nearly 1,000 pounds of crew supplies, nearly 2,900 pounds of science material, spacewalk equipment, space station hardware and computer components. Among the experiments is one sponsored by beer-giant Budweiser to learn more about how microgravity affects barley seeds.
Mounted in an unpressurized "trunk" section are two external science packages, one to measure how much solar radiation Earth receives and another to help characterize the space debris environment.
SpaceX holds contacts valued at more than $2 billion for 20 space station resupply flights -- this was No. 13 -- and a subsequent contract covering another six cargo missions. SpaceX is building a piloted version of its Dragon capsule to ferry astronauts to and from the station under a separate $2.6 billion contract.
Friday's Dragon launch came one day after three space station crew members -- Soyuz MS-05 commander Sergey Ryazanskiy, NASA flight engineer Randy Bresnik and Italian astronaut Paolo Nespoli -- landed on the steppe of Kazakhstan to close out a 139-day mission.
The Dragon's arrival at the station Sunday will come about two hours and 15 minutes after launch of a Russian Soyuz spacecraft from the Baikonur Cosmodrome in Kazakhstan, at 2:21 a.m. EST, carrying three fresh crew members to the lab complex.
Soyuz MS-07 commander Anton Shkaplerov, NASA flight engineer Scott Tingle and Japanese astronaut Norishige Kanai are scheduled to dock at the station's Rassvet module early Tuesday. They will join Expedition 54 commander Alexander Misurkin and NASA astronauts Mark Vande Hei and Joe Acaba.
Thanks for reading CBS NEWS.
Create your free account or log in
for more features.