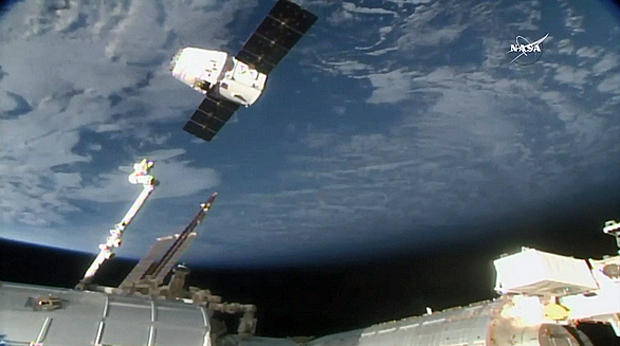 Station cargo ship brings science down to Earth
A SpaceX Dragon cargo ship loaded with 4,100 pounds of experiment samples, trash and no-longer-needed equipment departed the International Space Station early Saturday and returned to Earth. It splashed down in the Pacific Ocean west of Baja California to close out a 29-day stay in orbit.
The automated Dragon capsule was detached from the Earth-facing port of the station's forward Harmony module Friday and released by the lab's robot arm at 4:58 a.m. ET Saturday. After moving a safe distance away, the spacecraft's thrusters fired at 9:43 a.m., lowering the far side of the orbit deep into the atmosphere.
After enduring the blazing heat of re-entry, the Dragon's parachutes unfurled and the spacecraft settled to on on-target splashdown west of Baja at 10:37 a.m. It was the capsule's second flight to and from the station and SpaceX's 13th operational resupply flight overall.
A SpaceX recovery crew was standing by in the landing zone to collect the cargo craft and haul it back to Long Beach, Calif., where high-priority science samples will be removed and delivered to researchers. The Dragon then will be shipped to SpaceX's McGregor, Texas, test facility for final processing.
Launched from the Cape Canaveral Air Force Station on Dec. 15, the Dragon carried 1,000 pounds of crew supplies to the station and nearly 2,900 pounds of science material, spacewalk equipment, space station hardware and computer components.
Mounted in an unpressurized "trunk" section were two external science packages, one to measure how much solar radiation Earth receives and another to help characterize the space debris environment.
After it was attached to Harmony, the station crew unpacked the cargo and replaced it with trash and other no-longer-needed gear, along with high-priority biological experiment samples including a batch of live mice used to test a new drug delivery device.
Fiber optic filaments produced in the microgravity environment also were on board, along with a variety of other experiment results.
Supplies and equipment are delivered to the space station by Russian Progress cargo ships, Japanese HTV vehicles, Orbital ATK's Cygnus capsule and the SpaceX Dragon. But only the Dragon is designed to survive re-entry and carry material back to Earth.
SpaceX holds contacts valued at more than $2 billion for 20 space station resupply flights -- this was no. 13 -- and a subsequent contract covering another six cargo missions. SpaceX is building a piloted version of its Dragon capsule to ferry astronauts to and from the station under a separate $2.6 billion contract.
The company plans three more cargo delivery missions this year with the next NASA launch on tap April 2.
SpaceX plans a variety of commercial flights before then, along with the maiden launch of the company's powerful new Falcon Heavy booster, made up of three strapped-together Falcon 9 core stages, with a combined 27 engines, and a single-engine upper stage.
When it takes off on its maiden flight later this month, the Falcon Heavy will be the most powerful rocket in the world, generating some 5.1 million pounds of thrust at liftoff. The Heavy is currently at pad 39A at the Kennedy Space Center undergoing tests before an initial engine test firing as early as Monday.
Thanks for reading CBS NEWS.
Create your free account or log in
for more features.