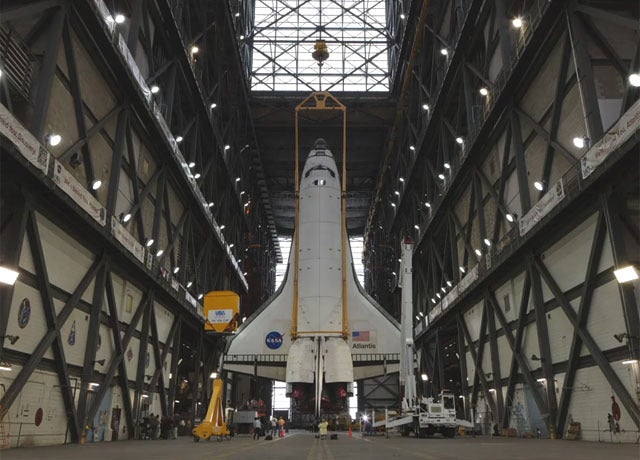 Space shuttle Atlantis rolls to retirement
By dawn's early light, the shuttle Atlantis was hauled out of the cavernous Vehicle Assembly Building for the last time Friday, rolling not to the launch pad but to the spaceport Visitor Complex 10 miles away where it will go on public display next year, the last of the iconic winged orbiters to make the transition to Earth-bound museum duty.
Mounted atop a 76-wheel transporter, Atlantis was slowly rolled out of the VAB starting at 6:30 a.m. EDT (GMT-4), cheered on by a crowd of several hundred spaceport workers, a throng of reporters and photographers and the ship's last crew.
Commander Christopher Ferguson, pilot Douglas Hurley, flight engineer Rex Walheim and Sandra Magnus watched Atlantis' final rollout with a mixture of emotions. They were on board when Atlantis blasted off on NASA's 135th and final shuttle flight on July 8, 2011.
"It's great to see Atlantis again," said Ferguson, who now works for Boeing. "Strange to see it horizontal in the VAB. My opinion is it looks better vertically! ... But it's got a new role. The visitor's center here is going to be gorgeous, that's a very fitting display."
The long-awaited move marked the last time a space shuttle would be seen in motion, following similar museum runs for the prototype shuttle Enterprise, now on display at the Intrepid Sea, Air & Space Museum in New York City; the shuttle Discovery, on display at the Smithsonian Air & Space Museum's Steven F. Udvar-Hazy Center at Dulles International Airport outside Washington; and the shuttle Endeavour, which was hauled through the streets of Los Angeles last month to the California Science Center.
"I went to see Discovery at the Smithsonian, which was great, but I walked in and that first look was like, 'oh, this doesn't belong here, this belongs in space!'" said Magnus, now the executive director of the American Institute of Aeronautics and Astronautics.
"But it was really neat to stand there and look at all the people, they were all excited to see the space shuttle and there were conversations going on and I passed parents who were pointing out things to their kids. And that was really neat, to see people appreciating them they way they need to be appreciated."
Ferguson agreed, saying he believes space exploration "is an important thing to most of the American public."
"It epitomizes our global commitment to exploration," he said. "I think a lot of folks are a little disappointed that we're not quite out there as we used to be. There are going to be budgetary challenges for a few years. Politically right now it's not one of those things that is up there where I think we'd all like to see them.
"So that'll be a challenge for this administration, whatever the next administration is, to make sure we retain our global commitment to low-Earth orbit and beyond low-Earth orbit."
For its final journey, Atlantis was slowly hauled down State Road 3 to the Kennedy Space Center industrial area, preceded for the final few hundred feet by the Merritt Island High School color guard and the Titusville High School marching band.
Spaceport personnel, former astronauts, shuttle workers and their families turned out in force to take pictures and share memories before a ceremony to officially turn Atlantis over to the Kennedy Space Center Visitor Complex.
"You allowed us to proudly operate shuttle for an absolutely incredible three decades," NASA Administrator Charles Bolden told the crowd. "That same pride and dedication in today's KSC workforce will send us to new destinations, like an asteroid, Mars, once again launching from right here. With your exceptional support, we'll restore those awe-inspiring moments of human spaceflight for the next generation of explorers."
The transport team then began hauling the shuttle to a research park just outside the Kennedy Space Center to give the public a chance to see the orbiter. The Visitor Complex charged up to $90 a ticket for an up-close look at Atlantis -- nearly twice the normal price of admission -- and several thousand were expected to be on hand.
Late Friday, accompanied by an early evening fireworks display, Atlantis was to be rolled into a new $100 million display facility that is still under construction.
"Overall, It's a long day, it's a six-to-six kind of day," said Tim Macy, director of project development and construction for Delaware North, the operator of the spaceport Visitor Complex. "The orbiter is on what we call the OTS, or the orbiter transport system. We like to call it the Ferrari of the OTS family, it runs at a breakneck speed of about 2 mph. So we've got to cover that 9.8 miles in that time. It gives us a chance to stop a couple of times and have these events."
To get the shuttle from the VAB to the Visitor Complex, 120 light poles were taken down, along with 23 traffic signals and 56 traffic signs, a relatively straight-forward task compared to the logistical challenges faced by the California Science Center when it moved Endeavour through the streets of Inglewood and Los Angeles.
But that doesn't mean Macy and his team took Atlantis' move lightly.
"It's only a priceless artifact driving 9.8 miles and it weighs 164,000 pounds," he said. "Other than that, no pressure at all! Only the eyes of the country and the world and everybody at NASA who's watching us.
"Of course we feel pressure," he said. "But we've been planning this a long, long time. We've got the smartest people who work on this orbiter, it's not like it's Tim and his buddies out here loading this up. We're using the expertise at NASA and USA (United Space Alliance), they've worked on the orbiter for 35 years."
Once the shuttle is in place, construction crews will begin closing in the display building. Next week, the orbiter will be raised up slightly, its landing gear will be lowered, and the transport vehicle will be backed out. Support beams will be attached and the following week, the landing gear will be stowed for good.
At that point, Atlantis will be wrapped in plastic to protect it from the construction environment while the building is completed. The orbiter eventually will be jacked up 36 feet and tilted to one side with both payload bay doors open and its KU-band antenna deployed. The idea is to present the shuttle as it appeared in space.
"When the guests come to see the orbiter, their first look, their feet will basically be at the same height as the open bay doors," Macy said. "So you'll be able to look into the open bay of the orbiter. You'll be able to go down a ramp and you'll be able to walk below the orbiter and see the tiles up close. Except for the structure that's holding it up, there's no (problem) to see the whole orbiter from top to bottom."
The display is scheduled to open in July 2013.
Thanks for reading CBS NEWS.
Create your free account or log in
for more features.