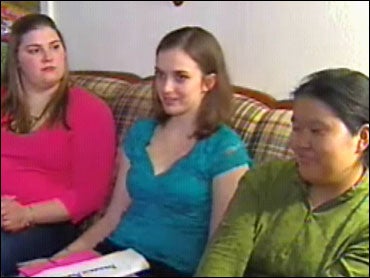 Sorority Accused Of Being Skin Deep
A national sorority's decision to dump two-thirds of the sisters in one of its Indiana houses — possibly because of their looks — is getting national attention and a review from the school of its sororities and fraternities.
The New York Times reported Sunday that national officers of Delta Zeta were worried about a negative stereotype and declining membership in its DePauw University chapter in Greencastle, Ind.
Thirty-five sisters were interviewed in November, and 23 were deemed insufficiently committed to the sorority and recruitment. Just before final exams in December, they were told to leave.
They included every woman who was overweight as well as the only black, Korean and Vietnamese members. Even the chapter's president was kicked out. The 12 who remained were slim and conventionally pretty.
"There's no proof of that but when I look around I think to myself, it had to have been" about looks, former sorority member Celeste Gossmann told CBS affiliate WISH-TV.
Six of the remaining sisters quit in protest.
"Virtually everyone who didn't fit a certain sorority member archetype was told to leave," Kate Holloway, a senior who withdrew from the chapter during its reorganization, told The Times. "I sensed the disrespect with which this was to be carried out and got fed up."
The last straw for Holloway was a recruiting event in November for DePauw freshmen, for which "blond" and "skinny" sorority members from Indiana University were brought in, she told the Indianapolis Star, for which she has worked as a reporting intern.
Some of the booted sorority sisters withdrew from classes in depression. There have been student protests, outraged letters from alumni and parents, and a faculty petition calling the sorority's action unethical.
"None of us signed up for a sorority judging us on how we looked," Gossmann told WISH.
As a result, DePauw has revised standards for student groups and adding three employees specifically to work with fraternities and sororities, which draw nearly three-quarters of the student body, reports the Star.
The other six sororities on campus have about 100 members each, and Holloway told the Star that the Delta Zeta sisters never ignored the lagging membership.
When a psychology professor at the school surveyed students, they described Delta Zeta sisters as "socially awkward."
Although it declined interview requests, the sorority did fire back.
"Delta Zeta finds it offensive that recent reports have suggested that decisions at DePauw University were related in any way to our members' races and nationalities," the sorority said in a statement on its Web site. In e-mail to The Times, national executive director Cynthia Winslow Menges said the sorority "is saddened that the isolated incident at DePauw has been mischaracterized."
But the sorority also seems to admit it may have made a mistake.
"With a steady decline in membership in the Delta Chapter over several years, the viability of the chapter was in question. In the process of addressing that situation, we misjudged how some of our communications would be received by our members, and we regret that," the statement said.
Cindy Babington, DePauw's dean of students, told WISH the school had nothing to do with the decision to evict the 23 students from the sorority house, and she hopes it doesn't reflect poorly on DePauw.
"I think at this point, we're getting an awful lot of unpopular publicity," Babington told the Star. "I don't know how or if they will survive this."
During rush activities this month, The Times reported, 11 first-year students accepted invitations to join Delta Zeta, but only three have sought membership.
Delta Zeta isn't the only problem in DePauw's Greek system. Three fraternities have been on probation in as many years for hazing, university officials said.
The university has drawn up new "living standards" for fraternities and sororities, which includes a provision to prevent another incident such as what happened at Delta Zeta. The specific proposals, which DePauw's trustees are expected to approve in April, were not made public.
"It really was a statement of wanting our Greek system to be stronger," Babington told the Star. "Many other schools, small schools particularly, have let their Greek systems self-destruct, and we didn't want to let that happen."
Delta Zeta has 165 chapters and is headquartered in Oxford, Ohio. It was founded in 1902 at Miami University there. The DePauw chapter was founded in 1909.

Thanks for reading CBS NEWS.
Create your free account or log in
for more features.