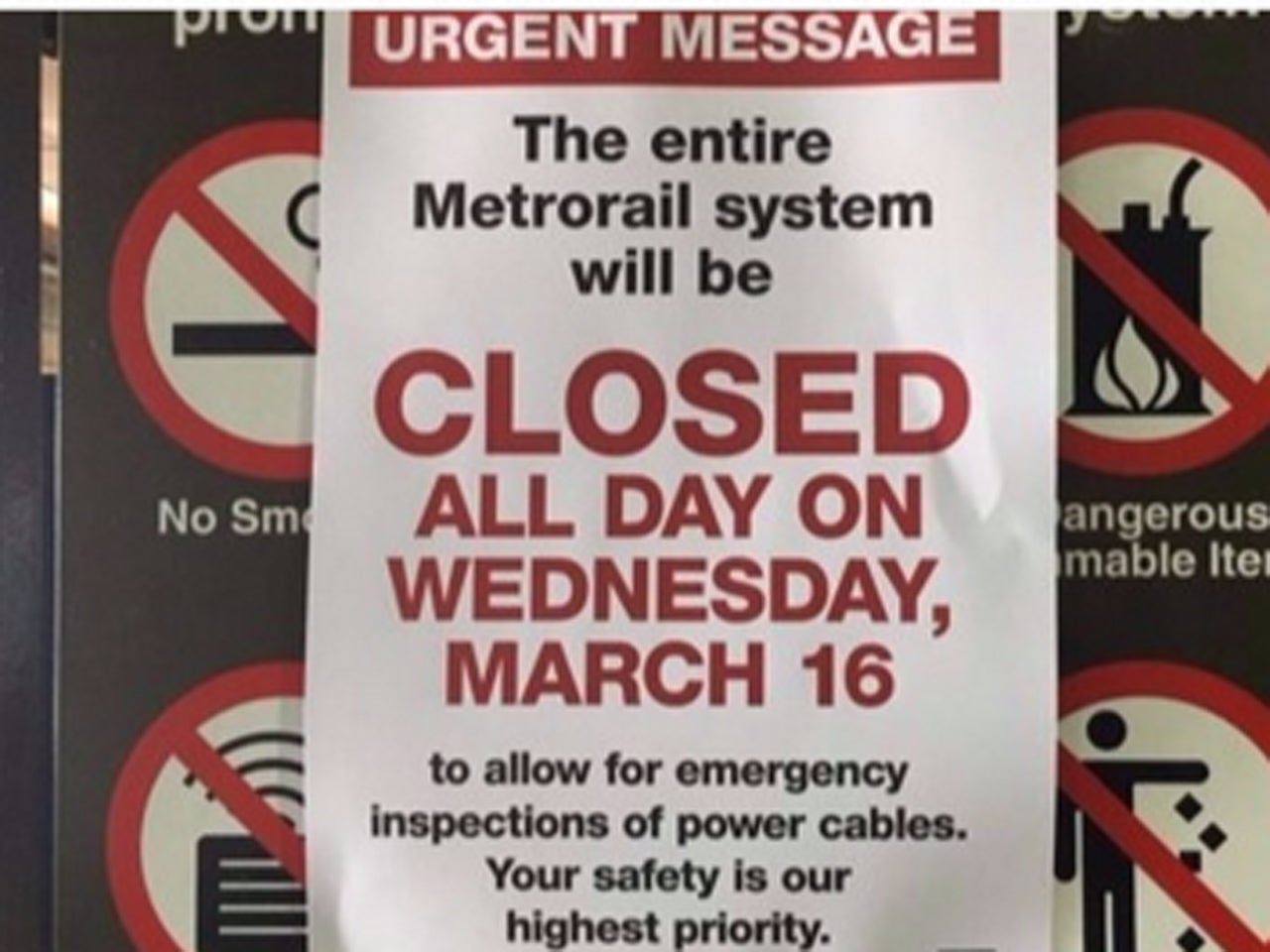 Some cynicism as Washington D.C. Metro shutdown ends
WASHINGTON -- Commuters in the nation's capital were returning to their regular routines Thursday morning after an unprecedented daylong shutdown of the Washington subway system.
Or hoping to.
But the problems that led to the closure won't be fixed so easily and will continue to cause headaches for riders, some of whom have already abandoned the aging system because of safety and reliability concerns.
CBS Washington, D.C. affiliate WUSA-TV spoke with many commuters who weren't confident things would go smoothly as the system restarted.
The Metro transit system tweeted word of the end of the shutdown:
In all, it lasted some 29 hours.
It was ordered to enable workers to inspect 600 third-rail power cables throughout the Metro transit system. An electrical fire on the tracks Monday, similar to one that killed a passenger last year, raised grave safety concerns, Metro General Manager Paul Wiedefeld said.
The inspections revealed 26 areas of concern requiring replacement or repair, Wiedefeld said, including three he called "show-stoppers." Most of the issues were fixed during the closure, but Wiedefeld said the next step was to understand why the problems occurred.
The system said in a statement late Thursday that, "Investigators are reviewing the history of the damaged boots and cables, and all findings will be shared with Federal Transit Administration (FTA) and National Transportation Safety Board (NTSB). Investigators will then review inspection records, age of materials and maintenance records to identify any procedures that were not followed or standards that were not met."
Riders take more than 700,000 trips on Metro trains every day because it's still a convenient way to get downtown from Maryland, Virginia and the city's outer neighborhoods. But the system has become less reliable and ridership has declined.
Many riders shrugged off the closure, saying it's what they've come to expect.
One popular Twitter feed about the system, unsuckdcmetro, was running a poll on whether the shutdown would solve "Metro's flaming cables problem." Thousands voted, with more than three-quarters saying no.
"Metro sucks," said Bob Jones, 26, of Arlington, Virginia, as he waited for a bus. The subways are "always slow, always crowded," he complained.
Members of Congress representing the region are also getting fed up. Rep. Gerry Connolly, a northern Virginia Democrat, said in a statement that federal and regional leaders must commit to providing the funding and oversight needed to improve Metro. But he also said some high-level managers need to be fired.
"Those responsible for allowing these issues to languish should step down or be removed," Connolly said.
Wiedefeld, who took over in November after running the Baltimore-Washington airport, acknowledged in a public letter this month that the agency must "improve safety and security, deliver more reliable service, and continue reforms to get our financial house in order."
The system has closed for days for weather, but this was believed to be the first shutdown for mechanical reasons.
Delayed trains, closed escalators and other annoyances have become frequent, but the Metro has had deadly accidents as well, including a 2009 collision between two trains that killed nine people. Last year, a passenger died when malfunctioning electrical equipment filled a train with smoke. Monday's fire was "disturbingly similar," Wiedefeld said in a statement. No one was hurt because it occurred before the system was open.
Michaun Jordan, 51, appreciated Metro's caution.
"At first I was a bit disappointed. Then I thought about it - it's best to be safe," said Jordan, who took a $15 taxi for part of her commute that is normally a far cheaper rail ride.
Leander Talley, 52, who lives in Dale City, Virginia, and works in Alexandria, wasn't surprised by the shutdown.
"I kind of figured it would happen because of all the problems they've been having, but not on such short notice," said Talley, who woke up an hour and a half early to get a head start on a grueling commute, saying he had to "catch five buses."
Federal workers were encouraged to take the day off or telecommute. District of Columbia public schools, which don't have dedicated buses, said tardiness and absences would be excused. Motorists slogged through a busy morning rush hour, and a city official said more than 500 people signed up for a free 24-hour bike-sharing membership.
U.S. Transportation Secretary Anthony Foxx told a Senate Committee on Wednesday that he has directed the Federal Transit Administration to identify any federal grants to the Washington Metro with unspent money and redirect that money to improve safety.
In addition to the electric cables, Foxx said he is concerned about red-light running, the use of emergency brakes and track integrity. "The culture down there has to change and we can't enable these safety failures any longer," he said.
Thanks for reading CBS NEWS.
Create your free account or log in
for more features.