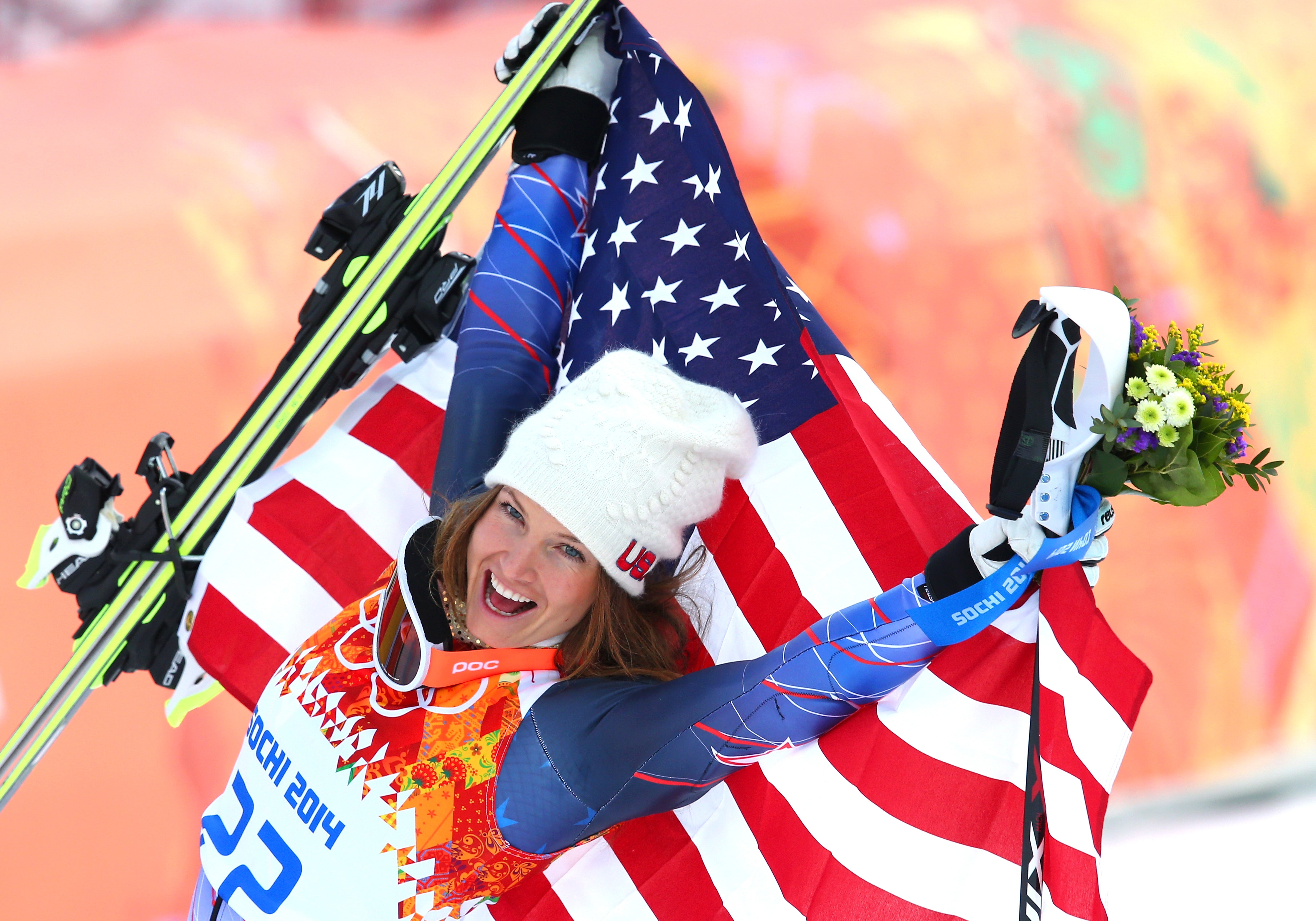 Julia Mancuso of U.S. wins bronze in super-combined
KRASNAYA POLYANA, Russia -- Maria Hoefl-Riesch won her second straight Olympic super-combined title Monday, and American Julia Mancuso won the bronze.

The German skier won her third Olympic gold medal in only her sixth Olympic race Monday, using her slalom skills to surge ahead of her rivals and take the super-combined title.

"It's unbelievable. Of course, I was the big favorite for today," said Hoefl-Riesch, who retained her Olympic title in an event designed to test the best all-around skier. "But I had some problems on the downhill course."


Those problems left her in fifth place in the morning downhill, putting her more than one second behind Mancuso's inspired run. But the defending Olympic champion in slalom overcame the time difference in the afternoon and finished 0.40 seconds faster than silver medalist Nicole Hosp of Austria.

Mancuso, who rarely skis slalom, battled down to finish third, 0.53 behind Hoefl-Riesch's two-run winning time of 2 minutes, 34.62 seconds.

Mancuso punched the air with her right fist after seeing she had won her fourth career Olympic medal in Alpine skiing. No other American woman has won more than two.

"I really thought I was blowing it in slalom," Mancuso said. "I had a great downhill run and knew there was nothing to lose."

Now on the cusp of her 30th birthday, Mancuso told CBS News last month that at this point in her career, skiing is "99 percent mental" and she feels stronger and healthier than ever.


"I'm definitely surprised that I'm sitting here now … and I'm doing the same thing I did as a kid – dreaming about the Olympics," she said, "I didn't know I'd be doing it for so long and I still feel like a kid."

Hoefl-Riesch is now poised to make Alpine history at the Sochi Olympics. With her third career gold medal, she is only one behind all-time leaders Kjetil Andre Aamodt of Norway and Janica Kostelic of Croatia.

"I don't think about records so much," said the 29-year-old Hoefl-Riesch, who missed the 2006 Turin Olympics because of injury. "If it happens, it's great. I'm not looking on this."

Full Olympics coverage at CBSSports.com


Hoefl-Riesch can match the retired greats on Wednesday in the downhill, an event in which she has three World Cup wins this season. She is also the current overall leader on the circuit.

On Monday, Hoefl-Riesch stood in the snow at the finish area to watch as Mancuso slalomed through the gates in the second leg. When the American's time flashed up on the giant screen, Hoefl-Riesch let her skis fall to the ground and then turned to face fans in the grandstand, placing her hands on her head then kneeling on the snow.

Mancuso celebrated Monday's bronze more vigorously than Hoefl-Riesch toasted her own gold.


Mancuso pumped a fist. She jumped in the air. She shimmied on the podium during the flower ceremony.


"The first thing that went through my head is, 'See?! I CAN do it!' If you really believe, if you really, really believe, and if you're really, really positive, and if you just put it out there and go for it all the time, then good things will happen," Mancuso said. "And that was cool."


Hoefl-Riesch's victory matched Kostelic's back-to-back Olympic combined titles in 2002 and 2006. The Croatian won the traditional version, which includes two slalom runs.

Mancuso's Olympic tally includes two medals in super-combined, a gold in giant slalom from the 2006 Turin Olympics and a silver in downhill from the 2010 Vancouver Games.

She raised her level on the biggest stage again in the first of five women's events despite having a best result of only seventh on this season's World Cup circuit.

"It just brings that extra bit on intensity," said Mancuso, who also has five career world championship medals.

The event, which tests racers' all-around ability to be fast and technically correct, proved challenging, especially on a steep slalom track lit by floodlights on a cloudy afternoon.

Four of the 10 fastest downhill racers failed to get down the slalom, including Lara Gut of Switzerland, who had been second behind Mancuso.

One pre-race favorite for a medal, Marie-Michele Gagnon of Canada, crashed in the slalom and appeared to injure her left wrist

Elsewhere in Olympic competition on Monday:

ICE HOCKEY: The United States all but punched their ticket to the semi-finals of the women's ice hockey competition with a routine 9-0 triumph over Switzerland.

Much as they did in their opening game against Finland, the second-ranked U.S. team dominated throughout and started to run away with it when two goals in an eight-second span of the first period made it 3-0. Hilary Knight, who scored less than a minute into the game against Finland, had a goal and an assist versus Switzerland.


___

SHORT TRACK SPEEDSKATING: At the Olympic Park, Charles Hamelin of Canada raced to the 1,500-meter short track speedskating gold, and Viktor Ahn earned the bronze to give Russia its first-ever short track medal; Michel Mulder of the Netherlands earned the 500-meter speedskating gold; and Martin Fourcade won the 12.5-kilometer biathlon pursuit. At 29, Hamelin was the oldest skater in the first final of the short track competition. The wily veteran maintained a top-three position throughout most of the 14-lap race, leaving enough at the end to defeat a loaded field, including Ahn and silver medalist Han Tianyu of China. Ahn was a three-time gold medalist for his native South Korea, but after missing the Vancouver Games he changed his name and became a Russian citizen. When he stepped on the medals podium, the mostly Russian crowd erupted in wild cheers.

___

SPEEDSKATING: Michel Mulder of the Netherlands earned the 500-meter speedskating gold. Mulder's 500-meter speedskating victory earned him the title of fastest man on skates. Teammate Jan Smeekens was 0.01 seconds behind for silver, and twin Ronald Mulder took bronze in a Dutch sweep.

___

BIATHLON: Martin Fourcade won the 12.5-kilometer biathlon pursuit. Fourcade's win earned France its first medal. Ondrej Moravec of Czech Republic took the silver, and Jean Guillaume Beatrix of France earned bronze. Ole Einar Bjoerndalen of Norway finished fourth, missing out on a record 13th Winter Olympic medal.


___


MOGULS: Canada's Alex Bilodeau defended his gold medal in Olympic men's moguls on Monday night, fending off rival Mikael Kingsbury to become the first freestyle skier to win consecutive Olympic titles. Bilodeau put together a perfect run in the finals to make history, posting a score of 26.31 on the slushy Rosa Khutor Extreme Park course in the medal round. Kingsbury endured a slight form break in the middle of his run and ended up with silver. Alexandr Smyshlyaev of Russia took bronze.

___

CURLING: In a heavyweight matchup between two favorites for the women's curling gold medal, Sweden defeated Britain 6-4. Also, Canada routed 2010 bronze-medalist China 9-2 in a shortened game that was conceded because of the huge differential. Switzerland beat the United States 7-4 and Russia topped Denmark 6-4 in other first round-robin games.




Thanks for reading CBS NEWS.
Create your free account or log in
for more features.