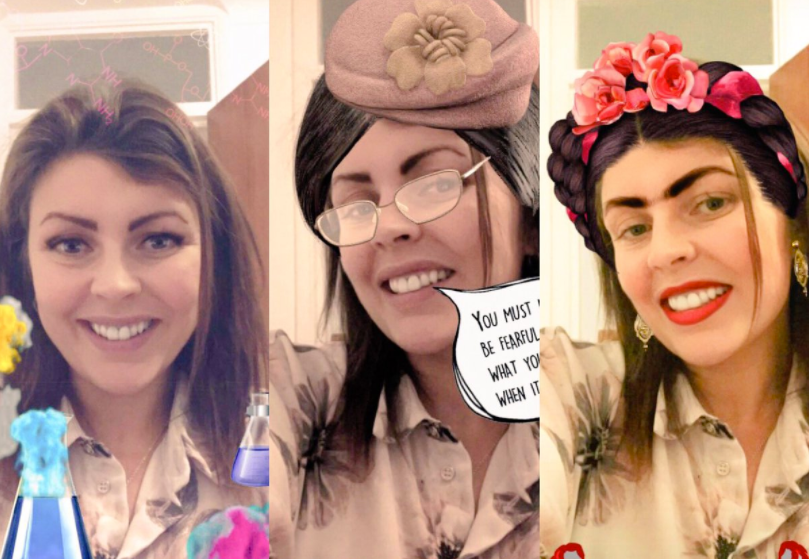 Snapchat's International Women's Day filters spark Twitter debate
Snapchat's special filters for International Women's Day that were meant to represent iconic women in history — activist Rosa Parks, artist Frida Kahlo and scientist Marie Curie — have some users scratching their heads.
The social network collaborated with the Rosa and Raymond Parks Institute for Self Development and the Frida Kahlo Corporation to design the animated images. While some users praised the social network for making an effort to represent women on Wednesday, others couldn't help but criticize the lenses for the way they altered the famous women's appearances.
Like Frida Kahlo, for example. The special lens gave users a set of thick eyebrows, red lips and a flower headband, along with an updo, not unlike famous images of the Mexican artist.
"In the age of the selfie, Frida is considered to be the first selfie artist," Beatriz Alvarado from the Frida Kahlo Corporation told CNET in a statement. "She told a story of love, life, strength and passion through her self-portraits."
However, some Twitter asked why the filter appeared to lighten their skin.
"I hate it when @Snapchat filters lighten your skin, but especially today when choosing to celebrate our MEXICAN icon Frida Kahlo," one Twitter user said.
"The fact that the Frida Kahlo filter on snapchat whitened my skin... yikes," another commented.
Others who used the Marie Curie lens, which surrounds users with several colorful test tubes and beakers that bubble up, pointed out that the filter inspired by the Nobel Prize-winning French chemist bestowed a "thinner face" and a "full face of makeup" — complete with smoky eyes and false lashes. Twitter users called the makeup "unnecessary" and "historically inaccurate."
Curie was awarded a Nobel Prize for Physics in 1903 for her study on spontaneous radiation. In 1911, she received a second Nobel Prize, this time in Chemistry, in recognition of her work in radioactivity.
"Shoutout to @Snapchat for adding eyelashes to the Marie Curie filter. Forgot that's what she was famous for," one Twitter user said.
"This is so off the mark," another stated.
"The Marie Curie snapchat lens makes ur face thinner and gives u full eye makeup thank GOD wouldn't want to be an unhot scientist," another wrote.
Twitter users were not as vocal when it came to the representation of civil rights icon Rosa Parks — who famously refused to move to the back of a city bus in Montgomery, Alabama, in 1955. But some pointed out that, similar to Kahlo, Parks' skin tone was not portrayed accurately in the Snapchat filter.
"Snapchat has a Rosa Parks Snapchat filter... but Rosa Parks wasn't white," another added.
In the past, however, Snapchat's filters have caused controversy when they projected a darker skin tone.
Last April, Snapchat scrambled to defend its actions after a filter designed to honor legendary reggae icon Bob Marley backfired, prompting accusations that it was racist and an example of "blackface." Through the filter, Marley's face is superimposed over the user's selfie, complete with the musician's dreadlocks, hat, and dark skin tone.
That lens "was created in partnership with the Bob Marley Estate, and gives people a new way to share their appreciation for Bob Marley and his music," Snapchat told CBS News when the backlash erupted. "Millions of Snapchatters have enjoyed Bob Marley's music, and we respect his life and achievements."
Snapchat has not yet returned CBS News' request for comment on their International Women's Day lenses, but the social media giant retweeted a user who praised their new feature on Wednesday.
And she wasn't alone — many appreciated the special feature honoring International Women's Day.
Thanks for reading CBS NEWS.
Create your free account or log in
for more features.