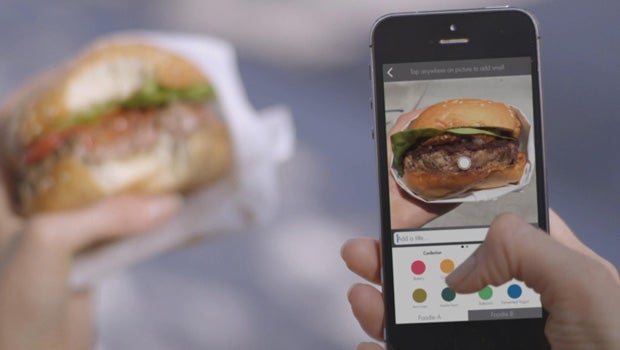 Does a degree in chemical engineering guarantee that its holder will enjoy the sweet smell of success? Rita Braver investigates:
Welcome to the glamorous, yet strange world of inventor and Harvard professor David Edwards.
Edwards' latest creation, Le Laboratoire, recently opened in Cambridge, Massachusetts. It's a design center, exhibition space, and futuristic restaurant and bar all in one.
Le Laboratoire is another outlet to showcase Edwards' grand ideas and Willy Wonka-like inventions, like the "Whaf."
"It's a carafe that you'll put your favorite drink into," he said, "and when you tip it on the side -- here I have port wine -- it creates a cloud of port wine. The cloud enter smy glass like a liquid itself -- about 40 micrograms of port wine -- I can sip this out with a special straw."
Another of his products is Aerolife, which Edwards says allows you to inhale your way to better sleep or greater energy.
Edwards got his Ph.D. in chemical engineering. But in the classroom, he teaches students to turn their big ideas into real-world products.
"I'm a professor of idea translation at Harvard," he explained.
He began his career by creating a company which came up with designs for inhalable medicines and vaccines. He did well enough with that to be able to fund his very first Laboratoire, in the heart of Paris, where he spends half his time.
And continuing his fascination with aromas, he started working on projects like the OPhone, a kind of telephone for scent, which he hopes will revolutionize the way we send and receive information.
"So if you have a great meal at the world's best restaurant, if you could send a tweet that communicated the complete olfactive experience of that restaurant ...Wouldn't it be amazing if we could communicate that?"
As Edwards demonstrates in a video, the OPhone comes programmed with thousands of smells that users can trigger when they send an 'Onote' over the Internet. Using the OPhone, one could even communicate a series of smells -- say, the experience of a walk through Paris.
"Now, why would it not be enough to just send pictures of these things?" asked braver. "Why would you want to send someone the smell of a chocolate shop instead?"
"Actually, the smell of chocolate makes me want and love chocolate," said Edwards. "It has a physiological effect to me. If I tell you about chocolate, even if I showed you a picture of chocolate, it doesn't have the same effect. And so there's something about walking through the streets of Paris with a nose which is completely unlike seeing a film of Paris."
Edwards admits that the OPhone could cause a real stink in the wrong hands.
"Are you worried about this having bad usage?" asked Braver. "You know, people sending each other unpleasant aromas as an insult, or if a guy dumps you, you send him something that's appropriate in your mind?"
"Absolutely, absolutely," Edwards said. "Well, you cannot do anything really that potentially changes the world and not have the potential that it will be used in a negative way. Things can go wrong, and you probably can get a bad odor message from your ex-boyfriend!"
Still, if Edwards has his way, the OPhone may be coming sometime soon to a store near you.
And if that's not cutting-edge enough. consider another of Edwards' creations, what he calls the WikiPearl-- a scoop of frozen yogurt in an edible skin.
Those bites in their edible packaging, marketed by Stonyfield Yogurt, are on sale at some Whole Foods for $4 a pair.
"What we're really interested in is eliminating plastic in food packaging," he said. "So we're starting with frozen yogurt and Stonyfield. We're really proud of that. But we're moving on to other kinds of food products, ranging from water to juice to yogurt to cocktails to desserts."
"So I'll get, like, a cocktail with a little pellet like this, [and] drop it in a glass?"
"Well, like a grape, it's like a grape of vodka, absolutely, which you could have in the freezer or you could have grapes of wine that are in a bottle. And so you can then take these little portion-controlled grapes of wine."
So if you'd like to sip one of David Edward's fanciful cocktails, just sidle up to the bar at Le Laboratoire in Cambridge, and (after a few cocktails) you even might be inspired to pursue your OWN big idea.

For more info:
Thanks for reading CBS NEWS.
Create your free account or log in
for more features.