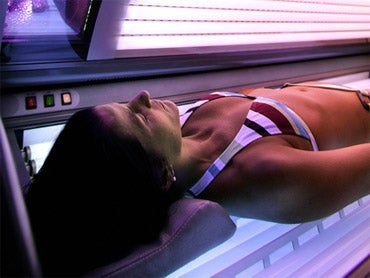 Indoor tanning injuries send thousands to the ER each year
It's well known that indoor tanning can put people at serious risk for skin cancer risk later in life -- but that's not the only health hazard from visiting tanning salons. Thousands of times each year, a stint in a tanning bed leads directly to a trip to the emergency room.
A new report highlights the alarming trend of tanning bed injuries. An average of 3,234 people visit the emergency room each year for reasons related to indoor tanning, according to research published Monday in JAMA Internal Medicine. Skin burns, fainting and eye injuries were among the most common injuries documented in the study.
"Some of these more immediate injuries are putting someone at more risk for the longer term problems," Gery P. Guy Jr., PhD, MPH, a co-author on the paper and health economist in the Division of Cancer Prevention and Control's Epidemiology and Applied Research Branch at the U.S. Centers for Disease Control and Prevention, told CBS News. For example, he explained that a severe eye burn increases a person's risk for developing cataracts later in life.
"One visit to the emergency room due to indoor tanning is one visit too much," he added.
Both regular and occasional use of tanning beds exposes a person to high levels of harmful ultraviolet radiation, which is a known carcinogen. Tanning beds are the cause of as many as 170,000 cases of skin cancer each year, according the CDC. Last year, in an effort to curb the use of tanning beds, the U.S. Food and Drug Administration issued a policy that requires clear signs at tanning facilities to list the potential hazards and long-term risks -- a sort of "black box warning" for the indoor tanning set.
For their research, Guy and his team looked at CDC emergency department data from across the U.S. between 2003 and 2012.
A majority of ER visits due to indoor tanning -- nearly 80 percent -- were due to severe burns. Just under 10 percent of visits were a result of syncope, or passing out. Nearly 6 percent were related to eye injuries.
However, the authors of the report say there is some good news: The number of indoor tanning-related injuries has declined over the last decade -- from 6,487 in 2003 to 1,957 in 2012. This may indicate that fewer people are heading to their local tanning salon, and perhaps that those who do are better informed about the risks.
Guy and his team found tanning bed injuries were most common among young, Caucasian women. Approximately 82 percent of patients were women. A large number of the patients were college-age -- more than 35 percent were between the ages of 18 and 24.
Guy noted that a lot of women in this age group head to tanning salons before social events such as homecoming or prom or before going on vacation, looking to attain a "healthy glow." However, the repercussions are serious.
"Tanned skin is damaged skin," he notes.
A study published in May in the journal Cancer Epidemiology, Biomarkers & Prevention, found getting five or more blistering sunburns before age 20 may increase a person's melanoma risk by as much as 80 percent.
Dr. Adam Friedman, assistant professor of medicine and director of dermatologic research Albert Einstein College of Medicine and Montefiore Medical Center, told CBS News that UV burns jump-start the same response in the body as an acute illness or injury, which includes a release of certain proteins, such as interferons and interleukins, that cause a serious immune response and inflammation in the body.
Friedman hopes the latest findings will bolster efforts to keep young people out of tanning salons. "Now we can say there are acute issues too," said Friedman. "I think the idea that someone will have to go the hospital or the emergency room can dissuade people. This is arming the medical community with more power to push people away."
Thanks for reading CBS NEWS.
Create your free account or log in
for more features.