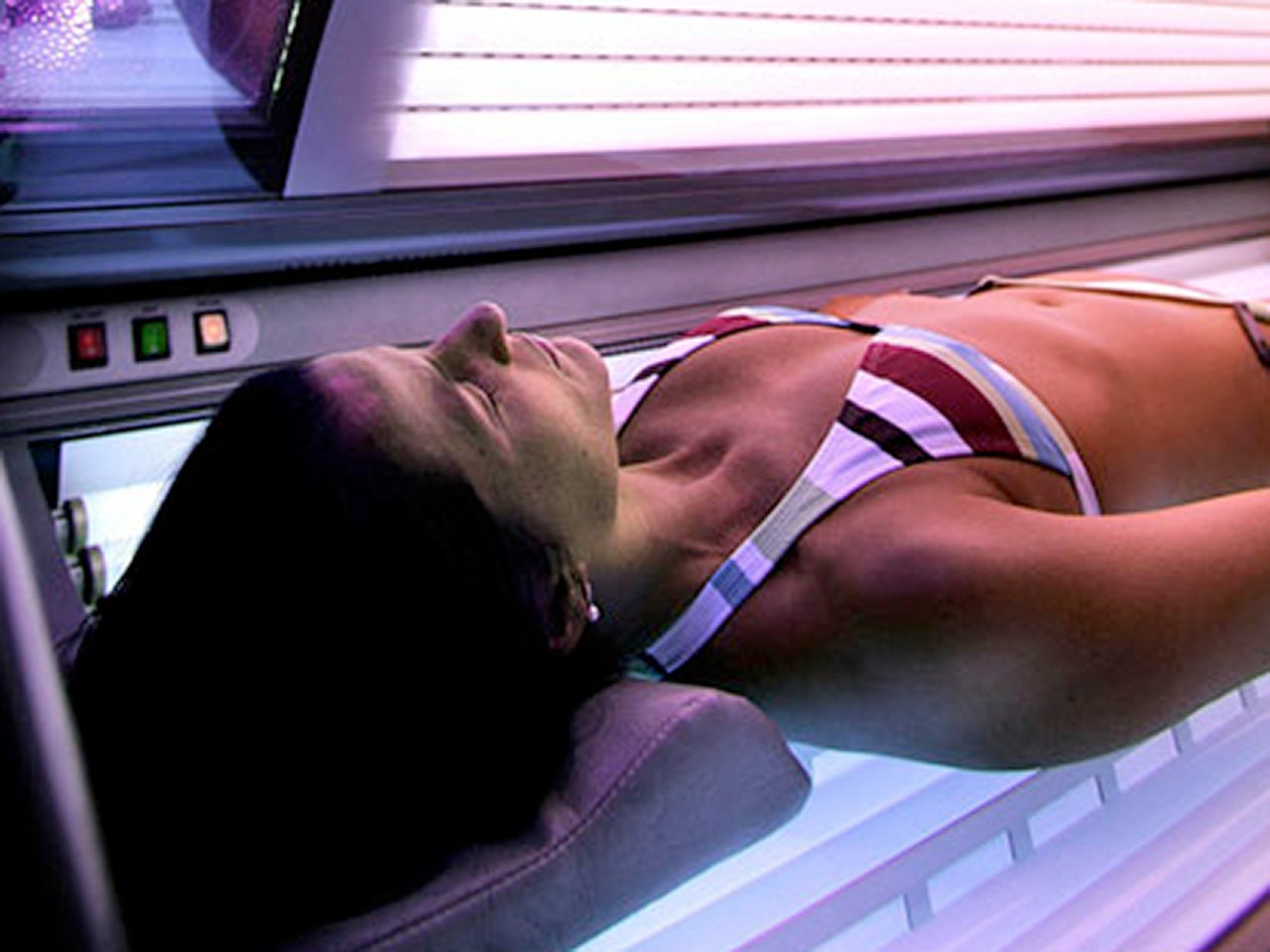 Study: Tanning beds cause 170K skin cancer cases yearly
Indoor tanning is to blame for more than 170,000 cases of non-melanoma skin cancer in the United States each year, a new study finds.
"The numbers are striking - hundreds of thousands of cancers each year are attributed to tanning beds,'' senior study author Dr. Eleni Linos, assistant professor of dermatology at the University of California - San Francisco, said in a written statement. "This creates a huge opportunity for cancer prevention.''

Non-melanoma skin cancers comprise the most common form of the disease in the U.S., accounting for 2 million new cases each year according to estimates from the National Cancer Institute.
In one of the most extensive studies on the link to date, researchers analyzed 12 earlier studies involving more than 9,300 patients with non-melanoma skin cancer. Analysis revealed that compared with those who never used indoor tanning, indoor tanning was associated with a 67 percent risk increase for developing squamous cell carcinoma and a 29 percent higher risk of developing basal cell carcinoma.
"These cancers may not be lethal, but they can be disfiguring," Dr. Craig Devoe, oncologist at North Shore-LIJ Health System's Center for Melanoma and Rare Skin Cancers in Great Neck N.Y., told WebMD. "To get tan, the ultraviolet rays must cause damage to your DNA," added Devoe, who was not involved in the study. "This is how you get tan."

Using U.S. estimates, the researchers then calculated indoor tanning contributes to more than 72,000 cases of squamous cell carcinoma and more than 98,000 cases of basal cell carcinoma.
Patients who were exposed to indoor tanning before age 25 were at a greater risk for basal cell carcinoma, a slow-growing cancer that is the most common type of non-melanoma skin cancer in the U.S. in people over 40 years old.
"This suggests a critical period for exposure during early life and a potential dose-response effect," the authors wrote in the study, published in the Oct. 2 issue of the British Medical Journal (BMJ). "They conclude: "We hope that these findings can support public health campaigns and motivate increased regulation to reduce exposure to this carcinogen, especially during early life."
The authors acknowledge study limitations, such as tanning beds changing over the years from predominantly high output of UVB rays to UVA output, but they point out both types of radiation can cause significant skin damage.
"Australia and Europe have already led the way in banning tanning beds for children and teenagers, and Brazil has completely banned tanning beds for all ages,'' said Linos. "I hope that our study supports policy and public health campaigns to limit this carcinogen in the United States.''
The World Health Organization's International Agency for Research on Cancer calls UV-emitting tanning devices "carcinogenic to humans," reinforcing the WHO's recommendation to avoid sunlamps and tanning beds.
Currently, there are about 19,000 indoor tanning businesses in the U.S., according to industry estimates.
"UV exposure, whether from the sun or a sunbed, has many benefits," John Overstreet, executive director of the Indoor Tanning Association, said to USA Today. He cites research showing indoor tanning provides vitamin D which has been tied to protective health benefits. "As with most human activities, there are also risks. It seems the risks continue to grab the headlines in the media, while the benefits remain unnoticed and unpromoted," said Overstreet.
Thanks for reading CBS NEWS.
Create your free account or log in
for more features.