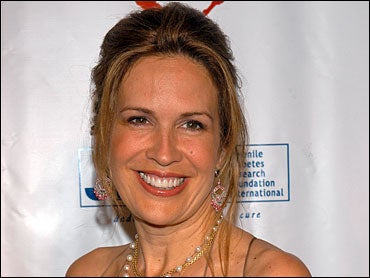 Shock As Dana Reeve Dies At 44
"How could this happen?" For many, that was the inevitable question Tuesday in response to the news that Dana Reeve, the sunny and vibrant widow of Christopher Reeve, had died of lung cancer at the stunningly young age of 44.
Robin Williams said in reaction to Dana Reeve's death, "The brightest light has gone out." Williams and Christopher Reeve were roommates at The Julliard School.
On the Senate floor Tuesday, Democrat John Kerry said he'll "never forget the grace and the strength" Reeve showed shortly after the "Superman" actor died in October 2004.
An official at the Christopher Reeve Foundation says the Reeves' 13-year-old son is "in the loving care of family and friends." She says his mother arranged for Will's future to be secure.
Reeve died late Monday at Memorial Sloan-Kettering Medical Center of lung cancer, said Sean Dougherty, a spokesman for the foundation. Survivors include a teenage son, Will, and two stepchildren, Matthew and Alexandra.
Will lost two parents in 18 months. His father was left paralyzed after a horse-riding accident, after which his mother largely left her own career as a performer to be near Christopher's side, CBS News correspondent Rich Schlesinger reports. The road for them together ended in 2004 when an infection took Chris Reeve's life.
With all eyes now on her, Dana Reeve became the public face of the Christopher Reeve Foundation devoted to finding new treatments for paralysis — until last August 9, when she stepped into her final role. She announced she had lung cancer.
"I'll tell you it's another journey," Dana Reeve said. "And I'm ready to be finished with the journeys."
"On behalf of the entire board of directors and staff of the Christopher Reeve Foundation, we are extremely saddened by the death of Dana Reeve, whose grace and courage under the most difficult of circumstances was a source of comfort and inspiration to all of us," Kathy Lewis, president and CEO of the foundation, said in a statement.
Although Reeve had announced her cancer diagnosis in August to an outpouring of sympathy and support from admirers around the world, her death seemed sudden. As recently as Jan. 12, she looked healthy and happy as she belted out Carole King's "Now and Forever" at a packed Madison Square Garden during a ceremony honoring hockey star Mark Messier, a friend.
Christopher Reeve, the one-time Hollywood "Superman" turned activist for spinal cord research after a horse-riding accident in 1995, died Oct. 10, 2004.
Dana's mother died shortly afterward. Then in August, Dana announced she had inoperable cancer.
"While it is the more the more unusual scenario that someone who never smoked would develop lung cancer, 10 to 15 percent of the cases do occur in non-smokers," says CBS News health correspondent Emily Senay. "One of the major problems is, by the time it's detected, it's often quite far advanced."
"What I didn't know is that lung cancer is the number-one cancer. We're always looking for breast and ovarian and uterine, and I'm a non-smoker, and I live in the country, so I think 'I'm good,' so I was completely shocked," she told "Entertainment Tonight" interviewer Kathie Lee Gifford. ("ET" is also part of CBS, Inc.)
"Dana enjoyed it (the performance)," ET reporter Jann Carl told CBS Radio News. "She had always been singing and acting, and Dana was very, very eager to get back to work."
Reeve told interviewer Kathie Lee Gifford she wanted to get back on Broadway, where she had performed in the flop "More To Love" in 1998. She was performing in the Broadway-bound play "Brooklyn Boy" in California when she had to streak home to reach her husband's bedside before he died. She gave up the role for the New York run.
She also appeared Off-Broadway and regionally, and in New York-based television shows.
Reeve was upbeat during the "Entertainment Tonight" interview, Carl said.
"She always was a very, very positive individual, but I think that, at this point, she was fully believing that she was going to fight this and that she could win the battle," Carl reports.
Dana Reeve was a constant companion and supporter of her husband during his long ordeal and his work for a cure for spinal cord injuries.
"With Chris, she gave voice to a movement to find life-saving cures and promote medical research, and when she lost her inspiration and love she didn't stop the fight," said Sen. John Kerry, D-Mass., in a statement. "She was an inspiration to me and to us all. Chris was America's superhero, and Dana became our hero, too."
She was chairwoman of the Christopher Reeve Paralysis Foundation, which funds research on paralysis and works to improve the life of the disabled. To date, it has awarded $55 million in research grants and $7.5 million in quality of life grants.
Reeve also served on the boards of The Williamstown Theatre Festival, The Shakespeare Theatre of New Jersey, TechHealth, and The Reeve-Irvine Center for Spinal Cord Research and as an advisory board member to the National Family Caregivers Association.
"We celebrate her, and we're so sad to lose her," Williamstown's artistic director Roger Rees told CBS Radio News. "She was an extraordinary example of what companionship and love and vitality and extremely wonderful talent can do in this business."
The Reeves first met while both were acting at Williamstown.
She received numerous awards for her work, including the Shining Example Award from Proctor & Gamble in 1998, an American Image Award from the AAFA in 2003. In 2005, the American Cancer Society named her Mother of the Year.
"She talked about how resilient children can be" in the ET interview, Carl said. "She said that Will has had better or worse. He has lived with that since he was three" when his father had the horse-riding accident.
"Our thoughts and prayers are with her son Will and the entire Reeve family," said former president Bill Clinton and his wife, Sen. Hillary Rodham Clinton (D-N.Y.). "We especially want Will to know that his mother's determination and bravery inspired us and so many others, and we will continue to work toward the causes and goals she championed."
Reeve is also survived by her father, Dr. Charles Morosini, and sisters Deborah Morosini and Adrienne Morosini Heilman.
No funeral plans were announced. The family said donations could be made in Dana Reeve's memory to the Christopher Reeve Foundation in Short Hills, N.J.
Thanks for reading CBS NEWS.
Create your free account or log in
for more features.