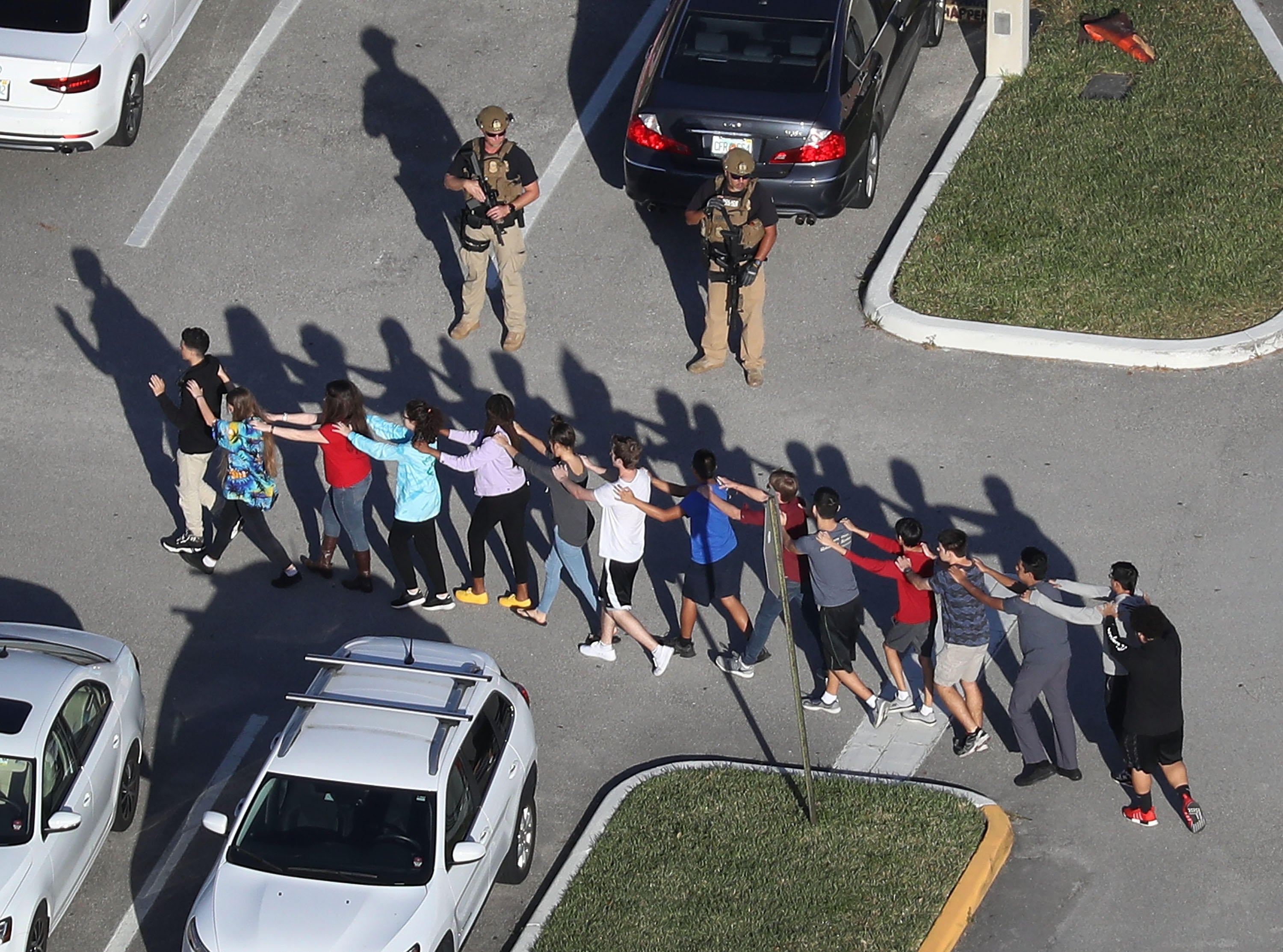 Sheriff: Armed school resource officer "never went in" to building in Florida mass shooting
PARKLAND, Fla. -- The armed school resource officer assigned to Marjory Stoneman Douglas High School "never went in" last Wednesday while a gunman opened fire on students with an AR-15 rifle, Broward Sheriff Scott Israel said. The massacre police say was perpetrated by former student Nikolas Cruz left 17 dead and 15 wounded.
Scot Peterson, the school resource deputy, was "absolutely" on campus through the event, armed and in uniform, Israel said Thursday. After seeing video and reviewing witness statements and Peterson's own statement, Israel said he decided to suspend Peterson without pay pending an internal investigation.
Peterson chose to resign, Israel said.
Israel said the video shows Peterson arriving at the west side of Building 12 and taking up a position, but he didn't go inside. Israel said Peterson "clearly" knew there was a shooter in the building and was outside for about four minutes. The shooting lasted about six minutes, Israel said.
When asked what the deputy should have done, Israel said, "Went in, addressed the killer, killed the killer."
The video isn't being disclosed, Israel said.
Israel said he was "devastated, sick to my stomach, there are no words."
The department also released a description of 23 calls for response involving Cruz in the years and months prior to the shooting. Two other deputies were placed on restricted administrative duties as the department investigates whether any policies were violated in response to two of the calls, Israel said.
Once call involved "third-hand information from a neighbor's son" on Feb. 5, 2016 that Cruz had threatened on Instagram to shoot up a school and there were pictures of him with guns. It wasn't known which school was the subject of the reported threat. There had been a "one month delay" in the report, the document said.
A deputy responded and made contact with the caller, who wished to remain anonymous, and it was determined the Cruz had knives and a BB gun. The information was forwarded to the Stoneman Douglas resources officer, which the sheriff's office confirms was Peterson, but it's not clear whether any steps were taken after that. The call has prompted an internal affairs investigation and a review.
Peterson started working for Broward Sheriff's Office in 1985 and had been a school resource deputy at Marjory Stoneman Douglas High School since at least 2009, according to documents reviewed by CBS News.
In the other report from Nov. 30, 2017, the caller said Cruz was collecting guns and knives and wanted to join the Army. The caller said he was concerned Cruz would kill himself one day and may be a school shooter in the making. The caller said Cruz no longer lived at the Parkland address and was now living in Lake Worth. The caller believed weapons were kept at a friend's home in a different location.
A deputy contacted the caller, who was located in Massachusetts, over the phone. No report was initiated, and the deputy later said he referred the call to the Palm Beach Sheriff's Office.
The FBI has admitted it also received a tip from someone concerned that Cruz could be a school shooter, but the tip wasn't properly forwarded.
There was also a communication issue between the person reviewing the school's security system footage and officers who responded to the school.
Coral Springs Police Chief Tony Pustizzi said during a Thursday news conference that the footage being reviewed was 20 minutes old, so the responding officers were hearing that the shooter was in a certain place while officers already in that location were saying that wasn't the case.
"There was nothing wrong with their equipment. Their equipment works," Pustizzi said. "It's just that when the person was reviewing the tape from 20 minutes earlier, somehow that wasn't communicated to the officers that it was a 20-minute delay."
Pustizzi said the confusion didn't put anyone in danger.
Cruz, 19, has been jailed on 17 counts of murder and police say he has admitted the attack. He owned a collection of weapons. Defense attorneys, state records and people who knew him indicate that he displayed behavioral troubles for years.
Thanks for reading CBS NEWS.
Create your free account or log in
for more features.