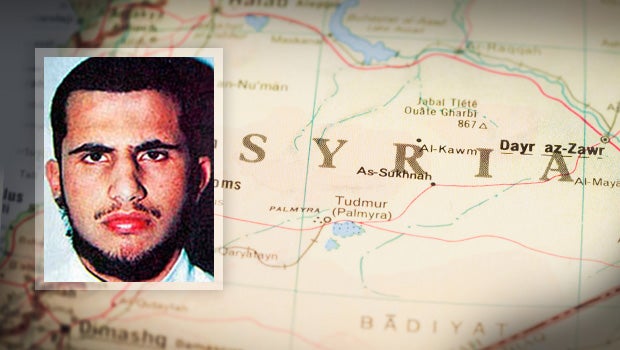 Pentagon: Leader of Khorasan Group killed in U.S. airstrike
WASHINGTON -- U.S. officials say a key al Qaeda figure has been killed in an American airstrike in Syria.
The Pentagon says Muhsin al-Fadhli was killed July 8 near Sarmada, Syria. He was a leader of the Khorasan Group, a cadre of al Qaeda operatives who were sent from Pakistan to Syria to plot attacks on the West.
Al-Fadhli provided the "vision, guidance and funding" for potential attacks in Europe and the U.S., an official told CBS News correspondent Margaret Brennan.
"His death will degrade and disrupt ongoing external operations of al Qaeda against the United States and our allies and partners," said Navy Capt. Jeff Davis, Director of Press Operations at the Pentagon.
Previously based in Iran, the 34-year-old al-Fadhli was the subject of a $7 million reward by the State Department for information leading to his capture or death.
Davis said al-Fadhi "was among the few trusted al Qaeda leaders that received advanced notification of the Sept. 11, 2001, attacks." He was said to be a close confidant of Osama bin Laden.
"A seasoned, knowledgeable and dangerous terrorist who actively sought to harm the United States and its allies has been taken off the battlefield for good," said Rep. Adam Schiff, the top Democrat on the House Intelligence Committee, noting that al-Fadhli will not be easily replaced.
Al-Fadhli was the target of U.S. strikes last fall, with unconfirmed reports at the time claiming that he had been killed.
In September, Katherine Zimmerman, a senior analyst at American Enterprise Institute and expert on al Qaeda, told CBS News al-Fadhli was a seasoned fighter who rose quickly through the terror network's ranks; by 2011, he was heading up al-Qaeda's Iran-based network.
"He is what I consider to be a core al Qaeda member," Zimmerman said. "He was within that inner circle."
According to the United Nations, al-Fadhli has proven to be a skilled fundraiser for terrorist operations and had strong ties to al-Qaeda leader Abu Musab al-Zarqawi.
"He was the bodyguard and second-in-command for a leader in the al Qaeda network and fought for al-Qaeda in the north of Afghanistan," the U.N. reported. "Al-Fadhli also fought against Russian forces in Chechnya, where he trained in the use of firearms, anti-aircraft guns and explosives. Al-Fadhli was a facilitator connected with the al-Zarqawi groups in Iraq, providing support to fighters there."
According to the State Department, al-Fadhli was convicted in 2003 and sentenced to five years in prison for providing funding for terrorist activities and military training in Afghanistan. In 2005, Saudi authorities placed him on their list of wanted terrorists in connection with a series of al Qaeda attacks in that country. That same year, the U.S. sanctioned al-Fadhli, designating him as someone who supports terrorists or terrorist acts.
In 2012, the U.S. accused al-Fadhli of tapping his network of Kuwaiti jihadist donors to move fighters and money through Turkey to support al-Qaeda-affiliated militants in Syria. The State Department also said he was "believed likely to continue moving experienced al Qaeda operatives to reinforce and gain influence" in Europe, North Africa, and Syria.
Thanks for reading CBS NEWS.
Create your free account or log in
for more features.