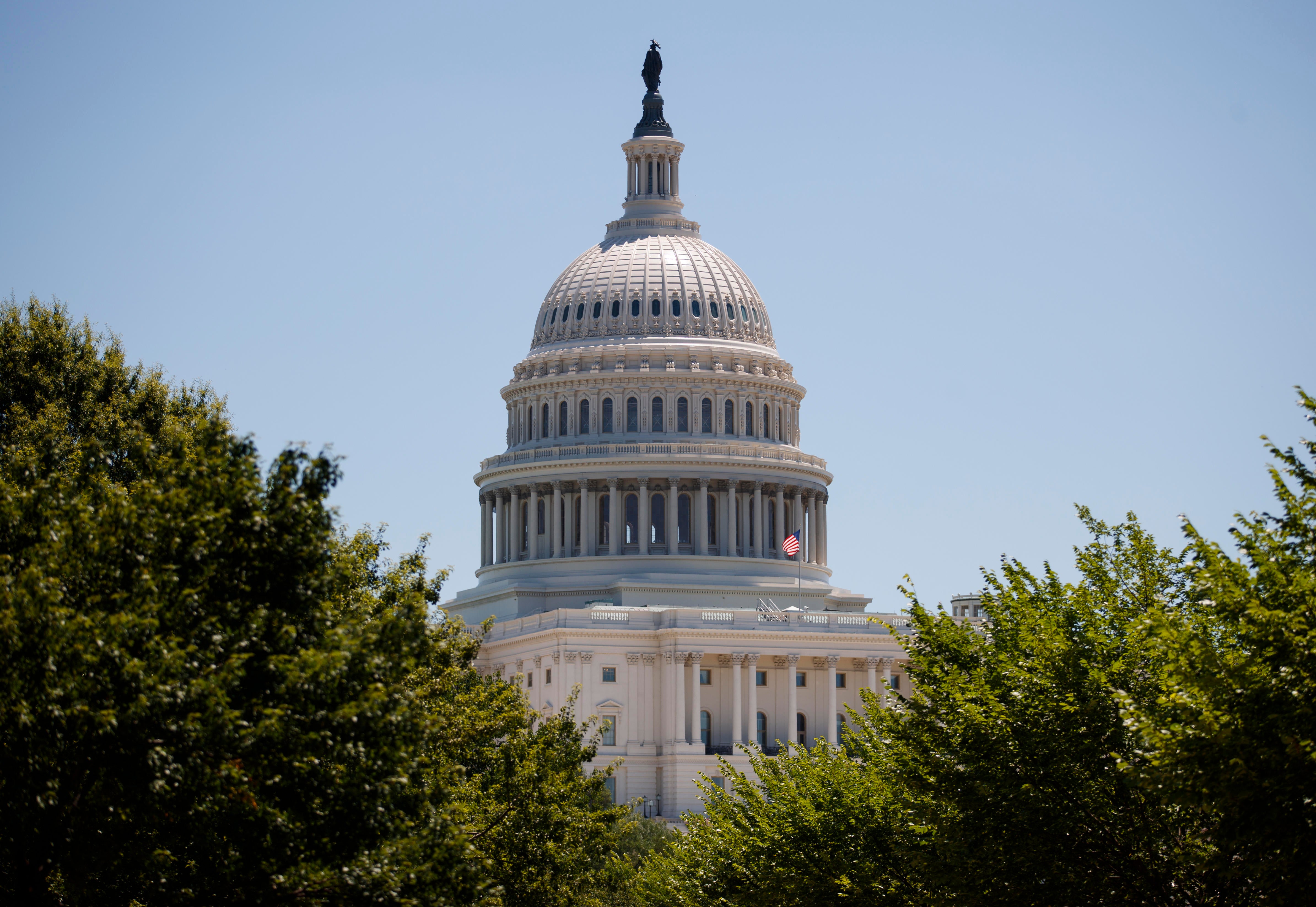 Senate races: GOP up in Texas, Tennessee; Dems up in Arizona, New Jersey — CBS News poll
By Jennifer De Pinto, Kabir Khanna, Anthony Salvanto and Fred Backus
The battle for Senate control finds Democrats trying to mount upset challenges in a string of typically Republican states, and this round of Battleground Tracker polls shows them having at best mixed results so far. In the closely watched race in Texas, incumbent Republican Ted Cruz has a lead over Democratic challenger Beto O'Rourke, at six points among likely voters, 50-44.
In Arizona — an open seat in a state that went for President Trump in 2016 — Democrat Kyrsten Sinema has a slight edge over Republican Martha McSally, 47-44.
Tennessee finds Republican Marsha Blackburn with an eight-point lead over Democrat Phil Bredesen, 50-42. Bredesen is a former governor who, having won statewide office before, has given Democrats hope of flipping a red state that Mr. Trump won easily.
Typically blue New Jersey finds Republicans trying to mount an upset of their own against incumbent Democrat Bob Menendez, but Menendez has a sizable 49-39 advantage over Republican challenger Bob Hugin.
These Senate races have been nationalized: By more than two to one, registered voters say national issues outweigh local ones, and voters in all the states surveyed say their vote for the Senate is mainly about the direction of the country over a list of other factors. Across the states, large majorities of each candidate's voters say their vote is explicitly to put either the Democrats or Republicans nationally in control of the Senate. Supporters of each party are about equally likely to say they'll turn out, and more than two-thirds of each describe themselves as very enthusiastic about doing so. There is a bit of difference in Texas, where Republicans are more likely than Democrats to say they'll "definitely" vote, which is helping to bolster Cruz.
In another sign of that nationalization — and following a trend we've also seen across House races — voters in these states overwhelmingly think the economy in their own area is in good shape, but fewer are satisfied with how things are going in the country — the latter measure breaking heavily along partisan lines. Voters feel relatively more satisfied about the country's direction in Texas and Tennessee — where the Republicans are leading and where President Trump is more popular — compared to voters in New Jersey and Arizona, where the president's approval rating is under 50 percent.
President Trump looms large in each of these contests. In all of them, most voters who plan to vote Democratic say they will be doing so in opposition to Mr. Trump, while most who choose the Republican senate candidate say that their Senate vote will be to support the president.
Still, not all who are voting for a Democrat want a senator who will oppose the president at every turn if he or she gets to Washington. Four in 10 of those voting for Sinema in Arizona say they want a senator who will work with Mr. Trump at times, and in Tennessee, only a third of those voting for Bredesen want a senator who will challenge the president as much as he or she can. But in Texas and New Jersey, voters backing a Democrat are comparably more likely to want a senator who would oppose Mr. Trump. Republican voters in all states are more unified in their desire to have a senator who backs the president.
Supreme Court impact
In Tennessee and Texas, where Republicans lead, more voters wanted the Senate to confirm Brett Kavanaugh than not. In Tennessee, it was 47 percent confirm to 30 percent oppose; in Texas, 43 percent confirm to 35 percent oppose. In Arizona, things were more closely divided, at 41 percent confirm to 39 percent oppose, and New Jersey was only 38 percent confirm to 44 percent opposed. In each state, views on Kavanaugh divide along partisan lines, with three in four Republicans supporting confirmation, and between six and seven in ten Democrats opposing it. All voters were interviewed before the final confirmation vote took place Saturday.
Kavanaugh's confirmation is unlikely to change many minds about which candidate to pick. In each state, most likely voters said that Kavanaugh's confirmation would not change how they plan to vote next month, and among the rest, it will mostly reinforce prior decisions. Only around 3 percent of likely voters who are currently supporting a Senate candidate in these states said Kavanaugh's confirmation would make them more likely to consider voting for the other party.
A majority of voters in these states say the issue of Kavanaugh's nomination is motivating them to vote this year, but it could be that the issue is simply giving extra motivation to people who were already likely to vote. The majority of those who said the matter was motivating them also report having voted in a recent midterm before. Republicans seem to have responded to the matter in Texas, where 73 percent of them say the matter is motivating them more, compared to 60 percent of Democrats.
About one in five of the people who report being energized by Kavanaugh's nomination say they didn't vote in the recent midterms of 2010 and 2014. In each state, the Democratic Senate candidate is doing better among this smaller group of new midterm voters motivated by the issue than among the larger group of previous midterm voters who are.
In the Arizona Senate race, Democrats may benefit electorally from the confirmation. Among likely Arizona voters who said they might still change their mind about whom to support, 30 percent said Kavanaugh's confirmation would make them more likely to consider voting for a Democrat, while only 10 percent said the same for a Republican.
The women's vote and women candidates
Arizona is headed toward the election of its first woman to the Senate, as both major party candidates are women. Six in 10 Arizona voters are at least pleased about that prospect, including a third who are excited about it. Women are more excited about this than men, but it's largely partisanship that drives these views. More than half of Democrats are excited about the state potentially electing its first female senator, but most Republicans say it doesn't matter.
If Republican Marsha Blackburn prevails in Tennessee, that state would also make history in electing its first female senator.
On balance, voters in both Arizona and Tennessee who feel politics would change with more women think that change would be for the better, not worse. Most Democrats think things would be better, while most Republicans say things will remain the same. Among voters who feel things would be better with more women elected, their main reason for feeling that way is the belief that women might have a better understanding of the issues they care about.
State dynamics
In Texas, Beto O'Rourke supporters are about as inclined to say they're backing him because of his personal qualities as they are because of his stance on issues, more so than Cruz's voters, who are more drawn to Cruz's issue stances than his personal qualities. Cruz has double-digit leads over O'Rourke on handling issues of immigration and gun policy, but these views break largely along partisan lines. However, O'Rourke is about twenty points more likely than Cruz to be seen by voters as representing change.
In Arizona, similar percentages of voters see Sinema and McSally each as honest and trustworthy. More think Sinema represents change, and more feel that McSally represents the status quo. More think Sinema would do a better job on health care, while McSally has the advantage on crime.
In New Jersey, Republican Hugin has the advantage on some character traits, while incumbent Democrat Menendez leads on handling issues. More voters think Hugin is honest and trustworthy (48 percent) than say that about Menendez (29 percent). But one-third of those who feel Menendez cannot be described as honest and trustworthy are voting for him nonetheless. Voters pick Menendez as the candidate who would do a better job on health care, and he has a smaller advantage on immigration.
In Tennessee, Republican Blackburn is seen as the candidate who would do a better job on immigration, crime, and gun policy. Blackburn and Democrat Bredesen are even on the issue of health care. With no incumbent in that race, more than half of voters view each of the candidates as representing change.
---
The CBS News 2018 Battleground Tracker is a series of panel studies in the United States. The poll is conducted by YouGov, an online polling company. The polls interviewed 1,031 registered voters in Texas; 1,010 registered voters in Arizona; 704 respondents in NJ; 1,002 respondents in Tennessee and was fielded between October 2–5, 2018. The Margins of error in Texas is 3.9; in New Jersey is 3.6; in Arizona is 3.5; in Tennessee is 3.4.
Poll toplines:
Thanks for reading CBS NEWS.
Create your free account or log in
for more features.