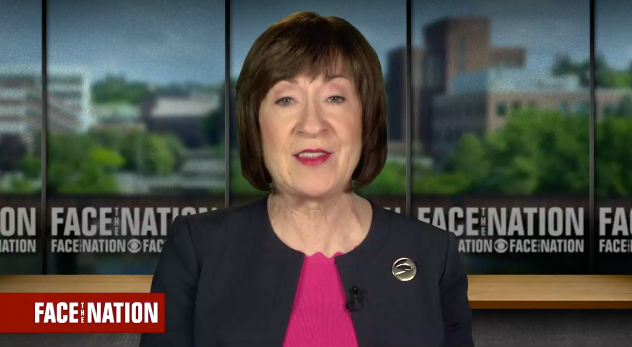 Sen. Susan Collins: Trump administration policy of separating families "traumatizing" children
Sen. Susan Collins, R-Maine, said that the Trump administration's "zero tolerance" policy of prosecuting immigrants and separating families at the U.S-Mexico border is "traumatizing" children and "contrary to our values in this country."
"What the administration has decided to do is to separate children from their parents to try to send a message that if you cross the border with children, your children are going to be ripped away from you. That's traumatizing to the children who are innocent victims, and it is contrary to our values in this country," Collins told "Face the Nation" on Sunday.
In April, Attorney General Jeff Sessions said the U.S. would prosecute anyone found trying to cross the border illegally, meaning that parents crossing with children would be detained and their children placed in U.S. custody.
Collins said she supports the president's efforts to bolster border security, but said, "We know from years of experience that we need to fix our immigration laws and that using children is not the answer."
Mr. Trump has repeatedly and falsely claimed the separation of families is required by federal law, even as Sessions touts the policy change as "necessary" to deter illegal immigration. Collins, however, disagreed with that point.
"From the experience of previous administrations, it does not act as a deterrent to use children in this fashion," she said. Collins added "it is inconsistent with our American values to separate these children from their parents unless there's evidence of abuse or another very good reason."
Collins comments come as Republicans prepare to vote on two competing immigration bills next week in the hopes of providing a lasting fix to the Deferred Action on Childhood Arrivals program, or DACA, for those who came to the U.S. as children. Mr. Trump on Friday created chaos on Capitol Hill after saying he wouldn't sign a more "moderate" package. The White House later walked back the comments, formally endorsing the measure and saying, in not so many words, that Mr. Trump had been confused.
Thanks for reading CBS NEWS.
Create your free account or log in
for more features.