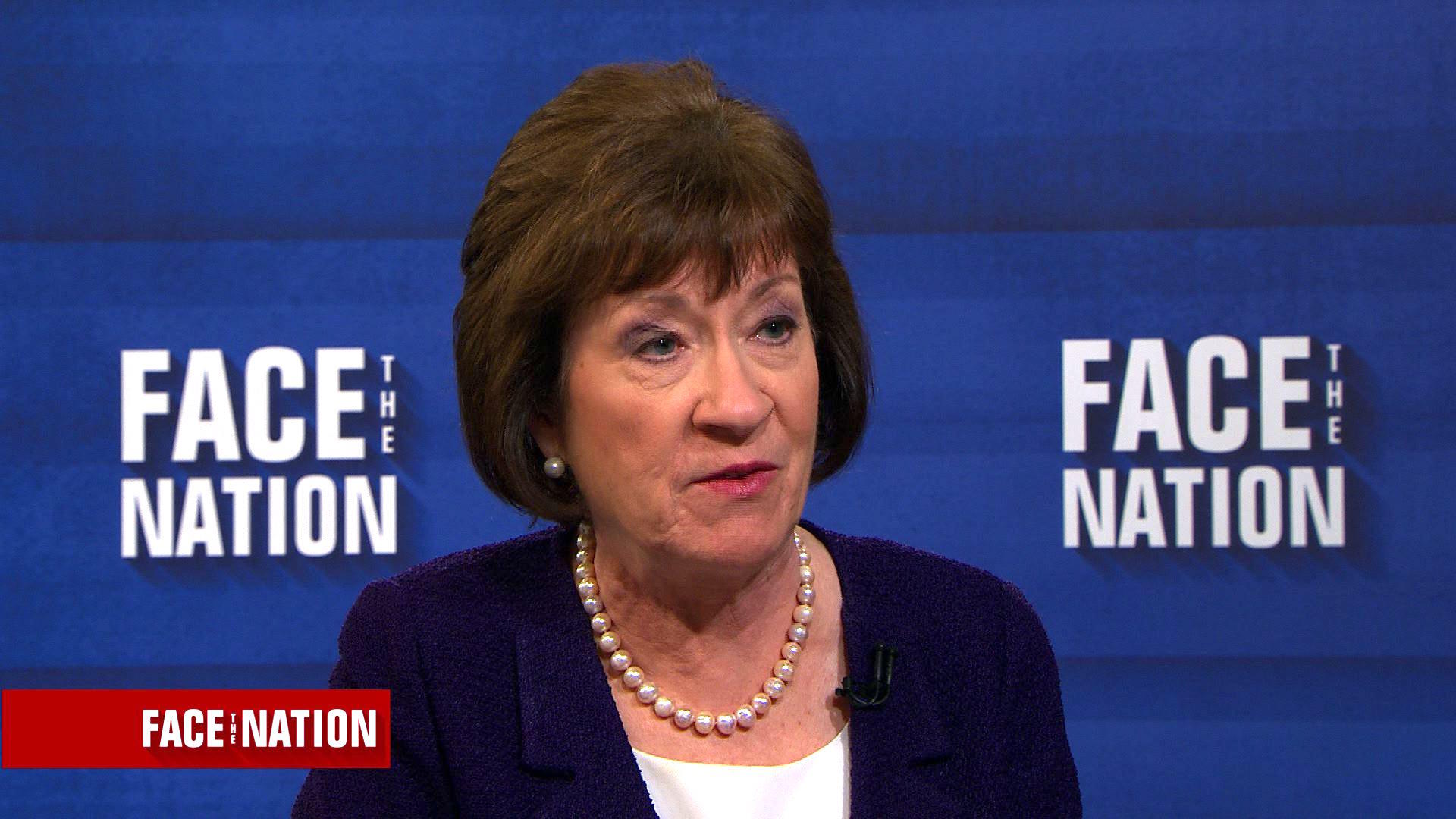 Sen. Susan Collins calls for DNC, Clinton campaign members to re-testify on dossier
Sen. Susan Collins, R-Maine, said Sunday that members of the Clinton campaign and the Democratic National Committee should re-testify before the Senate Intelligence Committee in light of new revelations regarding a dossier alleging President Trump's connections to Russia.
"They absolutely need to be recalled," Collins said on "Face the Nation." She added, "It's difficult to imagine that a campaign chairman, that the head of the DNC would not know of an expenditure of this magnitude and significance. But perhaps there's something more going on here. But certainly it's worth additional questioning of those two witnesses."
According to a Washington Post report citing people familiar with the matter, Hillary Clinton's campaign and the DNC both contributed funding for research that culminated in the infamous dossier. The DNC and Clinton campaign-funded research continued through the end of October 2016, according to the Post's report, but it's unclear how much the DNC and Clinton's campaign paid toward it.
According to the Post's report, lawyer Marc E. Elias, who represented both Clinton's campaign and the DNC, and his law firm, Perkins Coie, retained the firm Fusion GPS in April 2016 to investigate any connections. Before then, a still-unknown Republican client funded Fusion GPS' research during the Republican primaries. Fusion had hired former British intelligence officer Christopher Steele to conduct the research.
According to campaign finance records obtained by The Washington Post, Clinton's campaign paid Perkins Coie $5.6 million in legal fees from June 2015 to December 2016. It is unknown how much of that related to research for the dossier, and how much related to other work.
Collins' suggestion on Sunday came amid further developments in the special counsel's investigation into Russian meddling in the 2016 U.S. election, which coincides with the Senate investigation into meddling. Collins, who sits on the Senate Intelligence Committee, said the committee is trying to determine whether there was any collusion between the Trump campaign and the Russian government.
"We are having a very interesting hearing this week looking at the Russians' use of social media to influence the elections and sow the seeds of dissension in our country," said Collins.
Collins said she has not seen any "definitive evidence of collusion," but said she has seen "lots of evidence that the Russians were very active in trying to influence the election."
Meanwhile, just one week after her Republican colleague Sen. Jeff Flake of Arizona -- someone she considers to be her "best friend in the Senate" -- announced that he will not seek re-election in 2018, Collins said it's time to "accept that Donald Trump is our president."
"My approach is to work with my fellow Republicans, with Democrats, with House members, and also with this administration. That's the only way that we're going to get things done in this Congress. It's the only way that we can assure the American people that they can have some trust in government and that we're working to better their lives," said Collins.
Citing her dissenting votes on health care reform and the Republicans' efforts to overhaul the nation's tax code, she said, "I have not hesitated to disagree with the president."
"So I'm going to continue to do that," she said. "I'll work with the president and support his policies when I think he's right. But I will not hesitate to oppose him when I think that he is misguided."
Thanks for reading CBS NEWS.
Create your free account or log in
for more features.