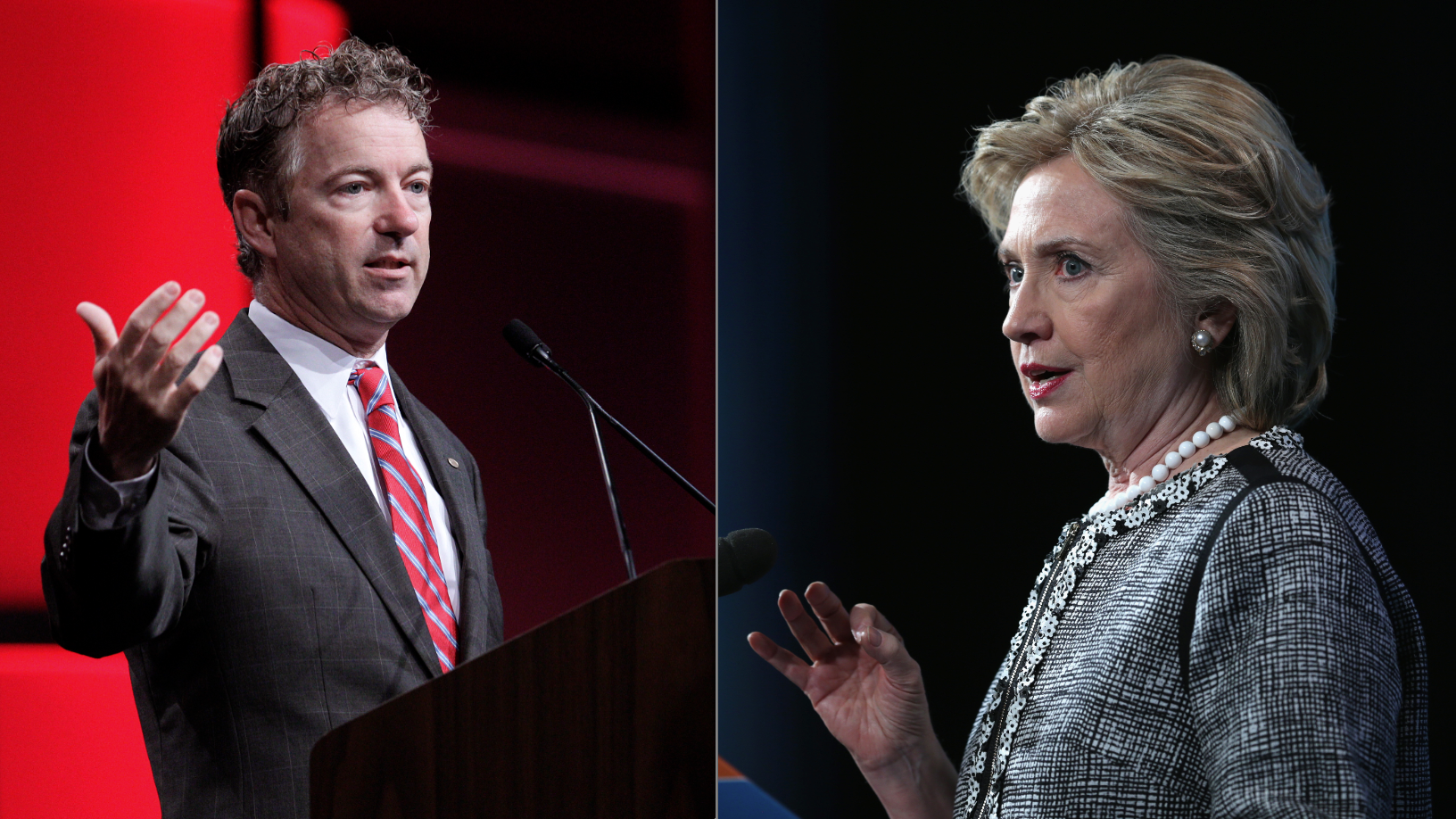 Sen. Rand Paul: Hillary Clinton not "fit to lead the country"
Sen. Rand Paul, R-Ky., said Hillary Clinton is not "fit to lead the country" Friday, mocking the former secretary of state's comments about her wealth and condemning her response to the September 2012 attack on a U.S. facility in Benghazi.
Paul's scathing words could provide an early look at the arguments he will deploy against Clinton if they both decide to run for president. They came during a speech in Kentucky before a crowd of several hundred GOP activists.
Paul opened his speech by joking that he was losing sleep over Clinton's money problems, according to National Journal.
During her recent book tour, Clinton drew flack for claiming at one point that she and former President Bill Clinton were "dead broke" when they left the White House in 2001. Although they were deeply in debt when Mr. Clinton's presidency ended, they would go on to earn millions on the speaking circuit.
Paul asked his audience to observe a "moment of silence" for Clinton's finances.
"Somebody must have been praying for her," he said, "because she's now worth 100, 200 million. I tell you, it was really tough giving those speeches."
But at least she didn't suffer alone, Paul joked: "She had her limo driver with her for the last 17 years to commiserate."
"I certainly wish she becomes preoccupied with something else," he added, "because I don't think she's fit to lead the country."
Paul also ripped Clinton's response to the attack in Benghazi, which killed four Americans, including U.S. Ambassador to Libya Chris Stevens. Paul faulted Clinton for neglecting to read the memos requesting additional security for the Benghazi facility during her time as secretary of state.
She treated Benghazi "as if it were Paris," Paul said. "Benghazi's not Paris. Benghazi is a lot like Baghdad ... if you don't read the cables from one of the most dangerous spots on earth, frankly, you preclude yourself from ever being our commander in chief."
The speech fired up GOP troops in Kentucky, but it was only a prelude to Paul's swing through Iowa next week. Starting Monday, Paul will visit at least eight different communities representing each of the state's major media markets, according to the Des Moines Register.
Iowa, which holds the leadoff caucuses in the presidential nominating process, is a must-visit state for anyone mulling a presidential bid. The state has already seen a flurry of visits from potential 2016 contenders this year.
In addition to Paul, Sen. Ted Cruz, R-Texas, is in Iowa this weekend, and he's scheduled to attend an event sponsored by notable Iowa Republican Bruce Rastetter, the Register reports.
Cruz, whose high-profile fights with Democrats and his own GOP leaders have endeared him to grassroots conservatives, has emerged as a favorite among the activists who traditionally power Iowa's Republican caucuses.
"Whenever we need a voice in Washington, he seems to be the most eager to stand up for we out here in the grassroots," Steve Deace, a conservative radio host based out of Iowa, told The Hill newspaper. "The more people disdain him in D.C., the more they're going to improve his chances in 2016."
Paul and Cruz are also scheduled to attend the Family Leadership Summit in Ames, Iowa, later this month, where they'll be joined by several other potential presidential contenders, including Sen. Marco Rubio, R-Fla., former Sen. Rick Santorum, R-Pa., and Govs. Rick Perry, R-Texas, and Bobby Jindal, R-La.
Thanks for reading CBS NEWS.
Create your free account or log in
for more features.