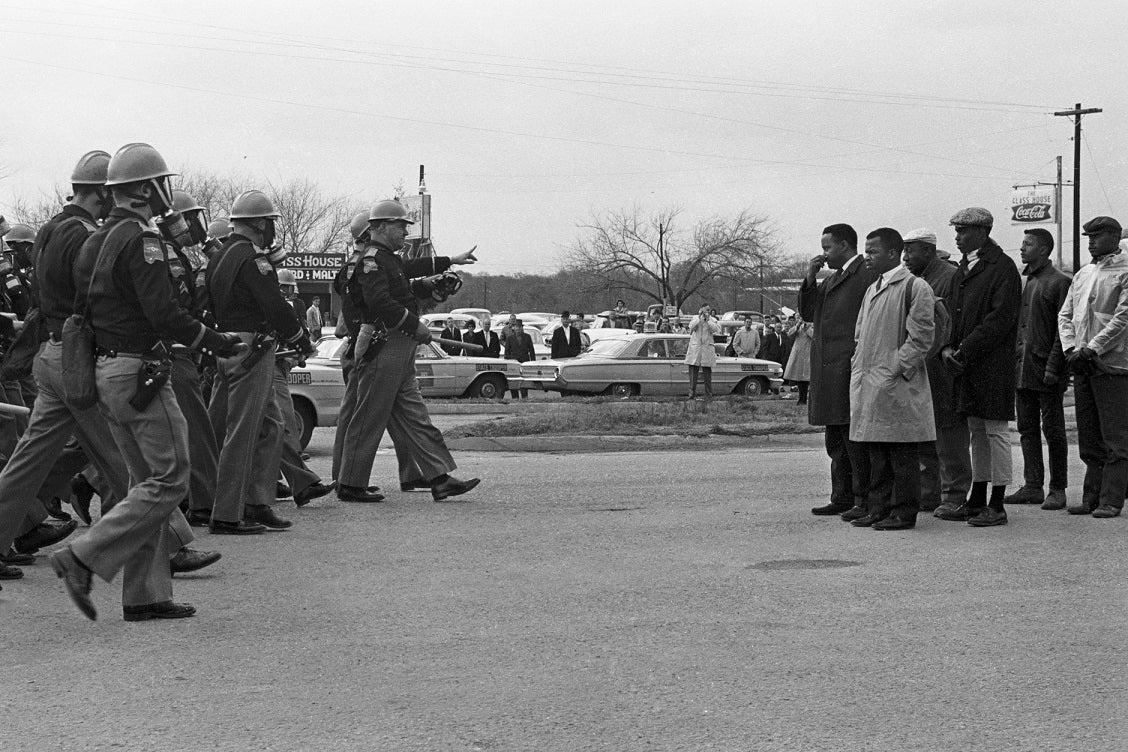 Voices of the Selma march, 50 years ago
As part of CBS News' coverage marking the 50th anniversary of the civil rights march in Selma, CBSN will be airing an encore presentation of the hour-long special "The Road to Civil Rights," anchored by Bill Whitaker and featuring new and archival footage from the CBS News library, Saturday at 11 a.m. and 8 p.m. and Sunday at 11 a.m., all times Eastern.
This weekend marks 50 years since the violent crackdown on peaceful marchers in Selma, Alabama. CBS News senior White House correspondent Bill Plante was there on "Bloody Sunday" and is back in Selma to remember the watershed moment in the civil rights movement.
In that time, segregation was the rule, brutally enforced by Sheriff Jim Clark. That was one reason Dr. Martin Luther King Jr. chose Selma as the target for a voter registration drive.
Day after day, would-be voters were turned away, often roughly, from the courthouse. At a nighttime protest in the nearby town of Marion, a young black man, Jimmie Lee Jackson, was shot by a trooper. The next morning, Plante reported what the CBS News crew saw - and the official version.
"Later last night, a reporter called the sheriff's office to ask what had happened. A deputy sheriff told him, 'There was small incident. One Negro fell down,'" Plante said.
A week later, Jackson died, and the idea of a protest march to the state Capitol in Montgomery was born. The first attempt, led by John Lewis, now a member of Congress, was stopped by state troopers and Clark's posse at the foot of the Edmund Pettus Bridge.
March 7, 1965, became known as "Bloody Sunday" as police beat the unresisting marchers. President Johnson called for a voting rights bill. Two weeks later, with troops protecting the route, a crowd of thousands led by King marched across the bridge.
Plante spoke to King as they passed the spot where protesters had been beaten.
Plante: "Have all the activities of the past weeks in Selma come to fruition now? Is this the grand climax?"
King: "I would say this and its culmination in the march on the Capitol on Thursday."
Those pictures jolted the conscience of the nation.
One in particular, "Two Minute Warning," was captured by the late photographer Spider Martin, who covered Selma for the Birmingham News.
"That's his, I guess, most iconic image," his daughter Tracy said. "That's Maj. John Cloud, who is telling them, the marchers John Lewis and Hosea Williams, who were leading the march, that it's unlawful and it's not going to go on."
Martin's editors tried to pull him off the story because they didn't like the pictures -- but he stayed on.
Another iconic figure in the march, Amelia Boynton, was clubbed and overcome by the gas. At 103, the Selma civil rights activist still has vivid memories of that day.
"The police department came up and started beating us, and I stood up there, then finally I fell," Boynton said. "I fell when the posse or whoever it was hit me, and it was below my shoulder, and I looked at him like I thought he was crazy, and he said, 'Run.' Then he hit me back at my neck, and I was unconscious. And I didn't know what happened because I was unconscious."
As she lay unconscious, someone suggested they call for an ambulance. She said Clark refused.
"He said, 'I'm not sending an ambulance over there. If there's anybody that is dead, let the buzzards eat them,'" Boynton said.
Fifty years later, she has a message for anyone who says they stand on her shoulders.
"Get the heck off of my shoulders and get to work," Boynton said.
She also said, "Hate makes a person unhappy." That's why she went to Clark's funeral in 2007.
"I have no animosity, no hate, no grief because of what has been said and what Jim Clark did, and I feel sorry for them ... There had to be something that caused him to hate and caused him to be unhappy during the time that he was living, and I feel sorry for him," Boynton said.
It's a message of hope and change even though there's much still to be done.
Thanks for reading CBS NEWS.
Create your free account or log in
for more features.