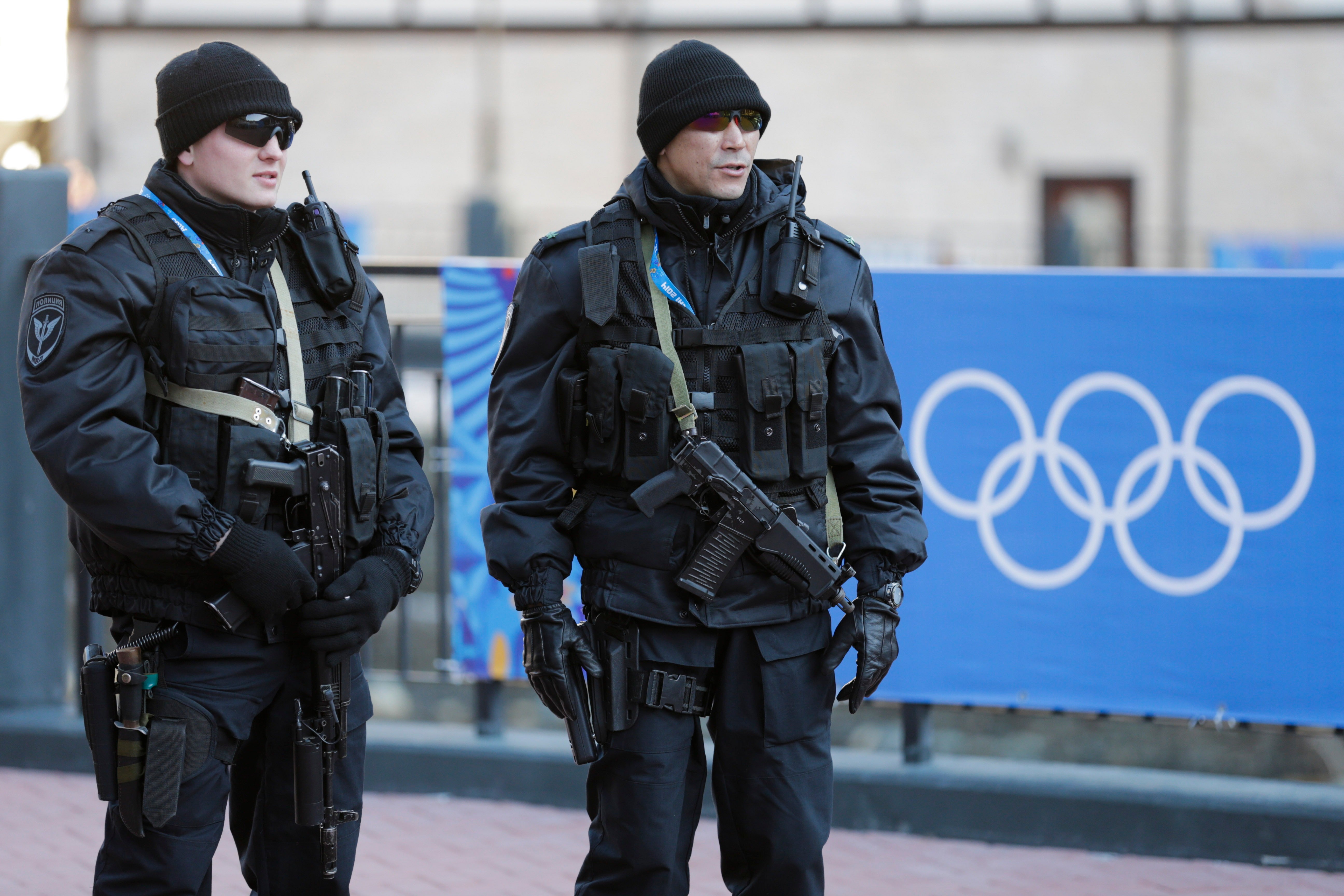 Security air-tight for Sochi Games opening ceremony
SOCHI, Russia -- It's designed to celebrate a millennium of Russian might and this country's modern rebound, and kick off two weeks of extraordinary human endeavors and planetary sportsmanship. But the tightly-guarded ceremony opening the Sochi Olympics on Friday, more than anything, will be about one man: Vladimir Putin.
He charmed and strong-armed his way to hosting the games at a summer beach resort that he envisioned as a winter paradise. He stared down terrorist threats and worldwide wrath at a scarcely veiled campaign against gays. He has shrugged off critiques that construction of the most costly games in Olympics history was both shoddy and corrupt.
The opening ceremony is Russia's chance to show itself and its post-Soviet identity to the world. It is likely to lean on Putin's version: a country with a rich and complex history emerging confidently from a rocky two decades and now capable of putting on a major international sports event.
The ceremony will focus on Russia and Olympic ideals of sportsmanship and achievement - not on repression of dissent, fears of terrorism or international political tensions over neighboring Ukraine.

Ballet, man-made snow and avant-garde art will make an appearance. There will be a pseudo-lesbian pop duo, a famed opera singer and a romp through Russian history.

In a provocative choice, Russian singers Tatu will perform before the 3,000 athletes march through a stadium on the shores of the Black Sea. The women in Tatu put on a lesbian act that is largely seen as an attention-getting gimmick.

The identity of the person who will light the Olympic cauldron is a closely-guarded secret. Russian hockey great Vladislav Tretiak - among the best to ever play the game - has said he'll take part in the ceremony, and some speculate he'll be Putin's choice for the high honor of the opening ceremony.

Security was extra-tight not just at the Olympic Park but also around the whole of Sochi, with vehicle checkpoints in place.Media and officials had to go through airport-type security checks when entering any Olympic-related venues and there was a clear police presence on the streets.

Several U.S. and European security officials said Thursday that last-minute intelligence reports about possible Olympics-related attacks have continued to flow into Western agencies and that U.S. and European agencies take them very seriously.
Fear of terrorism have clouded the run-up, fueled Putin's strict security agenda and brought U.S. warships to the region.

About 40,000 Russian security forces are working to prevent an attack on the games, and they stand watch in all corners of Sochi and its Olympic Park on the sea and built-from-scratch mountain ski resort.

The U.S. Department of Homeland Security rekindled the fears this week, warning that terrorists may try to smuggle explosives into Russia in toothpaste tubes. Yet some air travelers heading to Sochi have defied a temporary Russian ban on all liquids in carry-on luggage, and brought toothpaste and other toiletries on board unnoticed.

The U.S. Transportation Security Administration announced Thursday that it, too, is banning all liquids, gels, aerosols and powders from carry-on luggage on flights to Russia.

And CBS News Senior National Security Analyst Juan Zarate says there's a chance the ban on liquids could be extended -- and expanded.

"If the threat exists now and if we are worried that terrorist groups out of Russia and perhaps elsewhere are thinking about these techniques to evade security and the current restrictions and protections on airplanes," he said Friday on the CBS News broadcast "Up to the Minute," then they're going to have to think about whether to extend them beyond the Olympics and certainly consider whether or not it applies to U.S. domestic travel. So that's going to be a big issue, because terrorists are trying to target airplanes. That continues."
The main terrorist threat, said both European and U.S. officials, is posed by the Caucasus-based Imarat Kavkaz movement, which has attacked a Moscow airport and the capital's subway system. Officials said they could not confirm rumors that the group's leader, Doku Umarov, who last July called on his followers to disrupt the Olympics, had been killed.

Even if Umarov is dead, security officials believe the group is decentralized and its commanders are sufficiently autonomous to carry out attacks on their own.

"The security story has taken some strange twists here," CBS News correspondent Mark Phillips reported on "CBS This Morning" on Friday. "At one point, a senior Russian official said they had surveillance showing people were leaving their showers on too long. Which raised interesting questions about where they had cameras. It was later explained as a mistranslation."


For people who don't know much about Russia, the opening ceremony's director, Konstantin Ernst, promised "relatively simple metaphors" - and no obscure references, like the nurses in the London Games' opening ceremony representing the National Health Service, which he called one of the most "incomprehensible" moments in Olympic history.

Ernst said Tatu's "Not Gonna Get Us" was chosen because it's one of the only Russian pop songs that international viewers might recognize.

Most of Friday's performance will instead lean on Russia's rich classical music traditions, with piano virtuoso Denis Matsuev performing and opera soprano Anna Netrebko singing the Olympic anthem.

Friday's ceremony can't really compete with the cinematic splendor of the London Olympics or the pyrotechnic extravaganza of Beijing, but then again, the Winter Games are usually more low-key.

No matter. All Putin needs is an event that tells the world "Russia is back."

It's a message meant for millions around the world who will watch the show - and meant for his countrymen, too.

The world will be watching the entire Olympic machine in Sochi and, much as it did when Soviet-era Moscow hosted the Summer Olympics in 1980, will use what it sees to sit in judgment of Putin's Russia, where he has suffocated political opposition and ruled overtly or covertly for 15 years.

Is it a has-been superpower that can't keep the electricity on during a hockey game? Or a driver of the 21st century global economy? A diplomatic middleweight with ties to despots that wields influence only via its veto at the United Nations? Or a fairy tale of prosperous resurrection from the communist collapse and its brutal aftermath?

Who sits next to Putin on the VIP balcony may provide some clue. President Obama and some other Western leaders are staying away, upset at a law Putin championed barring homosexual "propaganda" aimed at minors that has been used to more widely discriminate against gays.

But organizers say some 66 leaders - including heads of state and international organizations - are joining the games, including U.N. Secretary-General Ban Ki-Moon.

The opening ceremonies will gloss over these ugly bits as they hand over the games to the men and women who will spend the next two weeks challenging records and the limits of human ability.

It may be too much for Putin to hope that three hours of an opening ceremony will reshape his global image. But in a country that embraces superlatives and spectacle and set a world standard for classical dance, he can count on them to provide a good show.
Thanks for reading CBS NEWS.
Create your free account or log in
for more features.