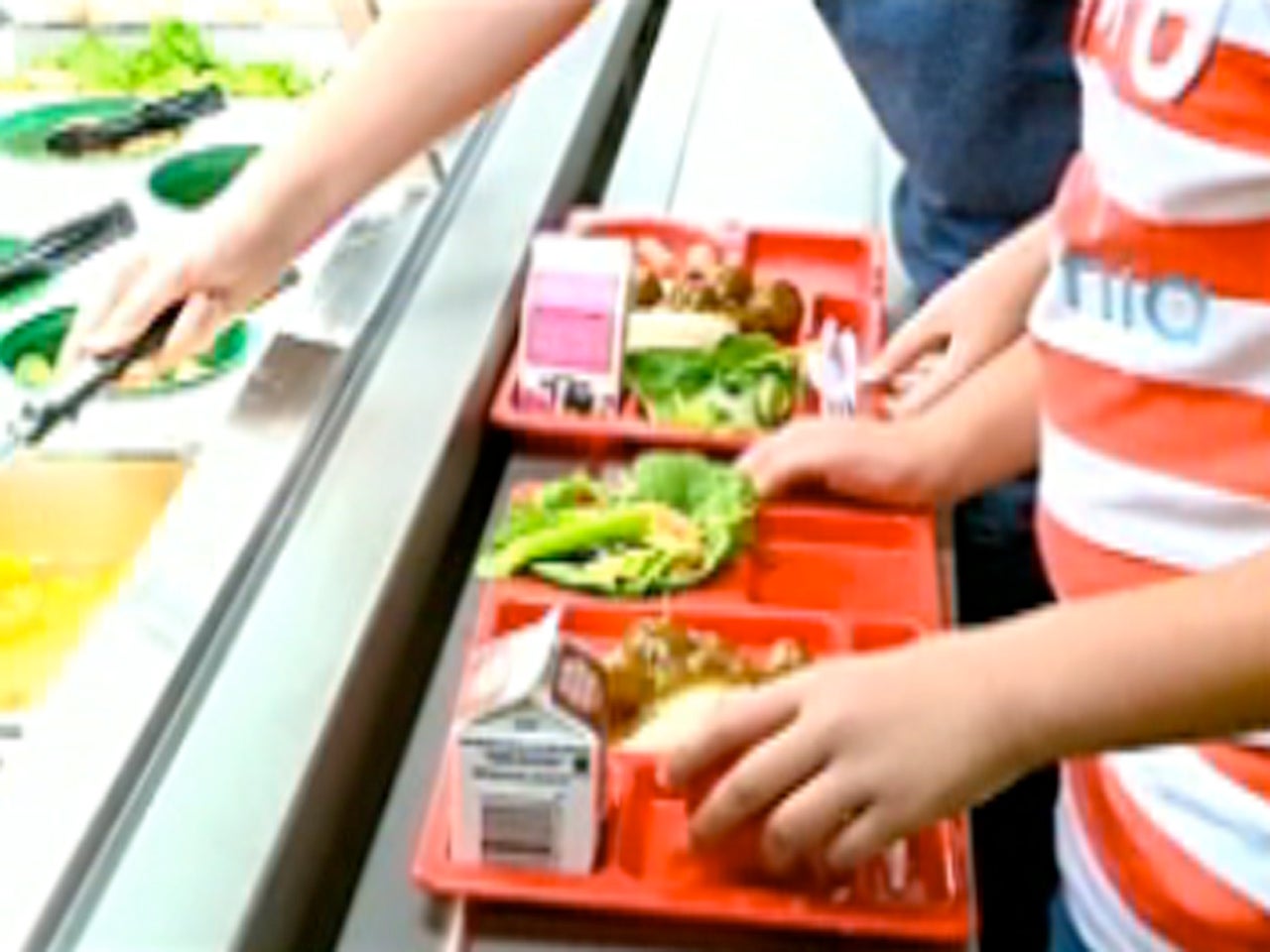 School lunches get healthy makeover from USDA and First Lady
(CBS/AP) The days of square pizzas and beef burritos in school cafeterias are numbered.

First lady Michelle Obama and Agriculture Secretary Tom Vilsack announced today that big changes are coming to school lunches - the first changes in more than 15 years.
Most school meals will have less sodium, more whole grains and more fruits and vegetables as sides. The popular pizzas will still be on school lunch lines - but will be made with healthier ingredients.
Mrs. Obama and Vilsack made the announcement at Parklawn elementary school in Alexandria, Va., with celebrity chef Rachael Ray. After the announcement, the three went through the line with students and ate turkey tacos with brown rice, black bean and corn salad and fruit - all recipes from Ray.
Mrs. Obama said kids will learn better if they're eating right at school.
"We have a right to expect the food (our kids) get at school is the same kind of food we want to serve at our own kitchen tables," she said.
The changes won't be as aggressive as the Obama administration had hoped. Congress last year blocked Vilsack and the USDA from making changes the department sought in limiting french fries and pizzas.
A bill passed in November would require USDA to allow tomato paste on pizzas to be counted as a vegetable, as it is now. The initial draft of the department's guidelines from a year ago would have prevented that. Congress also blocked USDA from limiting servings of potatoes to two servings a week.
The congressional changes had been requested by potato growers and food companies that produce frozen pizzas for schools, among others in the food industry. Conservatives called the guidelines an overreach, saying the government shouldn't be telling children what to eat. School districts had also objected to some of the requirements, saying they would cost too much.
Rachel Ray said during a conference call that the pizza and french fries issue is a "distraction" from the game-changing changes that are being rolled out for school lunches.
The new changes do not put a maximum limit on any vegetable - including starchy ones - but rather minimum weekly requirements for healthier dark green or red/orange vegetables.
What are the new standards? According to the USDA, they're the same kinds of practical changes that many parents are already encouraging at home, including:

Ensuring students are offered both fruits and vegetables every day of the week;
Substantially increasing offerings of whole grain-rich foods;
Offering only fat-free or low-fat milk varieties;
Limiting calories based on the age of children being served to ensure proper portion size; and
Increasing the focus on reducing the amounts of saturated fat, trans fats and sodium.
The new guidelines would apply to lunches subsidized by the federal government, and a child nutrition bill signed by President Barack Obama in 2010 would help school districts pay for some of the increased costs. Some of the changes could take place as soon as the next school year, while others would be phased in over time.
Vilsack said in the conference call the changes should affect more than 32 million children.
The guidelines are also expected to limit the total number of calories in an individual meal and require that milk be low in fat. Flavored milks would have to be nonfat.
The guidelines are designed to combat growing childhood obesity and are based on 2009 recommendations by the expert advisors at the Institute of Medicine.
The subsidized meals that would fall under the guidelines are served as free and low-cost meals to low-income children and long have been subject to government nutrition standards. The 2010 law for the first time will extend nutrition standards to other foods sold in schools that aren't subsidized by the federal government, including "a la carte" foods on the lunch line and snacks in vending machines.
Those standards, while expected to be similar, will be written separately and have not yet been proposed by USDA.
Thanks for reading CBS NEWS.
Create your free account or log in
for more features.