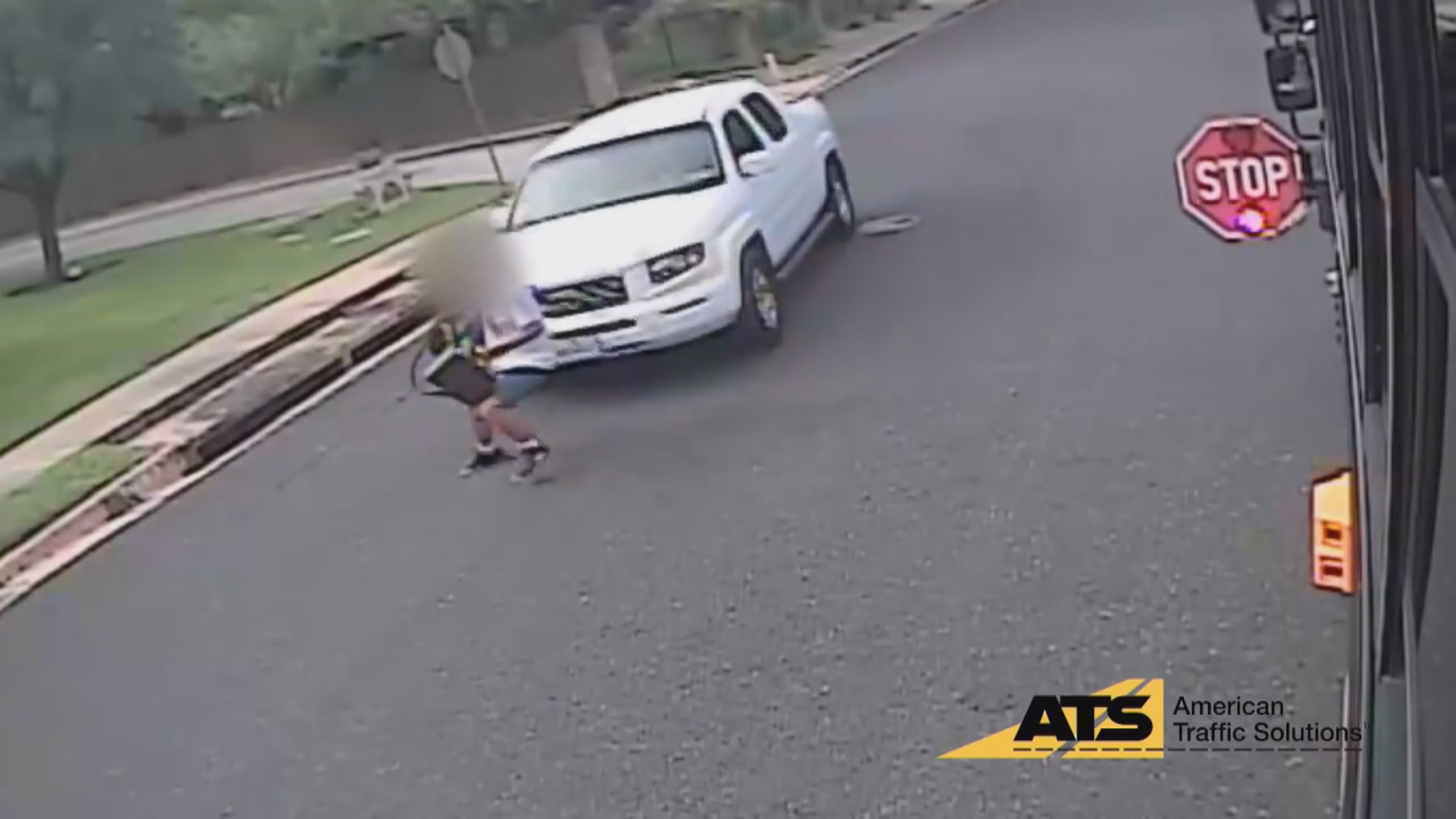 "Shocking" number of reckless drivers caught by Austin school bus cameras
As students return to class, some school districts are releasing dramatic videos to highlight the dangers from drivers who fail to stop for school buses.
Video released Monday by Dallas County Schools shows a car ignoring the flashing red stop lights and sideswiping 12-year-old Miles McFadden two weeks ago. A truck kept going even though Miles' Austin school bus stopped, plowing into the seventh-grader. He was bruised, but fine.
"I was walking, I see this truck coming. I expect him to stop, but he doesn't and everything just goes into a blur," said Miles' mother, Amy McFadden, who saw the video of the collision that night on television. "It's just your heart drops into your feet and you just can barely breathe when you're watching that."
The very next day in Austin, another truck hit a high school student getting off the bus. Amazingly, he was fine.
By one estimate, American drivers illegally passed school buses more than 13 million times last year. On average, roughly eight kids a year are killed by drivers who ignore school bus stop signs, reports CBS News correspondent Mark Strassmann.
Donald Mair's daughter Gabby was killed after getting off her school bus in Florida in 2010. The 71-year-old driver was never charged. Mair is pushing state lawmakers to allow school bus cameras to keep students safe.
"It's not an accident because it's preventable," Mair said. "And it's not a tragedy because we know it's going to happen again."
At least 15 states allow cameras to be mounted outside school buses to record motorists illegally passing. Last January, Austin, Texas added cameras -- on both the front and back of the buses -- which automatically record whether nearby cars come to a stop for the kids.
Every day, school police review videos of violators. The fine is $300. In four months, they sent citations to 6,600 motorists.
"That was a very significant number. It was shocking," said Austin Independent School District Police Chief Eric Mendez. "That's a lot of violators in a very short time period."
So with school bus cameras here always watching, it's up to drivers to recognize that stop signs really do mean "stop."
"That's somebody's baby. Every one of those kids is somebody's baby. And it's my responsibility as a driver to make sure that every one of those kids gets home safely," McFadden said.
The citations last year in Austin generated nearly $2 million in fines, which was split 60-40 between the camera company and the school district.
Critics complain these cameras are more about making money than finding ways to keep kids safe.
Thanks for reading CBS NEWS.
Create your free account or log in
for more features.