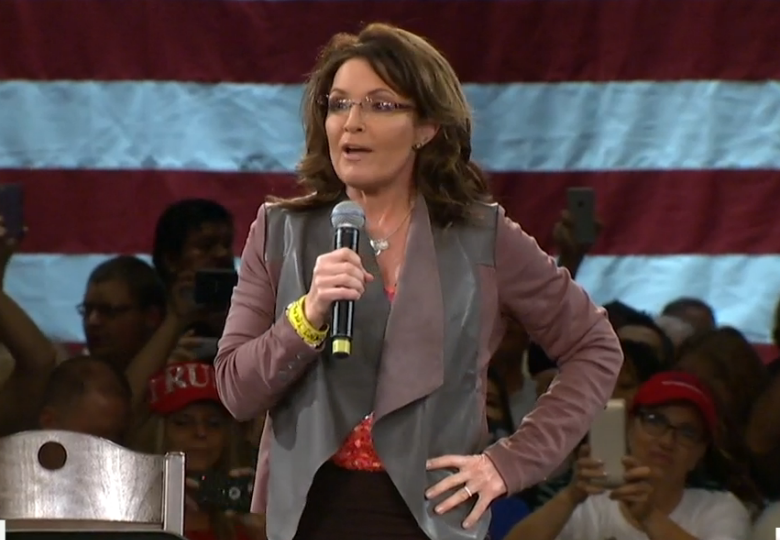 Sarah Palin slams "punk-a**" protesters who disrupt Donald Trump's events
At a rally for Donald Trump, Sarah Palin bashed the protesters who have been interrupting Trump's campaign events.
"What we don't have time for is all that petty, punk-a** little thuggery stuff that's been going on with these "protesters" who are doing nothing but wasting your time and trying to take away your First Amendment rights, your rights to assemble peacefully," Palin said. "And the media, being on the thugs' side. What the heck are you guys thinking, media? It doesn't make sense. Well, you all get it."
Palin also told voters her husband had been in a big wreck, and when someone is sick in your family, it puts things into perspective.
At the last minute, Palin had canceled a scheduled Trump campaign event in Arcadia, Florida because her husband was in a very serious snow machine crash, a source who knows Palin's travel plans confirmed to CBS News, but she stopped by the Tampa town hall with Trump before heading to the airport to return to Alaska, the source said.
Todd Palin, 51, crashed on Sunday night and is currently hospitalized in intensive care, the source said. It was unclear where exactly the crash occurred and whether it was on a snowmobile or involved another type of machine. The former governor and 2012 GOP vice presidential nominee was on the phone with doctors and family all morning.
Early Tuesday morning Palin posted a statement on her Facebook account saying her husband remained in intensive care "with injuries including multiple broken and fractured ribs, broken shoulder blade, broken clavicle, knee/leg injuries; and a collapsed lung. He is presently back in surgery to repair multiple fractures."
She thanked people for their support and for respecting the family's privacy, and added that, "knowing Todd, once he's cognizant, he'll probably ask docs to duct tape him up and he'll call it good. He's tough."
The news came after Trump's campaign abruptly announced the cancellation of the Palin event in The Villages, Florida, just minutes before it was scheduled to start at noon. She officially endorsed the GOP presidential frontrunner in January.
Eventually, Trump's campaign confirmed it was her husband's accident that led to the cancellation, and acknowledged "Palin is returning to Alaska to be with her husband and looks forward to being back on the campaign trail soon. Mr. Trump's thoughts and prayers are with the Palin family at this time," the campaign said in a follow-up statement.
This comes a day after Palin arrived in Florida to campaign for Trump in advance of the Sunshine State's critical winner-take-all primary on Tuesday.
CBS News' senior political editor Steve Chaggaris contributed to this report.
Thanks for reading CBS NEWS.
Create your free account or log in
for more features.