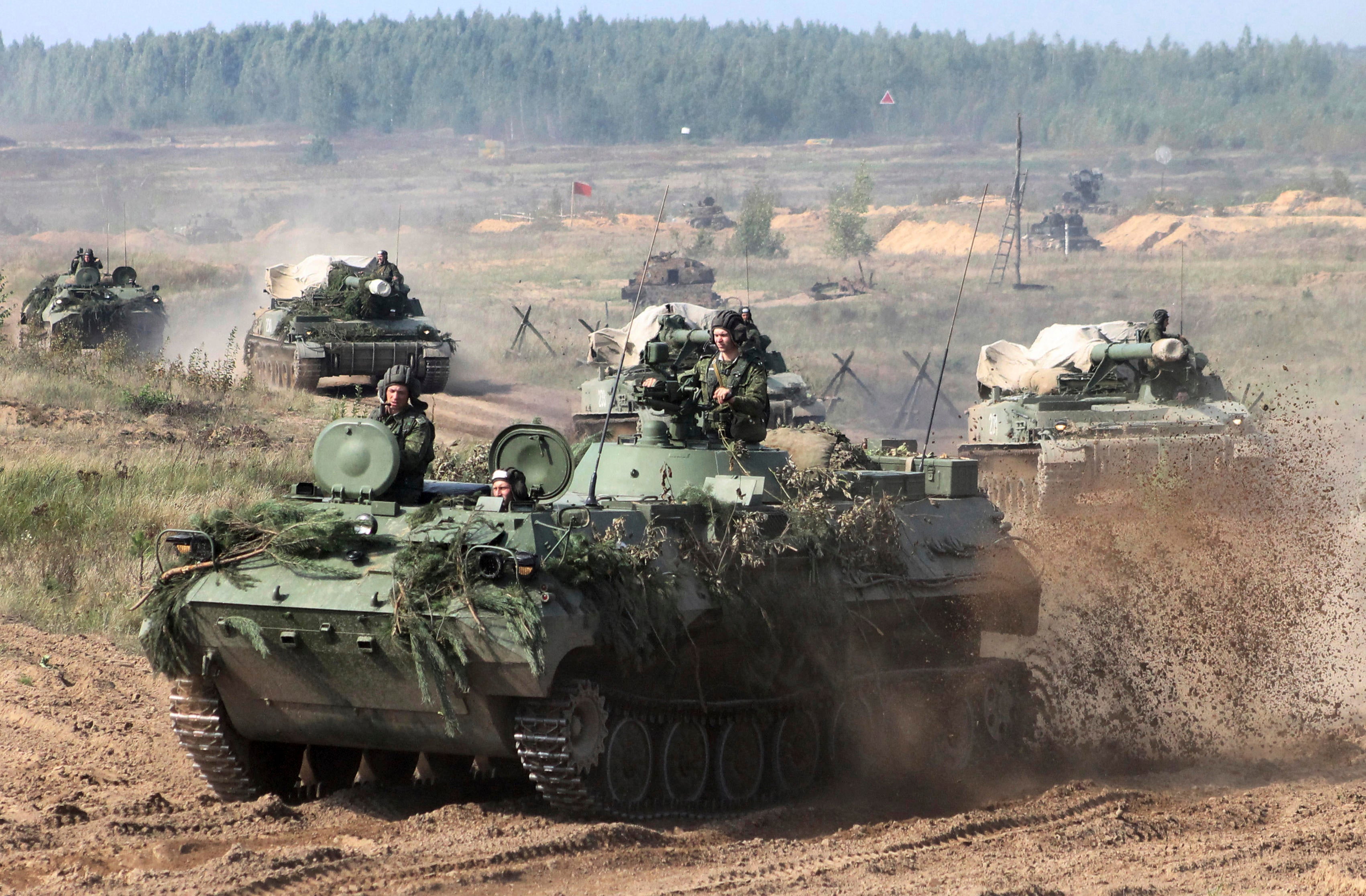 Russia kicks off huge war games on Europe's borders
MINSK, Belarus -- Military officials in Belarus sought Thursday morning to calm Western fears about major war games taking place with Russia, hours before they got underway.
"We are not threatening anyone," Oleg Voinov, an adviser to the Belarusian Defense Minister, told journalists.
Despite assurances from Minsk and Moscow, the Zapad (West) 2017 maneuvers have caused concern among NATO nations. Some members of the alliance, including the Baltic States and Poland, have questioned Moscow's real intentions and said the number of troops involved could be much higher than official figures offered by Moscow.
Russia accused the West of "whipping up hysteria" over the exercises, Reuters reports.
"We reject complaints of these exercises not being transparent," Kremlin spokesman Dmitry Peskov told a conference call with reporters on Thursday, according to Reuters. "We believe that whipping up hysteria around these exercises is a provocation."
Russia and Belarus have said that the exercises, which will last until Sept. 20, will involve 5,500 Russian and 7,200 Belarusian troops, but U.S. military and NATO officials have said Russia could mass as many as 100,000 troops along the borders shared with Eastern European countries.
Leaders in Poland, the Baltic states, Slovakia, Romania and Bulgaria -- and further into Western Europe -- are concerned Russia might not pull back all of its soldiers after the drills.
The head of the U.S. Army in Europe, Gen. Ben Hodges, has raised concerns that Russia could use the exercise as a "Trojan horse" to make incursions into Poland and Russian-speaking regions in the Baltics.
In late August, Russian Deputy Defense Minister Lt. Gen. Alexander Fomin dismissed what he described as Western "myths about the so-called Russian threat."
In February, U.S. officials said Baltic nations had conveyed their mounting concerns about the looming Zapad drills, saying they believed Putin could mass 100,000 troops along the Belarusian borders; the very edge of the Kremlin's sphere of influence with eastern Europe.
At a Senate Foreign Relations Committee hearing on Russia early this year, Sen. Bob Menendez, D-New Jersey, said he had met recently with Baltic ambassadors who said the plans for the September war games could involve that many Russian troops, which would be a significant increase on the number that took part in previous drills under the same name in 2013 and 2009.
U.S. Gen. Phillip Breedlove, who was the Supreme Commander for NATO until May 2016, said the name for the exercise -- the Russian word for "west" -- combined with the fact that he also had heard it could involve in excess of 100,000 troops was, "a bit alarming."
"The Russians have ordered 83 times... the rail cars that they ordered for Zapad (in 2013)," Breedlove said at the Senate hearing, a figure he said suggested the 2017 drills would be "demonstrably bigger."
Russia said 10,000 troops took part in the 2013 drills, which spanned across Russian territory and involved all branches of its military, but some Western defense analysts have said the actual number was likely closer to 70,000.
"Nations have a right to exercise," Breedlove said in February. "Nations do not have a right, I think, to exercise irresponsibly on other borders and in configurations that represent offensive capability."
"I think the problem with this exercise is size and scope, directly on the border, a name that orients it west, and the fact the unpredictability of it makes it very alarming," he said.
Tensions between Moscow and the West have spiralled since Russia's 2014 annexation of the Crimean peninsula.
In response to the ongoing conflict in eastern Ukraine, the U.S. has bolstered defences in NATO partner nations including Poland, where a shipment of U.S. military equipment was unloaded Wednesday at a Baltic Sea port.
American troops were deployed to bases across Poland this year on a rotating basis as reassurance amid Russia's increased military activity.
Over 1,000 pieces of U.S. equipment, including Abrams tanks, Bradley fighting vehicles and self-propelled howitzers, arrived at the port of Gdansk on Wednesday.
Sweden, meanwhile, started its largest military exercise in over 20 years on Wednesday, with nearly 20,000 troops drilling on air, land and sea, including a contingent of over 1,000 U.S. soldiers, amid the rising military activity in the Baltic Sea region.
The three-week Aurora 17 drill kicked off Monday and will chiefly take place around the strategic Baltic Sea island of Gotland and the regions surrounding Stockholm and Goteborg.
The Swedish military said the exercise by the non-NATO nation was designed "to deter potential attackers, and force them to carefully consider the risks of attacking our country."
Troops from non-NATO Finland were also to attend, along with NATO soldiers from Denmark, Norway, France, Estonia, Lithuania and the United States.
Russia's Zapad 2017 exercise will include operations near the borders of Estonia, Latvia and Lithuania.
Thanks for reading CBS NEWS.
Create your free account or log in
for more features.