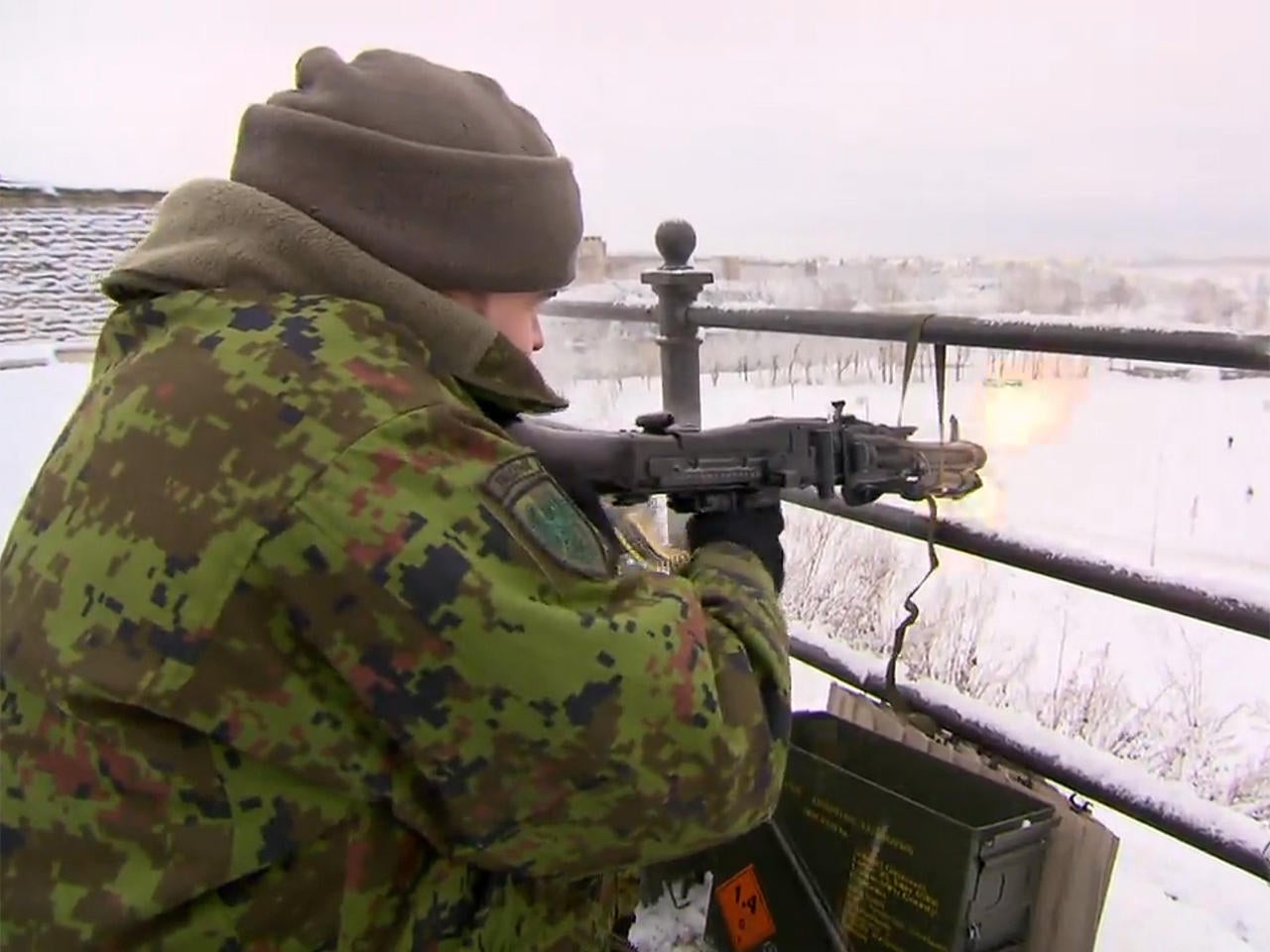 With volunteers and U.S. tanks, Estonia tells Russia it's "ready to fight"
TALLINN, Estonia -- Dozens of men and women in camouflage gather in a school gymnasium, readying equipment and weapons for a hypothetical battlefield.
They may look like soldiers, but as CBS News' Elizabeth Palmer reports, they're actually ordinary civilians with day jobs, but they are also volunteers in the Estonian Defence League, a kind of citizen's militia.
CBS News watched as the members trained in an annual exercise -- more than 13,000 of them -- a civilian resistance force ready to rise up if Estonia is attacked.
Right now, they believe their aggressive neighbor to the east -- Russia -- is enemy number one, especially after its invasion of Ukraine.
Why do they do it?
"Definitely because Russia has had some rather offensive rhetoric, and we just saw what happened in Ukraine, nobody thought it's possible," volunteer Erin Alaryklin told Palmer.
He was referring to Estonia's aggressive neighbour to the east, Russia, which, in the past 10 years, has invaded both the Republic of Georgia and Ukraine.
Many Estonians worry their country could be next.
"So, let's say, five years ago, nobody even thought -- if you said something like that, you were the crazy person," Alaryklin said. "Now, it's like, it happened in Ukraine, it happened in Georgia, why not here?"
Estonia does has a professional military, too. It was on display last weekend in an Independence Day parade; a clear demonstration of the fact that this small country spends big on defense.
It's a fully paid-up member of the NATO alliance, and that buys it powerful friends. This year, U.S. soldiers deployed to Estonia were part of the parade. American troops have taken part before, but this year was the first time U.S. tanks also rolled through Tallinn.
Over the course of the next few weeks, 1,000 British troops are expected to join the U.S. NATO contingent (about 200 troops) in Estonia. The U.K. is deploying a similar number of forces this month to other Balkan states.
American tanks on the streets of the Estonian capital send a powerful message to the people here; that the U.S. will stand by its NATO allies. They also send a clear signal to the Kremlin.
Estonians over the age of 25 remember well that their country was actually ruled by Moscow during 50 years of occupation by the Soviet Union. It all ended in 1990, and the parade over the weekend honored those who died in the multiple struggles for Estonian independence.
No one in the country, which has a population of about 1.3 million -- roughly equal to that of New Hampshire -- is prepared to see it threatened again, especially by Russia.
"Estonia is not alone," Estonian Defense Minister Margus Tsahkna told Palmer. "We are sending the message to Russia very clearly that we are able to speak the same language as Mr. Putin does - and it's language that we are ready to fight."
Staying ready means constant training. On Saturday, near the town of Voru, women volunteers in the local chapter of the Defence League were in class, learning to use GPS equipment. Once they'd grasped the basics -- they took to the forest for a field test.
For Ruth Maadla, the Defense League is about comradeship, learning new skills, and keeping fit.
She doesn't really expect the Russians to invade, but she's happy to be part of the force that's communicating Estonia's message to the neighbors. She thinks it's "good to have the message."
That message to Russia is loud and clear: Estonia is spending record amounts on its military, it has the full backing of the U.S. and NATO, and the civilian Defence Leagues had never had more volunteers.
Thanks for reading CBS NEWS.
Create your free account or log in
for more features.