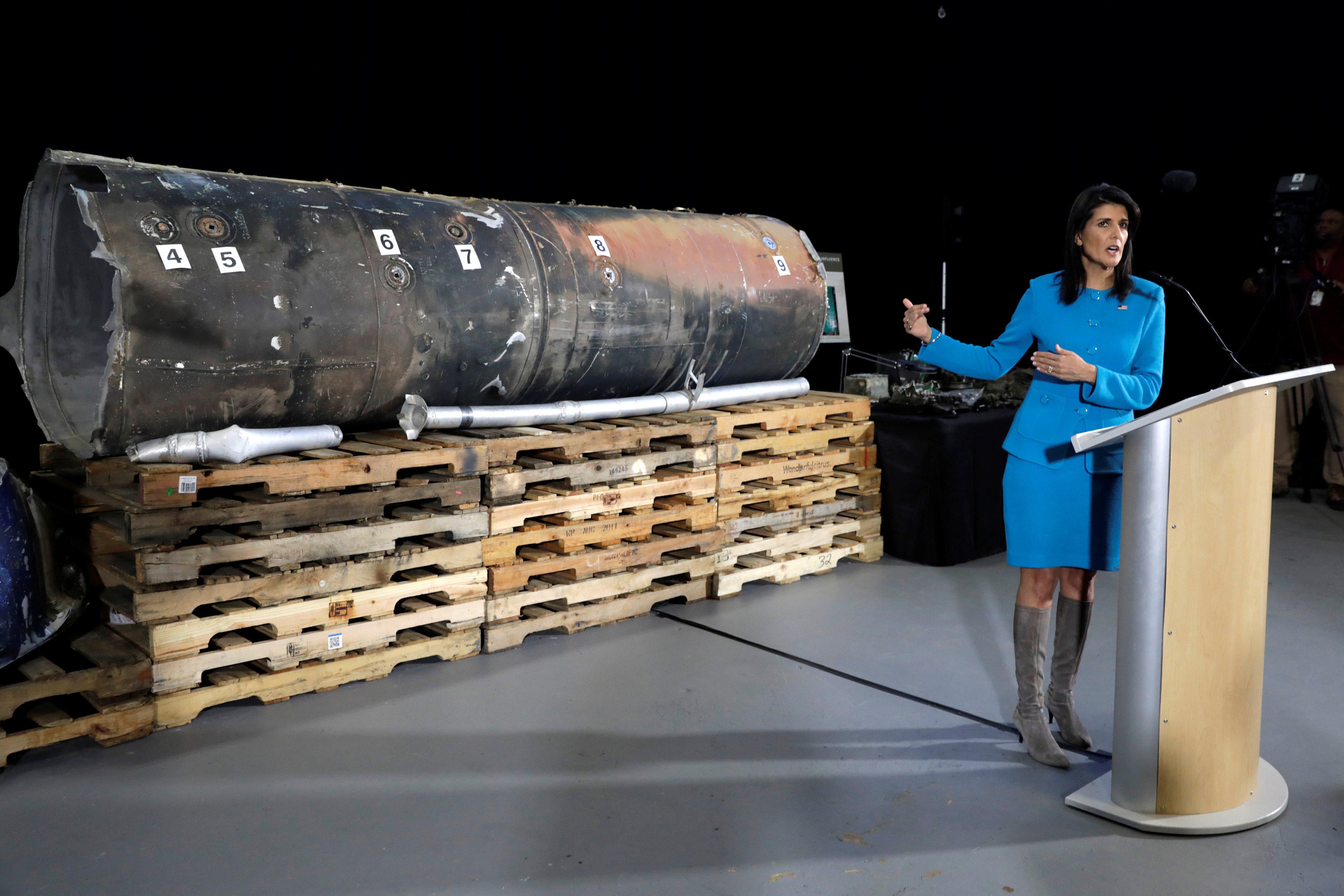 Russia rejects U.S. evidence of Iran's "lawless behavior"
UNITED NATIONS -- Russia is pushing back against U.S. efforts to get the U.N. Security Council to take action against Iran over the Islamic Republic's ballistic missile program and its support of terror groups. Russia's U.N. Ambassador traveled to a U.S. military base near Washington D.C. this week to view what the Pentagon says are remnants of Iranian-made ballistic missiles that Yemeni rebels fired at Saudi Arabia, but he wasn't convinced by the evidence.
"Everyone knows Yemen hosts a pile of weapons from the old days," Ambassador Vassily Nebenzia said, insisting there's no case against Tehran at the U.N. and citing, as his own evidence, Iran's own remarks "vehemently denying that it is supplying anything to Yemen."
Nebenzia's remarks were published Wednesday by the U.N. Mission of the Russian Federation. He said there is "nothing definite" on a push for a new Iran sanctions resolution, but his skepticism over the evidence of what U.S. Ambassador Nikki Haley called Iran's "lawless behavior" means any new sanctions proposal would likely be nixed by the Kremlin.
Russia isn't the only skeptic on the Security Council. Kazakhstan's U.N. Ambassador Kairat Umarov, as well as other ambassadors on the trip, questioned the chain of custody of the missile parts, noting that the evidence was supplied by Saudi Arabia -- Iran's arch nemesis --and was on loan to the U.S. Defense Department.
"We don't know how this weaponry was delivered to Yemen," he alleged.
The diplomats' trip to Washington was a follow-up to Haley's assertion to the Security Council in mid-December that evidence is mounting that Iran is supplying arms to Yemen's Houthi rebels in violation of the terms of the Iran nuclear deal.
Speaking about the U.N. Secretary-General's report on the Iranian regime's compliance with Resolution 2231, Haley said, "It is the most damning report yet. This report makes the case that Iran is illegally transferring weapons."
Iran's response to the Council trip to the Joint Base Anacostia-Bolling was swift: Its Foreign Minister, Javad Zarif, tweeted that the Council was merely conveyed the Trump administration's "Iranophobic narrative" during the visit.
In spite of the skepticism of some council members, however, both Britain and France appeared convinced by the evidence.
The U.K.'s acting U.N. Ambassador, Jonathan Allen, said in a tweet: "We have an independent expert U.N. panel. But as a non-expert, I understand that it's more than just factory stamps. Missile shape unique (no tail fins; valve positions) as is anti-tank missile design. Hard to see how they are 'tampered with' if that's the accusation."
Haley has been trying hard to convince the Security Council that Iran's actions have violated U.N. resolutions and that new sanctions are needed to curtail what she calls Iran's "malign behavior."
The U.S. push to sanction Iran's ballistic missile activity has received strong support from Paris. At a European Union meeting in Brussels this month, French Foreign Minister Jean-Yves Le Drian said, "we will have the opportunity of underlining our firmness on Iran's compliance with United Nations Resolution 2231, which limits access to ballistic capacity and which Iran does not respect."
U.N. Undersecretary-General for Political Affairs Jeffrey Feltman told the Security Council last month, "There are a few options that we can use to put pressure on Iran to adjust their behavior: The Security Council could strengthen the provisions of Resolution 2231; We could adopt a new resolution that makes clear that Iran is prohibited from all activities related to ballistic missiles."
Haley hasn't indicated what the next step would be, but Russia would be key to moving forward at the world body on any multinational sanctions against Iran.
Thanks for reading CBS NEWS.
Create your free account or log in
for more features.