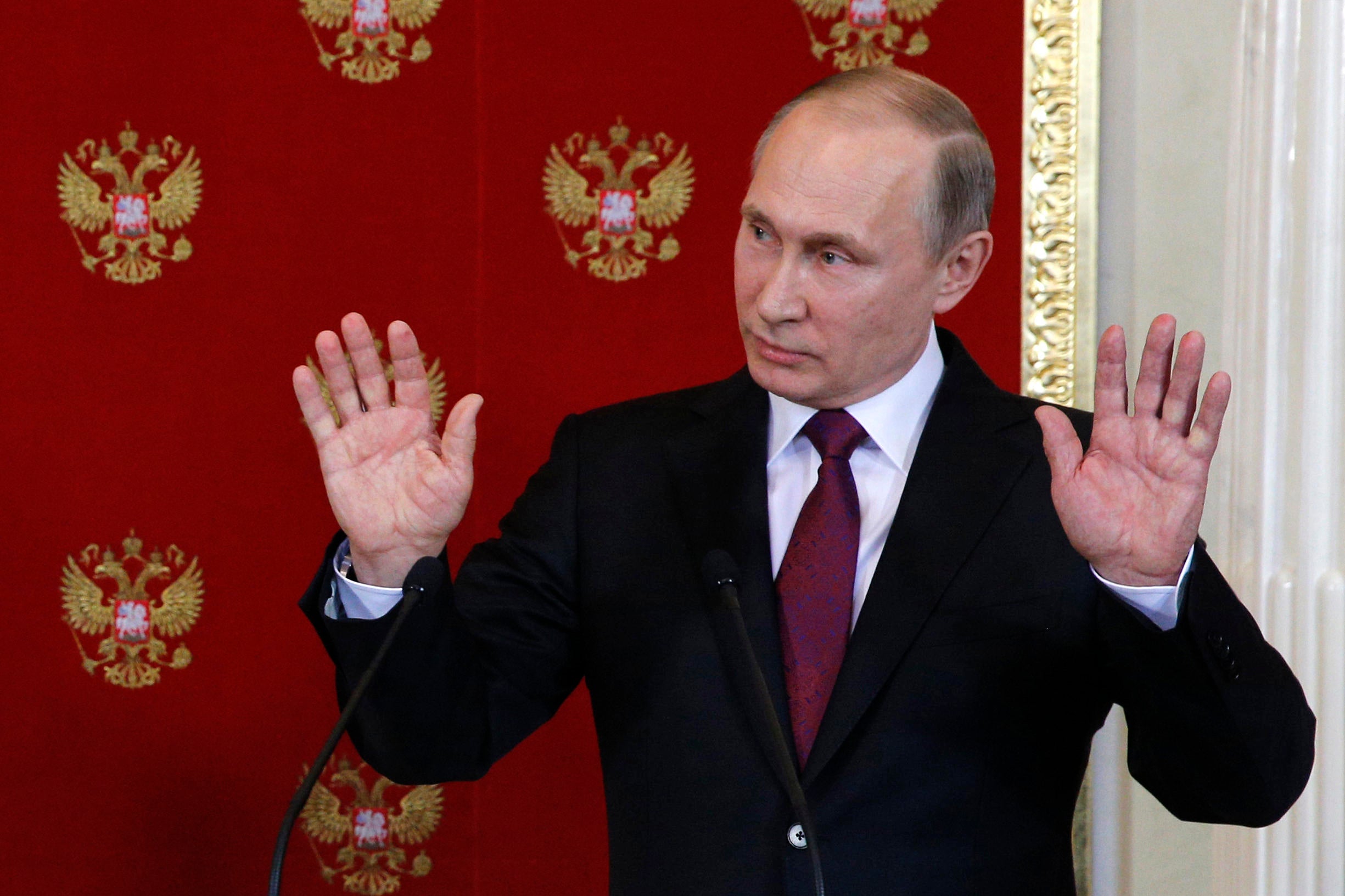 Putin says U.S. preparing more strikes on Syria
President Vladimir Putin said Russia believes the U.S. is preparing additional strikes against the Syrian government, according to Reuters.
Speaking at a press conference with Italian President Sergio Mattarella on Tuesday, Putin told reporters Russia has information that Syrian militants are planning "provocations" using chemical weapons that would be blamed on the government of President Bashar Assad and used as a pretext for further U.S. strikes.
The United States on Friday carried out an airstrike on the Shayrat air base which is believed to have been used for last week's chemical weapons attack in the Idlib province. Moscow has dismissed suggestions that the Syrian government that it backs could be behind the attack.
"We have information that a similar provocation is being prepared ... in other parts of Syria including in the southern Damascus suburbs where they are planning to again plant some substance and accuse the Syrian authorities of using [chemical
weapons]," Putin said, according to Reuters.
A senior U.S. official told the Associated Press that Washington has concluded Russia knew in advance of Syria's chemical weapons attack. The official, who wasn't authorized to speak publicly on intelligence matters and demanded anonymity, didn't offer concrete proof and others in the Trump administration cautioned that no final determination of Russia's foreknowledge had been made.
Putin compared the accusations against the Syrian government over the chemical attack to how the U.S. justified its intervention in Iraq in 2003.
"It reminds me of the events in 2003 when U.S. envoys to the Security Council were demonstrating what they said were chemical weapons found in Iraq," Putin told reporters on Tuesday. "We have seen it all already."
Claims that the regime in Iraq in 2003 had weapons of mass destruction were never proven.
Putin said some Western countries have publicly supported last week's U.S. airstrikes on Syria because they are eager to improve ties with President Trump. He said Russia will appeal to the United Nations to investigate the chemical attack.
Secretary of State Rex Tillerson arrived in Moscow Tuesday for a meetings with Russian officials, his first trip to Russia since taking office.
Before heading to Russia, Tillerson told reporters that Moscow had either failed to take seriously its obligation to rid Syria of chemical weapons, or had been incompetent. But, he said, the distinction "doesn't much matter to the dead."
Meanwhile, Russia's General Staff said the Syrian government is willing to let international experts to examine its military base for signs of chemical weapons.
Col. Gen. Sergei Rudskoy said in televised remarks on Tuesday that the Syrian government is ready to let international experts to examine the base and that Russia will provide security for them.
Thanks for reading CBS NEWS.
Create your free account or log in
for more features.