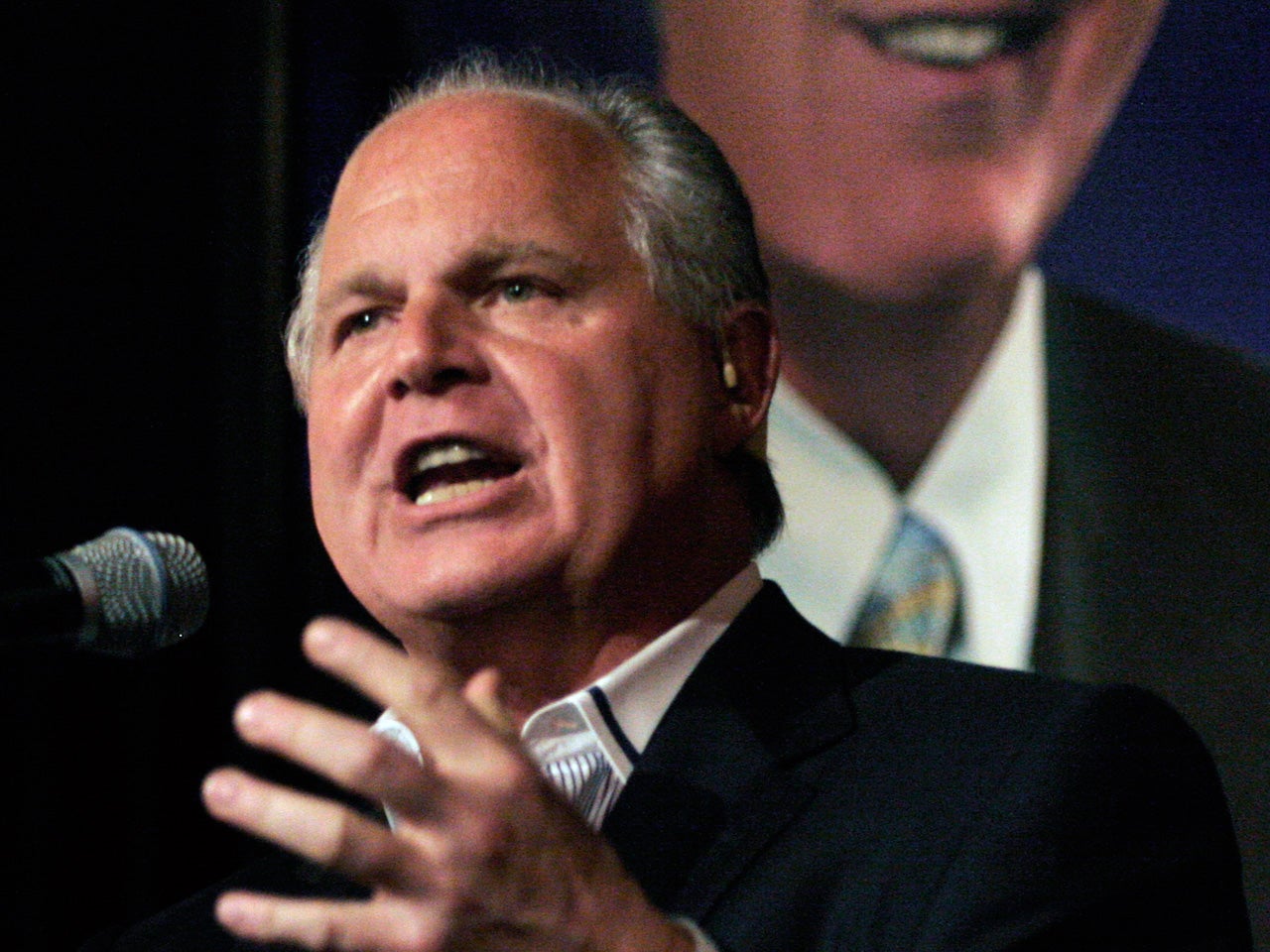 Rush Limbaugh: Donald Trump's attack on Ted Cruz "raised a red flag"
Conservative radio host and commentator Rush Limbaugh on Monday praised and defended Sen. Ted Cruz, R-Texas, from attacks hurled by Donald Trump.
On his radio show, Limbaugh criticized Trump for labeling Cruz a "maniac" on Fox News Sunday.
"My questioning here about the way Trump has gone off Cruz here, calling him a maniac, refusing to work with people in the Senate, the reason I'm focusing on that, folks, 'cause that's so unlike Trump. I mean, that's a huge mistake," Limbaugh said, according to a show transcript.
Limbaugh feels that Trump "gets away with his mistakes" because of his base of support, but added that he was alarmed by some of Trump's latest rhetoric.
"For any of you who are holding out hope that Trump is a genuine conservative, a genuine conservative, even in the Republican field, would not go after Cruz this way," he said. "So that just raised a red flag for me, made me somewhat curious."
Limbaugh also slammed Trump for what he considered to be taking the establishment's side in criticizing Cruz. Trump, he said, has "essentially put on his John McCain hat here, saying, 'I'm Donald McCain, and I'm the guy that can cross the aisle and work with the other side. Ted Cruz can't.'"
Cruz's rise in the polls isn't surprising to Limbaugh, especially in the key early voting state of Iowa. A Des Moines Register/Bloomberg Politics poll released Saturday showed Cruz leading there among likely Iowa caucus goers, with 31 percent support. That's 10 percentage points higher than Trump's level of support in the survey.
The conservative radio host also explained Cruz has been smart in his reluctance to attack Trump and other GOP rivals.
"This is why I think Cruz has been just brilliant in the way he's been behaving. I can't think of any other word. The way he has been comporting himself. He is positioning himself well," said Limbaugh, who described Cruz as "extremely sophisticated, well-rounded, great character, proper virtues."
Cruz has largely refrained from attacking Trump publicly, although last week he questioned Trump's judgment at a private fundraiser whose audio was eventually leaked.
"Who am I comfortable having their finger on the button? Now that's a question of strength, but it's also a question of judgment. And I think that is a question that is a challenging question for both of them," Cruz said at the event about Trump and Ben Carson.
Thanks for reading CBS NEWS.
Create your free account or log in
for more features.