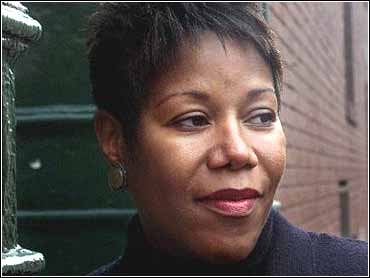 Ruby's Bridge From Child To Adult
On Nov. 14,1960, 6-year-old Ruby Bridges became the first black child to integrate a public school in New Orleans. It was to become one of the most memorable images of the civil rights movement.
Other people have written about her experience, and it was even the inspiration for a Norman Rockwell painting. But, for years, Bridges didn't talk much about it.
But a family crisis encouraged her to think about her past and about what she was supposed to do with her life, and she decided to tell her story. Her award-winning children's book, Through My Eyes, recounts Ruby's first-grade year - in her own words, in excerpts of news articles, and in photos.
In honor of Black History Month, Ruby Bridges speaks to Saturday Early Show Co-Anchor Thalia Assuras about her experience and what she's doing now to teach children about this chapter of American history.
People sometimes refer to Ruby Bridges as a civil rights pioneer, but at age 6, she had no concept of the significance of what she was about to do, nor did she know much about the racial hatred that surrounded her.
Years after the U.S. Supreme Court ruled in 1954 that schools no longer could be "separate but equal," several southern states resisted integration. Louisiana was among those states.
Ruby came from a family of Mississippi sharecroppers who moved to New Orleans to make a better living in the city. In 1959, a federal court in New Orleans decided to force two public schools to integrate.
Black kindergarteners were tested to see which children should be sent to white schools. Ruby was one of the few children who passed the test.
Her mother thought sending Ruby to an all-white school would pave the way for a better future; her father was against the idea, since he believed segregation was here to stay. But at the urging of the NAACP, Ruby's parents allowed her to transfer to the William Frantz School.
AP
Ruby being escorted from school in 1960
---
She wasn't told much about what to expect the first day, except that her mother warned her there might be a lot of people outside the school. The first day, crowds of protesters were out in full force, waving signs, chanting, name-calling, and jeering. Someone was carrying a black doll in a coffin, which frightened Ruby even more than the verbal threats. She was escorted into the school by federal marshals.

As the months dragged on, he protests grew. Most parents pulled their children out of the school. Through that entire year, Ruby was kept isolated from the few white students who did show up.

The only person with whom she had daily contact was her teacher, Mrs. Barbara Henry, a white woman from Boston who became a trusted friend. As the two became closer, the city's racial divisions deepened and riots erupted. Across the country, people began to hear about a little girl named Ruby Bridges whose presence in school had sparked the violence.

Her story inspired a passage in John Steinbeck's book, Travels With Charley, as well as a painting by Norman Rockwell called The Problem We All Live With. Eleanor Roosevelt wrote her a letter of encouragement.

When did she realize the impact that she, as a 6-year-old, had on the nation?

"It didn't happen for a long time," says Bridges. "I didn't see the Norman Rockwell painting until I was 18 or 19; a reporter showed it to me, and then it finally struck me that this was important. I remember the first time seeing myself on TV, when my family was watching the documentary Eyes on the Prize for the first time. There were pictures of people going up the school stairs, and Mom said, 'Oh, that's you!' I said, 'I can't believe this. This is important.'"
AP/Corcoran Gallery
Rockwell's The Problem We All Live With
---
She remembers that her mother just told her to keep praying because that was something she could do anytime, anywhere. In hindsight, Bridges says, getting through first grade was largely just a matter of obeying her parents.

"Now that I'm a parent, I know that my parents were incredibly brave," says Bridges. "My parents knew then, as African-Americans know now, that if you want a better life, you have to lift yourself up. My mother had taught me that the only thing you could depend on was your faith, and I had that. A big part of this was just obeying my parents, who were pretty strict. If they told you to do something, you did it. I know they second-guessed themselves a lot of times. But they took the risk to create new opportunities for me, and I thank them for that."

She made it through the year with excellent grades, and by then, a handful of white students had returned to school. After summer vacation, she expected a new round of protests, but to her surprise, there were none.

Many white students had come back to school, and there were even a few black kids, too. Nobody talked about the previous school year - almost as though it never had happeed.

About the worst thing for Ruby was that her first-grade teacher had moved back to Boston. Her second-grade teacher didn't like her, she recalls, and belittled her in class. She felt different from the other students and, to this day, she believes that she lost her childhood and that the ordeal changed her somehow.

Ruby Bridges still lives in New Orleans, where she completed high school and became a travel agent. She is married and has four sons. When her youngest brother was killed in a drug-related shooting in the 1990s, she began to think about her own life and realized that what she had done as a 6-year-old girl was meaningful.

She took in her brother's children, who happened to attend the same school she had integrated -- which is now predominantly black. She became a parent liaison at the Frantz school.

In looking for a way to strengthen the extra-curricular offerings, she established the Ruby Bridges Foundation. Her mission is to bring multi-cultural arts programs to inner-city schools, and to turn public schools into great schools, "...good enough to attract a healthy racial mix, which I believe leads to the most effective learning for everybody."

She also travels the country, telling her story to school children and promoting literacy. She has started a program called Ruby's Bridges, in which she helps inner-city students and suburban students get to know one another via e-mail. Then she brings them together for cultural enrichment programs.

© MMI Viacom Internet Services Inc. All Rights Reserved
Thanks for reading CBS NEWS.
Create your free account or log in
for more features.