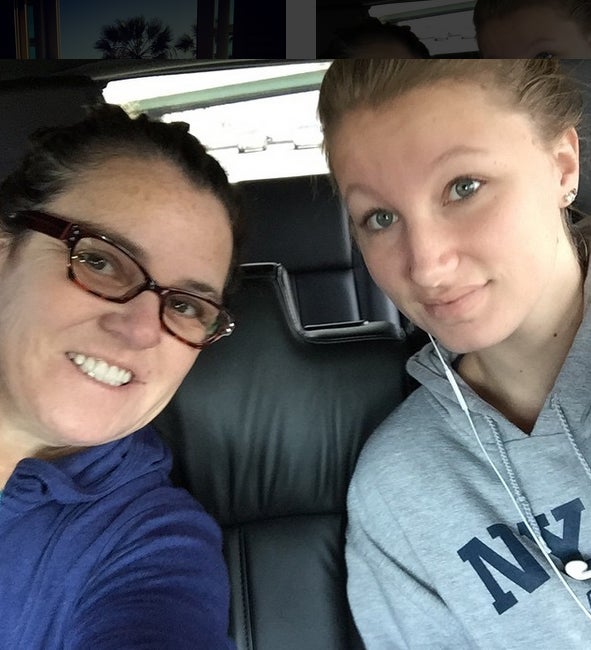 Rosie O'Donnell's daughter Chelsea moves in with birth mom
Rosie O'Donnell's adopted daughter Chelsea, who went missing earlier this month, turned 18 this week and left home once again, this time to go live with her birth mother.
"Chelsea made a decision when she turned 18 that she wanted to go to her birth mother," Rosie's spokesperson, Cindi Berger, said in a statement to ET. "This was her choice."
Chelsea's birth mother Deanna Micoley, who gave her up for adoption in 1997, drove from Wisconsin to New York to pick Chelsea up on Monday afternoon, the day she turned 18 and is legally an adult, according to TMZ.
When ET reached out to Deanna, she responded, "Leave my daughter out of Rosie's stuff."
After having been reported missing last week, Chelsea, then 17, was found on Aug. 18 found in the company of 25-year-old Steven Sheerer.
Sheerer was charged on Monday with third-degree distribution of obscenity to a minor and third-degree endangering the welfare of a child, as Chelsea was only 17 at the time. The obscenity charge stems from a nude photo Sheerer reportedly sent to Chelsea in their online communication before she ran away from home.
"Examination of the phone by the HTCU revealed evidence of inappropriate communications over the last several weeks between Sheerer and the minor," Coronato's office said in a statement.
Sheerer remains in jail and his bail is still at $40,000, but his personal attorney, Robert Tarver, has requested a hearing to lower that amount and prove his client is not a flight risk.
"We have and will present evidence that will show he is not guilty of endangering the welfare of a child," Tarver told ET.
Thanks for reading CBS NEWS.
Create your free account or log in
for more features.