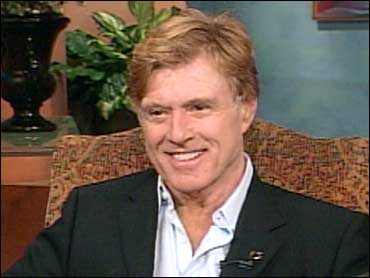 Robert Redford's Passion For Film
Robert Redford has come a long way in the 37 years since he appeared on screen in "Butch Cassidy and the Sundance Kid." But as film-buffs well know, through the film festival which he founded, Redford remains as deeply identified with Sundance as ever.
This year will mark the 26th anniversary of the Sundance Institute, which Redford founded to help independent film makers break into the business.
Now, having a film showcased at Sundance is a definite status symbol, something that Redford obviously relishes as he gets older. This year, Redford will turn 70. He can hardly believe it.
"I can't, honest to God," Redford said. "I'm not being falsely this or that, It's hard for me to - I can't get a hold of that."
Redford also said that throwing himself into Sundance has taken a toll on his own film career.
"I have not been able to do as many films as I'd like to make because of a commitment to Sundance that grew larger than I imagined and when you commit, you commit," he said.
Redford found inspiration for the name of the Sundance Film festival in his 6,000 acre retreat high in the mountains of Utah.
"It was a pretty tough name to beat," he told Sunday Morning correspondent Rita Braver. "I tried all kinds of other names and finally, I thought, 'You know you have to into the fact that it is just a great name.'"
The 1969 film, "Butch Cassidy and the Sundance Kid" is considered a classic. Redford starred as Sundance and Paul Newman as Butch: a pair of loveable outlaws.
But not many people know that Redford almost didn't get the part. There was talk about giving Marlon Brando the part.
"I think I was the - I was so much the last choice," he said. "No, I was, that they tried everything to keep me out of the picture because I wasn't known compared to Paul."
His role as the Sundance Kid changed all that. Redford, who'd grown up in California, then went to Europe to study art and fell into acting, was suddenly a big star and life became very different.
"Suddenly you realize that you were being treated like an object and the danger to your psyche is that if you didn't pay attention and you didn't stay clear," Redford said. "You would begin to behave like one and if you did that too long you might end up becoming one. You know, So I thought you'd better look out for that."
Redford made some calculated choices. While he continued to star in mainstream movies like "The Way We Were" and "The Great Gatsby," there were also smaller films like "Downhill Racer" and "The Candidate." It was Redford who personally pushed to get "All The President's Men" made, where he and Dustin Hoffman played the investigative reporters, Bob Woodward and Carl Bernstein, who uncovered the Watergate scandal.
"It took four years, and the studio, they said 'Politics? I don't think so,'" Redford said. "'You know, Watergate is a dead issue.' And I said, 'Its not. It's a detective story about investigative journalism and about the American trait of hard work and hard work led to something that spared us the lost of our first amendment. That to me is worth making."
Redford's experience with those hard-to-make films and his love of this dramatic Utah landscape led him to one of his most important off-screen roles founding the Sundance Institute.
"So it finally occurred to me when I started the institute and I watched how artists were here and I thought this is the perfect," Redford said. "This is it. It's a place for artists and the environment."
This year the Sundance Institute celebrates a quarter of a century of workshops where acting, directing, screenwriting and editing are all honed. The money comes from Redford himself as well as fundraising and grants. The idea is to help nurture smaller, so called independent films which big studios ignored for years. Hollywood personalities like Christine Lahti, who first came here for an acting workshop, return to coach newcomers.
"My specialty is helping these young directors learn a vocabulary to talk to their actors and being an actor myself and having directed I had," she said. "I know a lot about it."
And Lahti said it's all possible because of Redford. "He has nurtured independent film making like no one else, really put his money where his mouth is," she said. "And I have a huge amount of respect for him."
Victoria Mahoney says that being one of eight chosen from 3,000 applicants to participate in a director's workshop will make it easier for her to raise the money she needs to make her own movie.
"I think the film will be made sooner," she said. "Maybe it won't take ten more years to get a whisper in someone's ear, get a phone call returned."
Several successful movies got made after being worked on at the institute, including "Reservoir Dogs" and "Boys Don't Cry". And other independent films like "Sex, Lies and Videotape" and "Little Miss Sunshine" were launched at an off-shoot of the Sundance Institute, the Sundance Film Festival.
The Film Festival, which actually takes place in Park City, about an hour away from Sundance, was created by Redford to showcase Independent Feature Films and Documentaries. When the festival first began, Redford said he had to cajole people in to coming to see the films.
"I can't tell you everything I did," he said. "It's shameful. But really, a lot of people think I'm kidding, but we stand on a corner and tell people, 'You ought to go in and see this movie.'"
Now it's become an international happening; a chance to party and to see celebrities. Redford says the hoopla can be overwhelming, but it has not altered the original purpose of the festival.
"And to say, 'Look, we're into discovering these new voices and were bringing their work to you, you decide whether you like it or not,'" Redford said. "But you have such a wide choice it makes it the exciting place to be."
There is of course the Robert Redford cache associated with the festival that appeals to so many people. Redford may try to play it down, but he is still very much the center of attention at the festival and fledgling directors like Joseph Mathew credit him with drawing attention to their work.
His documentary about immigration called "Crossing Arizona" premiered at Sundance.
"I think it's a miracle," he said. For me, personally, I would hope that the next film will be a little bit easier to make... I wouldn't have to put everything on my credit card."
Making movies and helping others to do so is all part of Redford's life philosophy. He's kept going by the belief that "if you can do more you should."
Thanks for reading CBS NEWS.
Create your free account or log in
for more features.