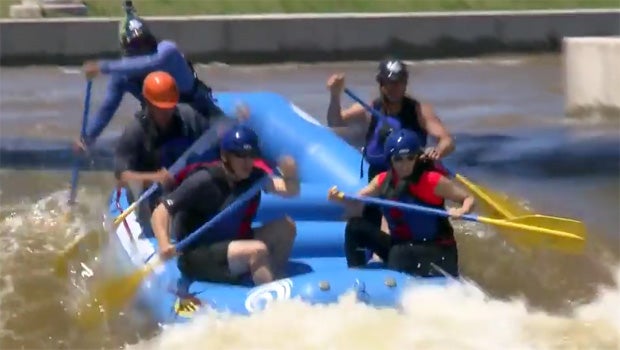 Go for an adrenaline-pumping ride on Oklahoma River
In Oklahoma City, it's not just the skyline that's rapid(ly) changing. Now you can catch a fast, adrenaline-pumping ride on high-octane whitewater rapids under Oklahoma's bright blue sky.
Spread over 11 acres, Riversport Rapids is the latest addition to the city's waterfront, reports CBS News' Meg Oliver. It's a $45 million whitewater rafting and kayaking facility right off a revitalized Oklahoma River.
"When you think of Oklahoma City, you think of football, maybe a rodeo, you don't think of this," Oliver said to Mike Knop, the man behind the vision.
"That's why this is a game changer for Oklahoma City," Knopp said.
Twenty years ago the rowing coach for Oklahoma City University had a dream. Oliver asked Knopp, "Why did you think it would fit here?"
"I think there's a pioneering spirit here in Oklahoma City," he replied. "We don't have mountains, and we don't have the ocean ... and while it seemed farfetched, people really embraced the idea of doing something truly unique and something that you don't see all over the country."
The river 20 years ago was a dry river bed littered with trash and a TV dumped in the weeds.
After a series of devastating floods during the Depression, engineers redirected the river away from the city turning the river into a muddy ditch. "It was a ditch that we mowed three times a year," Knopp said. He described it as "a dividing line" in Oklahoma City.
He has turned that dividing line into a destination. In 1993 the city passed a one-cent sales tax dedicated to downtown projects. Four years later, crews built dams and filled in a seven-mile stretch of the river.
"We really saw the river and what this whole boathouse district would provide would be a place that would bring people back together to the river for recreation," Knopp said.
It's recreation taken to a whole new level. Three years ago Riversport Adventures opened, only 50 feet from the whitewater center. The park has it all -- from zip lining across the river, free falling off the 80-foot rumble drop, or shooting down America's tallest high speed slide.
"Part of this was also about creating and infusing an outdoor culture into a place that wasn't known for that," Knopp said.
"Did people think you were crazy?" Oliver asked.
"Well, I have to tell you, at first they did ... but once we were able to present the vision and how it ties into what we've already created, I think it did start to resonate," Knopp said.
Today the river is an official Olympic and Paralympic training site. Riversport Rapids only enhances that. The competition channel runs 1,300 feet. Last month the nation's top whitewater slalom athletes competed here on the road to Rio.
World-class kayaker Dave Hepp hopes the center will be a national attraction especially for families and beginners. With Hepp in charge, he guided Oliver down the competitive channel in a double kayak.
It was one heart-racing, water-smacking, amazing run.
The recreational course stretches 1,600 feet with full-on Class 3 and Class 4 rapids. The intensity is increased and decreased by a network of pumps.
"People regardless of their ability can come out and have this high adventure experience," Knopp said, "just like they would if they were in Colorado or somewhere in the wilderness going on a raft trip."
Exciting drops and cold waves keep riders on the ball for the 15-minute run. There are plunging pockets where kayakers can freestyle with flips, tricks, and surf.
"After almost 20 years of working on this, when you look around and you see it, what do you think?" Oliver asked.
"Well, I do have to say, I've got to pinch myself every now and then!" Knopp said. "For Oklahoma City to be on the map in water sports, of all things, when a lot of perceptions of Oklahoma, frankly, are connected to 'The Grapes of Wrath' or the Dust Bowl ... I think is very powerful, and it's gratifying."
Thanks for reading CBS NEWS.
Create your free account or log in
for more features.