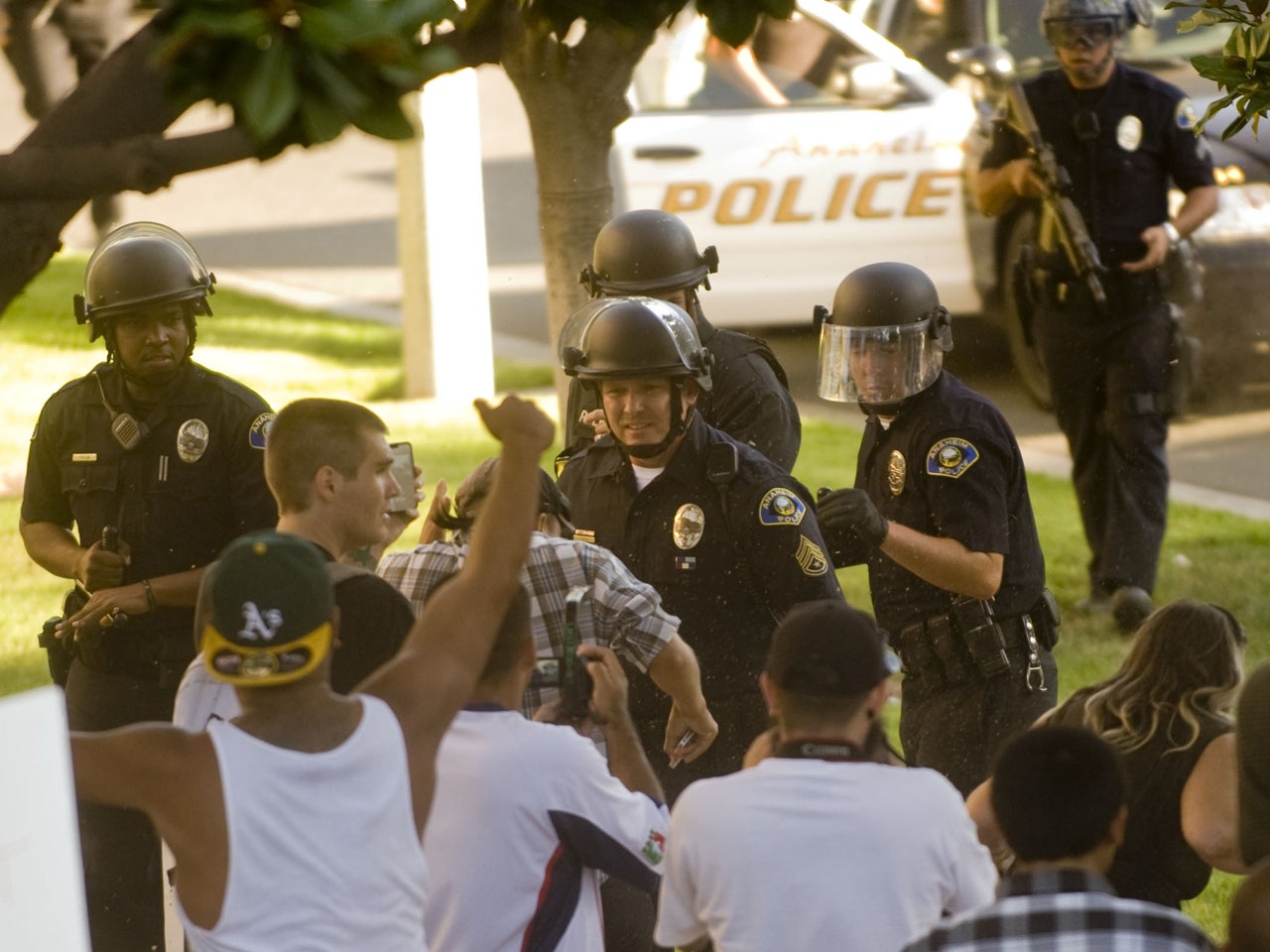 Riot police, protesters clash in Anaheim for 4th night over police shootings
(CBS/AP) ANAHEIM, Calif. - Riot police fired bean bag rounds and pepper balls into a crowd of protestors late Tuesday outside City Hall as council members inside voted unanimously to ask the U.S. attorney's office to investigate recent officer-involved shootings, including one of an unarmed man.
About 250 riot police were called in by officials to quell the more than 600 demonstrators before restoring order. Twenty-four people were arrested in the unrest.
The back-to-back weekend shootings have sparked four days of protests. A crowd of protesters who were shut out of the council meeting because there was no more room grew violent, tossing rocks and bottles at police and ignoring warnings to disperse.
Officers formed lines to try to contain the crowd as residents set fire to trash cans, loudly taunted police and swarmed a Starbucks, breaking windows.
Police helicopters hovered from above as colorful fireworks from nearby Disneyland lit up the sky.
CBS station KCAL reports that some of the people in the crowd were trying to hold a peaceful demonstration, but others began chanting, swearing and yelling at police officers.
"We want a peaceful demonstration, but when the cops are pushing us off because they want to show that they have control, then they start hitting us with their batons," one demonstrator told CBS2/KCAL9 reporter Louisa Hodge.
"They hit a woman when we were just standing there voicing our opinion," he said.
The killing of Manuel Diaz and another man on Sunday have taken the tally of shootings by police officers in this Orange County city to six so far this year, up from four a year before. Five of the incidents have been fatal.
Diaz's family on Tuesday filed a civil rights lawsuit seeking $50 million in damages from the city of Anaheim and its police department, claiming he was shot while running away, said lawyer James Rumm.
Mayor Tom Tait said a description from court papers relayed to him by a reporter that Diaz had been shot in the leg and in the back of his head was "unsettling."
Theresa Smith, whose son was killed Dec. 11, 2009, by Anaheim officers at a Walmart store, said she went by the scene of Saturday's shooting and was astounded by what she saw.
"There were pieces of brain on the ... darn grass, in front of all these children, in front of all these people," Smith said. "This traumatizes people, and these people are angry."
The police union issued a statement defending the officers involved in the shootings and said both men killed were gang members who had criminal records.
The union also said that just before Diaz turned toward officers during Saturday's confrontation, he pulled an object from his waistband -- a common place where gang members hide guns.
"I believe that the independent investigations by the Orange County district attorney's office into both incidents will show no wrongdoing by these officers," said Kerry Condon, the police association's president.
Anaheim is a city of contrasts that ranges from upscale, hilltop homes to packed, gritty apartment complexes. The city 25 miles southeast of Los Angeles is known as home to the Angels baseball team, and above all, to world-famous Disneyland.
As California's Hispanic population has grown, so has the city's, hitting nearly 53 percent in 2010, census figures show.
Residents' concerns about the use of police force in the city aren't new. Last month, Anaheim decided to look into hiring an independent investigator to review shootings by police amid protests by relatives of those killed in officers' gunfire.
But Latino activists say that isn't enough and want federal officials to investigate the Saturday shooting in broad daylight.
Benny Diaz, state director of the League of United Latin American Citizens in California, said he wants a citizen review commission to keep tabs on the police department, officers to undergo sensitivity training and federal officials to investigate.
"People are saying, `You know what? We have to stop this,"' said Diaz, adding that residents' past requests for a probe of officer shootings have gone nowhere. "As an organization, we are trying to find peace but there comes a point where you have to stand up strong."
Tait, who has called for state and federal agencies to investigate the shooting, urged the community to remain calm. "If the Latino community is saying there is a rift, then there is rift, and we need to address that," he said.
On Saturday, demonstrators hurled rocks and bottles at officers who were securing the scene for investigators, and police responded by firing bean bags and pepper balls at the crowd.
On Sunday, protesters swarmed police headquarters during a morning news conference and later set fire to a trash bin and pushed it into the street outside the apartment complex that was site of one shooting. On Monday night, Diaz's mother joined the relatives of others killed in police shootings in a march near where her son was shot.
Police Chief John Welter said the shooting occurred after two officers approached three men who were acting suspiciously in an alley before running away. One officer chased Diaz to the front of the apartment complex.
The chief would not say what led the officer to shoot Diaz. But he failed to heed orders to stop and threw something on the roof of the complex that contained what officers believe to be heroin, Welter said.
Both officers were placed on paid leave pending an investigation.
The second shooting occurred Sunday when anti-gang officers spotted a suspected gang member in a stolen sport utility vehicle. A brief pursuit ended when three people jumped from the vehicle and ran. One suspect fired at an officer and the officer fired back, killing the gunman, 21-year-old Joel Mathew Acevedo, authorities said.
Both incidents were under investigation by the county's district attorney office, which asked witnesses to come forward with information or video footage of Saturday's shooting.
The FBI is conducting a review to determine whether a civil rights investigation is warranted, said agency spokeswoman Laura Eimiller.
Thanks for reading CBS NEWS.
Create your free account or log in
for more features.