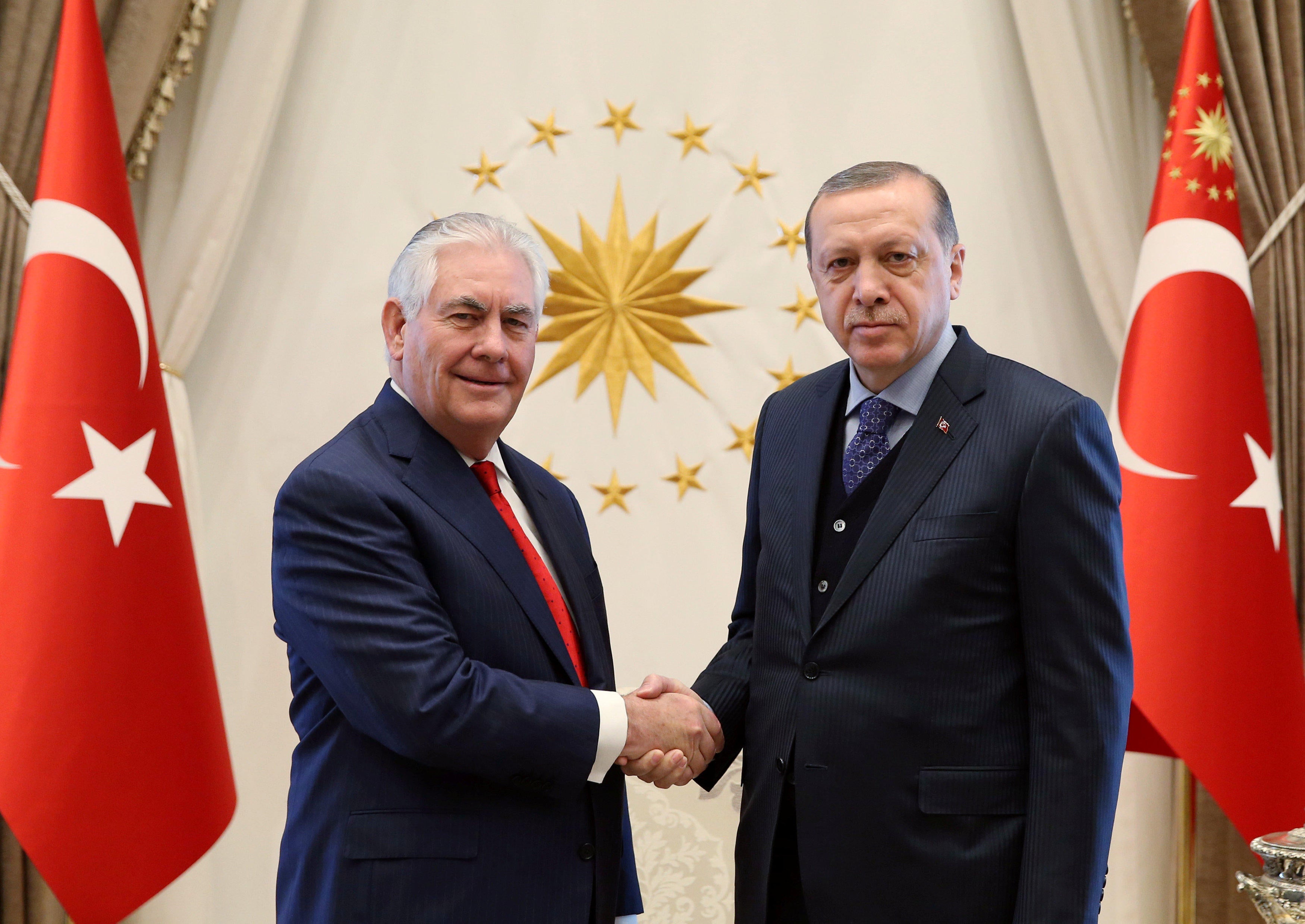 Tillerson confirms major shift in U.S. policy on Syria
ANKARA -- U.S. Secretary of State Rex Tillerson was in Turkey on Thursday to meet leaders in a nation that has been a crucial ally in the U.S. government's fight against the extremist Islamic State of Iraq and Syria (ISIS). While there, he made official a significant change in the U.S. strategy on the six-year-old Syria war.
CBS News correspondent Elizabeth Palmer reports Tillerson held a closed-door meeting with Turkish President Recep Tayyip Erdogan -- and the two men had a lot to talk about. The war against ISIS in Syria, which sits right on Turkey's southern border, was at the top of their list.
In the last sentence of his news conference later Thursday with Turkish counterpart Mevlut Cavusoglu, Tillerson said the "longer-term status of President (Bashar) Assad will be decided by the Syrian people." That is a highly significant departure from the long-time stance of the Obama administration, which always insisted the Syrian dictator -- accused of killing thousands of his own citizens in indiscriminate bombing -- must step down as part of any negotiated political solution to the crisis.
While State Department officials in Washington have been laying the groundwork for the change in policy for weeks, Thursday was the first time Tillerson iterated it publicly.
With relatively few American soldiers on the ground in Syria, the U.S. is relying on local armed groups to fight ISIS, and that includes a Kurdish militia known as the YPG.
The problem is that Turkey considers the YPG a bitter enemy -- part of a Kurdish separatist organization that Erdogan's government has branded terrorists.
Last week in Washington, Turkish Foreign Minister Mevlet Cavusoglu told CBS News that U.S. support for the group crosses a red line.
"This is unaccepted to us, the YPG posing a direct threat to Turkey," Cavusoglu told CBS News.
The foreign minister said that, based on numerous conversations between Turkish and American officials since the Trump Administration took office -- including a phone call between Erdogan and Mr. Trump -- he "absolutely" expects the U.S. to step away from its backing for the YPG.
The U.S. has given no such assurances yet, however, at least not publicly. A senior State Department official said Washington was "mindful" of Turkey's concerns regarding the YPG, but added that the diverse set of actors fighting ISIS in Syria has proven "quite effective."
Speaking Thursday after meeting Cavusoglu in Ankara, Tillerson said the two governments were looking at "a number of options and alternatives" to keep up the fight against ISIS and to retake the terror group's stronghold in Syria, Raqqa, and he acknowledged there were "difficult decisions" to be made.
As Palmer reports, there is another bone of contention between the two nations: Fethullah Gulen, a Turkish cleric and spiritual leader of huge Islamic network who is currently living in Pennsylvania.
The Turkish government blames him for organizing a failed military coup last year, and it wants the U.S. to hand him over.
On his visit to Washington, Cavusoglu said he brought new evidence of coup plotters receiving instructions from Gulen and his deputies to the Department of Justice. He said he personally met with Attorney General Jeff Sessions and that it was a "good meeting."
So far, though, the U.S. has only been willing to say that it is studying Turkey's evidence against the cleric.
On both issues -- Gulen and the YPG -- Turkey had initially hoped the new administration would come around to see things its way.
"When President Trump got elected there was a lot of hope in Ankara that (U.S. government stance) would change," Selim Koru, an analyst with Turkey's Economic Policy Research Institute, tells CBS News. "It now looks like a lot of that hope has been dampened."
Tillerson is in Turkey in large part to listen to the concerns of an important U.S. ally, but as Palmer reports, early indications are that he is unlikely to announce any new deals with Ankara that would require a change in American policy.
Thanks for reading CBS NEWS.
Create your free account or log in
for more features.