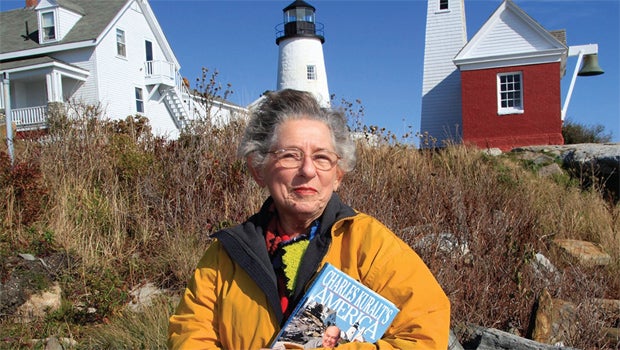 ​Revisiting America for the first time
Founding "Sunday Morning" anchor Charles Kuralt left us plenty of memories of his time "On The Road," when he died on the Fourth of July back in 1997. His wanderings continue to inspire, as Lee Cowan reports:
Inda Lou Lambert Schell's life in Chatom, Alabama, was busy and full. She played the piano in her church, taught school, enjoyed her children and her grandchildren.
She never really had the urge to wander too far from home -- until, that is, she read Charles Kuralt's book. "I gave it to my husband as a Christmas present," she said.
The book was about Kuralt's favorite American places, many of which he had visited while "On the Road" for CBS News.
"We read the book and thought how wonderful to do something like that when he retired," Schell said.
When her husband of 52 years died, Lou Schell thought that her dream of going on the road had died with him.
But at age 77, she realized it had not.
"I asked my four children to come to lunch and told them that I would be spending their inheritance," Schell recalled. "And their reply was, 'Mom, go for it!'"
She decided to spend a month in each of Kuralt's favorite spots, rearranging his itinerary so that she and her sister, Janie, might drive from place to place.
On the 1st of January, 2011, they set out.
"My driveway was filled with neighbors and friends and family, and I always say, a few doubters," Schell said. "And I get in my car and pull out of my driveway with a police escort."
First stop: New Orleans, Louisiana.
"The scenery, so different. And of course you can always eat your way through."
Then, Key West.
"Key West, Florida, in February - what could be more perfect," she said. "We got key lime pie with meringue four inches tall."
Charleston, South Carolina. "I got in a boat and rode through a former rice field and shot pictures of alligators."
And Blowing Rock, North Carolina, where her piano-playing skills made her feel right at home.
"We arrived there April 1st and it was snowing. I played the piano at their church on Easter," she said.
New York City -- the Big Apple -- was their next destination.
"We rented, I suppose you'd call it a loft in a brownstone in the Bedford-Stuyvesant area of Brooklyn," Schell said.
As they had everywhere they went, Lou and Janie made good friends. Roy and David were their Bed-Stuy neighbors. "They would sit out on their steps in the afternoon and we would visit with them, and I felt we became good friends with them," Schell said.
From New York, they headed north, to Woodstock, Vermont; and Boothbay Harbor, Maine, where, sadly, Janie was taken ill, and had to go home.
Undaunted, Lou Schell set her sights, and her GPS, for Ely, Minnesota.
"I figured it was, like, 1,700, almost 1,800 miles," she said. "When I saw the Ely sign, I said, 'Thank you, Lord,' because I was there perfectly safe and sound."
Safe and sound, she drove on, to Twin Bridges, Montana, and then by ferry to Ketchikan, Alaska.
Last stop: Taos, New Mexico.
"I always have difficulty saying, 'Taos.' And everybody told me, 'Think house.' So I automatically think, 'House,' before I say, 'Taos.'"
Thirteen-thousand miles and nearly a year after her journey began, Lou Schell arrived back in Chatom. "The same people that lined the driveway the day I left were in my driveway the day that I returned home," she said.
With so many stories to tell, Schell decided to write a book. She'd never done that before, either.
"I know you don't put extra verses to the Bible, but I added an extra verse: 'The Lord protects old ladies and crazies,' and I just fit into both those categories."
We like to think Charles Kuralt would have been pleased to meet Lou Schell there in Chatom, Alabama ... and even more pleased that she set out to discover for herself the America he loved.
"There are just wonderful, talented, gracious people everywhere, and I met them," said Schell. "And I woudl do it again tomorrow."

For more info:
Thanks for reading CBS NEWS.
Create your free account or log in
for more features.