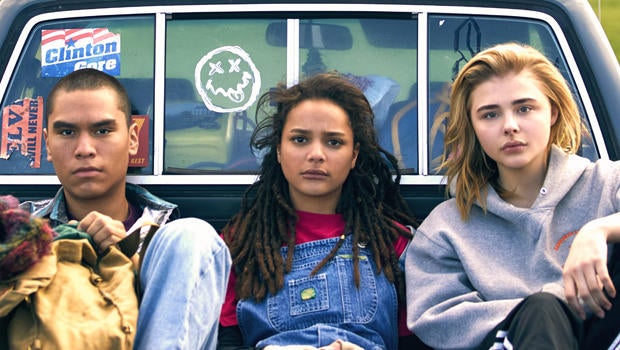 Review: "The Miseducation of Cameron Post"
The fight to save "lost" souls might be an honorable one, but as dramatized in the new film "The Miseducation of Cameron Post," the motives behind such attempts can be laced with bigotry, self-hatred, and a tin ear to the most human of traits, empathy. And then there is the fact that the definition of "lost" is entirely subjective.
Cameron (Chloë Grace Moretz) becomes the subject of what might charitably be called an experiment, instigated by her religious family, to deal with signs of lesbian tendencies after the teenager is found in a clinch with another girl. Set in 1993, it was a time when "gay conversion therapy" – basically, teaching young people to hate who they were – hadn't been entirely rejected as snake oil. But for the Montana youth, God's Promise is a kind of summer camp, where Cameron is sent to "heal" along with other teenagers whose same-sex attraction had alarmed or disgusted their evangelical parents.
But Cameron doesn't drink the kool aid, and observes the lessons by Reverend Rick and his sister, Dr. Lydia Marsh, with a side eye that kills. It may or may not bolster the siblings' intolerant teachings when it's revealed that Rev. Rick himself was once homosexual, but is now "cured"; neither do tactics that could be deemed to be psychological or physical abuse.
Cameron forms a trio, a welcoming family, with fellow camp attendees Jane (Sasha Lane) and Adam (Forrest Goodluck), who were similarly cast adrift by their families because of fears of same-sex attraction, and it is their rebelliousness rather than their sexuality that becomes a target for the camp's leaders. The drama becomes a fight over control, which the adults are desperate to harness and the teens are unwilling to cede.
Directed by Desiree Akhavan (whose previous film was the 2014 "Appropriate Behavior," about a Brooklynite exploring both her Persian roots and bisexual identity), "The Miseducation of Cameron Post" is a clear-eyed coming-of-age story in which young people learn to accept their intrinsic value in spite of the dogma of authority figures. But these budding adults must first learn to overcome their shattered sense of trust – something the gay conversion therapy seems inherently constructed to destroy.
The film, adapted from the novel by Emily M. Danforth, was a Grand Jury prize-winner at the Sundance Film Festival, and features a deft performance by Moretz, who faces her character's turmoil of emotions (anger, fear, depression) with a cynicism that almost becomes a self-defeating armor, at first preventing her from truly opening up to her compatriots who are in the same boat. Lane and Goodluck also give terrific performances that reveal the delicacy of the screenwriting by Akhavan and Cecilia Frugiuele.
Paving the road to Hell, Jennifer Ehle ("Zero Dark Thirty") is chilling in her certainty as Dr. Marsh, while John Gallagher Jr. ("10 Cloverfield Lane") makes Rev. Rick almost sympathetic in his self-deluded attempts to remake himself, and the world around him, in order to adjust to a narrow reading of Biblical scripture that nonetheless somehow ignores the teaching "Judge not, that you be not judged."
"The Miseducation of Cameron Post" (distributed by FilmRise) opens Friday in New York City, and in Los Angeles and other select cities on August 10. 91 mins. The film is not rated.
To watch a trailer for "The Miseducation of Cameron Post" click on the video player below.
Thanks for reading CBS NEWS.
Create your free account or log in
for more features.