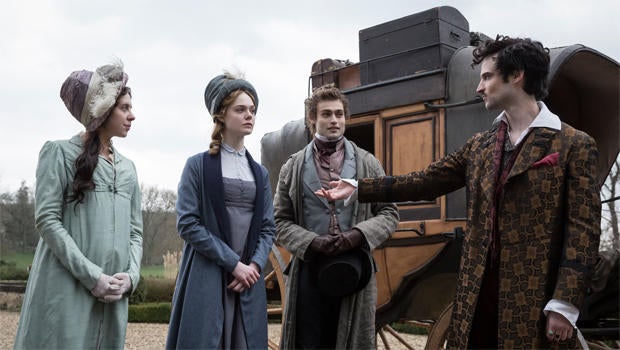 Review: "Mary Shelley," the mother of Frankenstein
In one of literary history's most celebrated meeting-of-minds, Frankenstein's monster was conjured by a young Mary Wollstonecroft Godwin in 1816 during an extended stay at Lord Byron's Geneva villa with her lover, the poet Percy Bysshe Shelley, her step-sister Claire Claremont, and writer John Polidori. There they set about a competition to write a ghost story, and the 18-year-old Mary's dream of a reconstituted corpse reanimated by a diabolical doctor would become the first true science fiction tale.
But who was Mary Wollstonecroft Shelley? As a new film would have it, she was a protofeminist and advocate of free love who hung out in graveyards and wrote ghost stories on the sly, to the tickled satisfaction of her bookseller father and the horror of her harpy stepmother.
"Mary Shelley" (which bowed at the Toronto and Tribeca Film Festivals, before opening in theatres today) recounts the formative years of the author, her heated and transgressive relationship with the married Shelley, and the boundary-breaking creation of her immortal Gothic novel, "Frankenstein, or The Modern Prometheus," which was originally published without her name.
We know that Mary (played by Elle Fanning) is destined for greatness, because she tells us, "I have a fire in my soul." But her rebellious streak against the conventions of society, which results in a penurious, triangular living arrangement with Percy and Claire, and estrangement from her family, only fuels her desire to scratch pen on paper. The result: an overstuffed binder of manuscript pages about a walking corpse that no one would publish because, for heaven's sake, she's a woman.
One would have high hopes for "Mary Shelley" given that the film was directed by Haifaa Al-Mansour, the first female filmmaker from Saudi Arabia, whose work includes the 2014 "Wadjda." But a female sensibility telling a story of illicit sex and gender dynamics during England's Georgian period becomes smothered in the trappings of a period-piece.
Mary's life is complicated by bad decisions (don't carry your infant around in the rain), by Percy's former entanglements, and by the always-on-their-heels creditors. And the celebrated Swiss vacation, apart from some thunderous rumbles and uncomfortable salon repartee with a sodden Byron (Tom Sturridge), seems less the birthplace of horror than a slightly uncomfortable Airbnb stay.
The best review of "Mary Shelley" might actually be comparing it to the 1986 Ken Russell film, "Gothic," starring Natasha Richardson as Mary, Julian Sands as Shelley, and Gabriel Byrne as Lord Byron. That frenetic, ribald tale of the Swiss weekend at which Mary's monster tale was born is so over-the-top and ridiculous in the most satisfyingly Russellian way, with lightning storms, séances, apparitions and sex. It may not have made much sense, but "Gothic" showed how "Frankenstein" deserved to have been created.
"Mary Shelley" (distributed by IFC Films) is Rated PG-13. 121 minutes.
To watch a trailer for "Mary Shelley" click on the video player below.
Thanks for reading CBS NEWS.
Create your free account or log in
for more features.