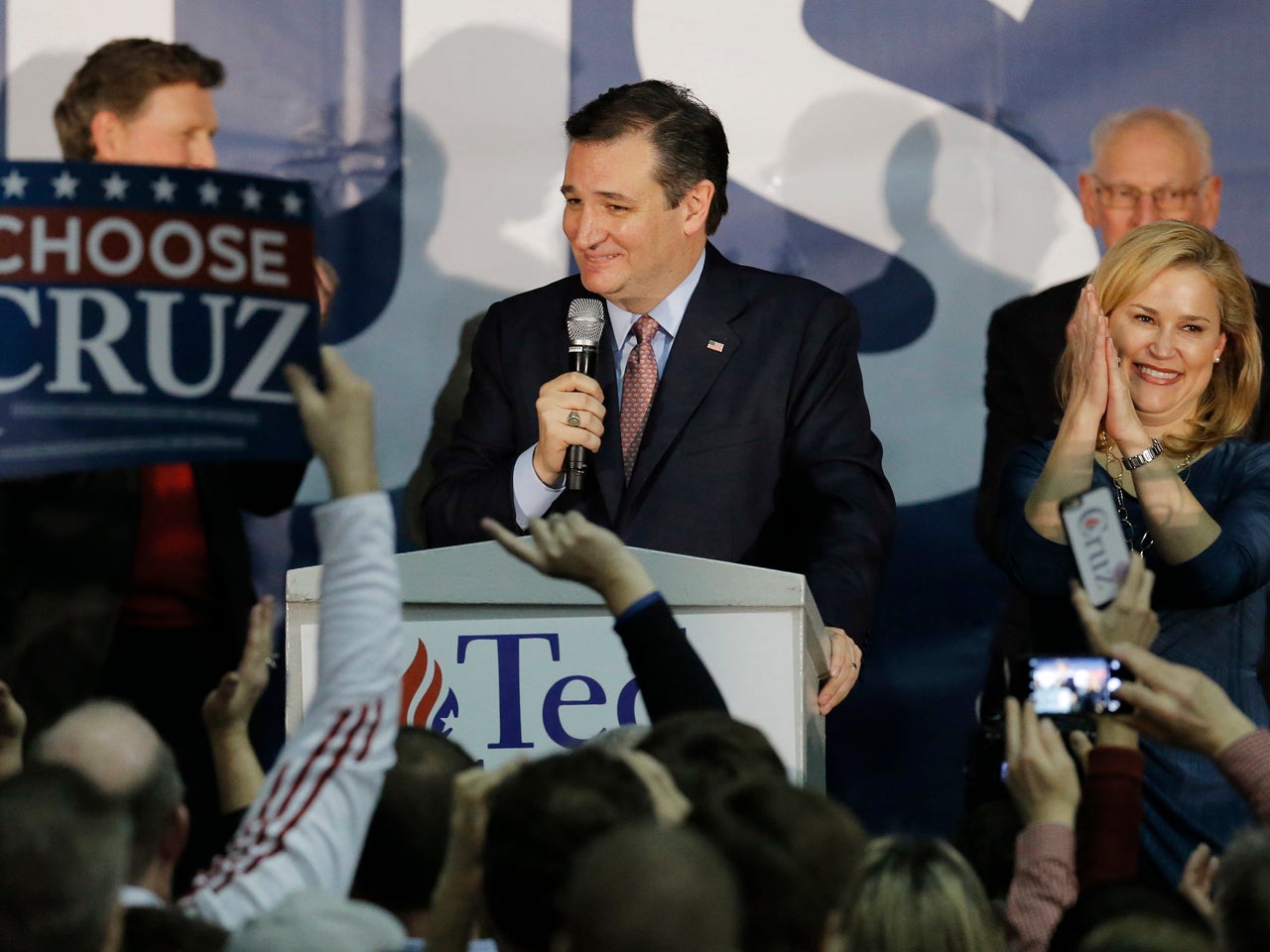 Ted Cruz wins Iowa Republican caucus
Sen. Ted Cruz, R-Texas, won the Iowa Republican caucus Monday night, besting recent polling to come to a solid first-place finish over businessman Donald Trump.
With a historic turnout of 186,000 GOP caucusgoers, Cruz finished with 28 percent of the vote. Trump barely eked out a second-place finish with 24 percent, as Sen. Marco Rubio, R-Florida, finished with 23 percent of the vote in a surprisingly strong night.
Cruz called the evening a "victory for the grassroots" at his victory speech Monday night.
"Tonight is a victory for courageous conservatives across Iowa and all across this great nation. Tonight the state of Iowa has spoken," he said. "Iowa has sent notice that the Republican nominee and the next president of the United States will not be chosen by the media, will not be chosen by the Washington establishment, will not be chosen by the lobbyists, but will be chosen by the most incredible powerful force where all sovereignty resides in our nation, by we the people."
It was Rubio who had perhaps the most impressive showing after the last Des Moines Register poll showed him with just 15 percent support.
"Tonight we have taken the first step, but an important step, toward winning the election," he said during remarks that sounded much like a victory speech Monday evening. "When I am the nominee we are going to unify this party and we are going to unify the conservative movement." He pledged that he would beat Democrats Hillary Clinton or Bernie Sanders or "whoever they nominate."
As CBS News Digital Political Reporter Sean Gallitz, wrote, Rubio's strategy in Iowa appeared to be plucked from the playbook of Mitt Romney, the 2012 GOP nominee.
Of the twenty-three events Rubio attended over this final stretch, only a handful were in the more rural conservative counties that Rick Santorum, the eventual 2012 winner of the caucuses, won in 2012. Instead, Rubio's campaign selected places where Romney or Texas Sen. Ron Paul had found the most support from more moderate or libertarian voters in Iowa.
Rubio appeared to pick up support among late-deciding voters and is doing best among those who say they decided who to support in the last week. Forty-five percent of those surveyed in entrance polls said they made their choice in the past week, and Rubio scored 28 percent of those votes. Twenty-three percent went to Cruz and just 14 percent to Trump. But Trump supporters said they made up their minds more than a month ago.
For those who say that whether their candidate wins in November matters in their decision on whom to support, 38 percent supported Rubio, 26 percent support Trump, and 17 percent support Cruz.
Trump had been performing best among caucus attendees who have no college degree, notching 42 percent of those voters. Cruz is doing better among evangelicals, with support of 26 percent of that vote, but Trump is also putting up a strong showing with 24 percent of that vote. Twelve percent of evangelicals said they were supporting neurosurgeon Ben Carson, allowing him to cut into Cruz's base.
White evangelicals represent about 60 percent of GOP caucus goers today, compared to 56 percent in 2012.
Entrance polls showed Trump doing very well among voters who say they want a president who "tells it like it is," garnering 68 percent of those votes, and among those who want someone who can "bring needed change," picking up 37 percent of those votes. He was also the top pick among the half of GOP caucus-goers who were looking for an outsider: 49 percent of those caucus-goers picked Trump, while 16 percent picked Carson and 16 percent picked Cruz.
"I'm just honored, I'm really honored," Trump said when he spoke to his supporters Monday evening, congratulating Cruz and thanking former Arkansas Gov. Mike Huckabee, who suspended his campaign after finishing with just 2 percent support.
Trump did say he expected to be "proclaiming victory" after the New Hampshire primary and promised to go on to be the nominee. His lead in the Granite State is much stronger than it was in Iowa.
Just 15 percent of Republican caucus attendees identified as moderate, and Trump is winning big among that group with 38 percent of the vote. Rubio is a distance second with 17 percent support. Thirty-nine percent of voters identify as very conservative (a drop from 2012, when it was 47 percent), and 45 percent identify as somewhat conservative, an increase from 2012 (when it was 37 percent).
The most important issues for GOP caucus attendees are government spending (31 percent) the economy (28 percent), terrorism (25 percent), and immigration (13 percent).
CBS News poll analysts Stanley Feldman and Melissa Herrmann contributed to this story.
Thanks for reading CBS NEWS.
Create your free account or log in
for more features.