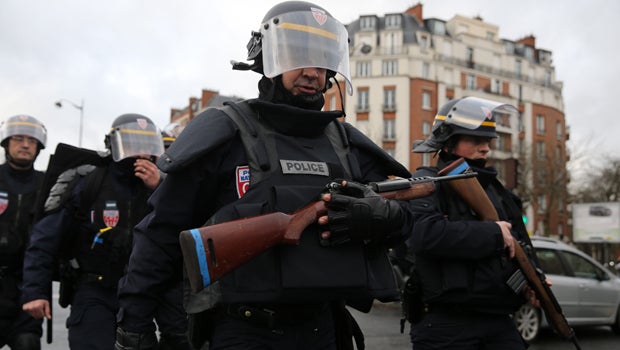 Paris hostage situation ends with gunman dead
PARIS - A Paris prosecutor says that four people who died in an attack against a kosher grocery were killed when the assailant entered the store - not when police tried to rescue them.
Francois Molins also said that several people have been handed preliminary charges in the investigation following the three-day rampage that has terrified France. They include family members of the three suspects, who were killed by police Friday.
He said that gunman Amedy Coulibaly killed four people when he entered the kosher market in eastern Paris on Friday. 15 hostages in the store were later set free.
French police said Friday that a gunman who had been holding people hostage in a kosher market in eastern Paris was dead, CBS News correspondent Elizabeth Palmer reports from Paris.
The gunman appeared to have ties to the brothers suspected of carrying out a Paris shooting massacre at a satirical newspaper who died in a separate hostage situation Friday outside the captial.
In a national address, French President Francois Hollande said four hostages were killed in the market.
One of the hostages who was freed said that three of the hostages were killed early on in the ordeal, CBS News' Elaine Cobbe reports from Paris.
An Israeli government official, recounting a conversation between Prime Minister Benjamin Netanyahu and Hollande, told The Associated Press that 15 hostages were rescued from the market.
The gunman, identified as Amedy Coulibaly, 32, earlier threatened to kill the hostages if police launched an assault on the cornered brothers, Cherif Kouachi, 32, and Said Kouachi, 34, a police official told The Associated Press.
Less than an hour after Coulibaly made his threat, gunfire was heard at the location of the standoff involving the brothers around the town of Dammartin-en-Goële, about 25 miles northeast of Paris. Officials later confirmed to CBS News that the two men had been killed. The sole hostage was freed from the printing plant where the two brothers were holed up.
U.S. intelligence analysts were scrubbing files and old intelligence information to search for any connection of any of the Paris terror suspects to anyone in the U.S., CBS News has learned.
FBI officials around the country have also been tasked with checking any information being gleaned from Paris, CBS News reports. There was no indication of any plot involving the United States.
The police official told the AP several people had been wounded when Coulibaly opened fire in the market near Paris' Porte de Vincennes Friday afternoon and were able to flee and get medical care.
A police official also told the AP that Coulibaly declared "you know who I am" when he opened fire.
Earlier, French police announced they were seeking information on Coulibaly and his girlfriend, Hayat Boumeddiene, 26, in connection with the deadly shooting of a police officer on Thursday morning just south of the capital in Montrouge.
Coulibaly allegedly fatally wounded the female officer after a car crash and then fled on foot.
The FBI tweeted that French police were attempting to locate Boumeddiene, who was suspected of being armed and dangerous.
French television reports said Friday that at least two people had been arrested in connection with the Montrouge attack. RTL-TV, citing security sources, said the Montrouge gunman knew Cherif Kouachi very well.
French broadcaster BFM-TV reported Friday that it had conducted phone interviews with men purporting to be Cherif Kouachi and Coulibaly before the police moved in.
The man purporting to be Coulibaly called BFM saying he wanted to speak to the police. He told BFM-TV that he and the Kouachi brothers "coordinated" the Montrouge shooting to happen with the Paris newsroom massacre. The man also said that he was part of the Islamic State of Iraq and Syria, or ISIS. CBS News has not independently verified his claims.
CBS News senior national security analyst Juan Zarate said on CBSN that the claim of Coulibaly belonging to ISIS seemed to be more of an aspiration than an actuality, similar to a self-styled Muslim cleric in Australia who took a number of people hostage inside a Sydney chocolate cafe in December.
A police source also told Reuters that Coulibaly and the Kouachi brothers were members of the same jihadist group.
CBS News homeland security correspondent Bob Orr reports Cherif and Said Kouachi were on U.S. no-fly and terror watch lists and were well known to French counter-terrorism officials before Wednesday's attack.
Cherif Kouachi's arrest made him the more well-known of the two. But Said Kouachi may actually have stronger ties to al Qaeda terrorists.
U.S. sources said French investigators have evidence Said Kouachi traveled to Yemen in 2011 and linked up with the terrorist affiliate al Qaeda in the Arabian Peninsula, Orr reports. CBS News has been told Said "spent several months" in Yemen training with the group known as AQAP.
During Said's time in Yemen, AQAP's terror operations were being run by the U.S.-born radical cleric Anwar al-Awlaki.
Awlaki was the inspiration behind Nidal Hassan's massacre at Fort Hood, Texas. Awlaki also led the failed attempts to hit the U.S. with bombs smuggled onto jetliners inside underwear and computer printers.
It's not clear if Said Kouachi had any direct dealings with Awlaki before returning to France in 2011. Awlaki was killed by a U.S. drone strike on Sept. 30 the same year.
Investigators believe Said Kouachi returned home with the intention of using his training to carry out an attack on a target in France. But, law enforcement officials are struggling to explain the three-year gap between Said Kouachi's homecoming and the mass shooting at Charlie Hebdo.
Investigators don't know if the brothers carried out the massacre on direct orders from AQAP. It's possible the suspects selected their own target and timing. In either case the attack is one of deadliest linked to al Qaeda in a decade.
Thanks for reading CBS NEWS.
Create your free account or log in
for more features.