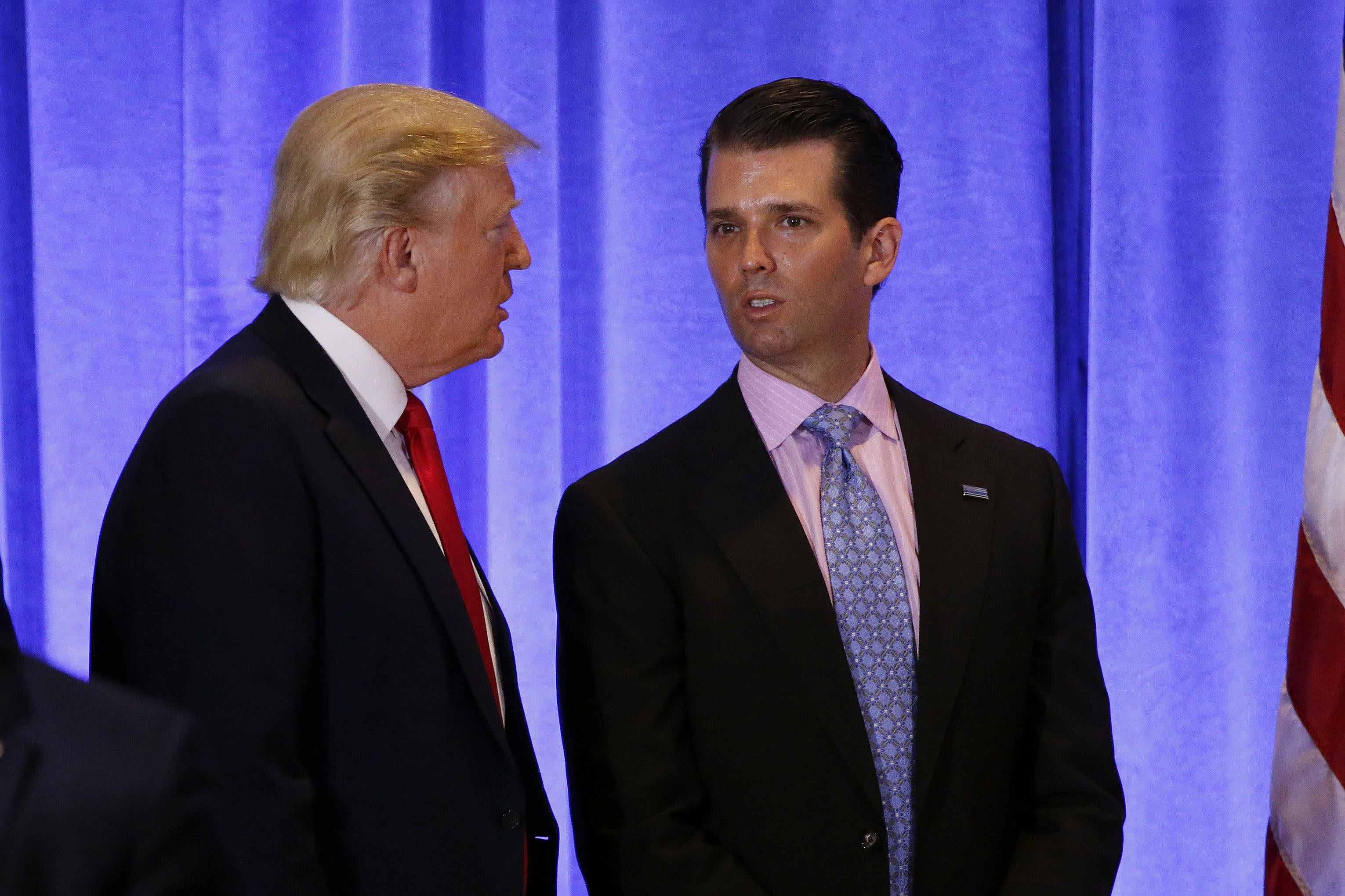 Trump Jr.: I met with Russian lawyer who claimed info helpful to father's campaign
President Trump's eldest son was promised information from a Kremlin-linked lawyer that would be helpful to his father's campaign, Donald Trump Jr. confirmed Sunday
Representatives of Trump Jr. and Mr. Trump's son-in-law, Jared Kushner, confirmed the June 2016 meeting to CBS News and The Associated Press after The New York Times reported Saturday that the men and Russian lawyer Natalia Veselnitskaya got together at Trump Tower. The meeting occurred two weeks after Mr. Trump secured the Republican nomination for president.
In a statement on Sunday, Trump Jr. said he was asked by "acquaintance I knew from the 2013 Miss Universe pageant" for a meeting with someone who might have "information helpful to the campaign." He said Veselnitskaya, whose name he said he was not told ahead of time, said she had information that "individuals connected to Russia were funding funding the Democratic National Committee and supporting Ms. Clinton. But, he said she made statements that were "vague, ambiguous and made no sense."
Trump Jr. said Veselnitskaya then changed the subject to Russian adoption and it "became clear to me that this was the true agenda all along and that the claims of potentially helpful information were a pretext for the meeting."
Trump Jr. said his father did not know about the meeting. The meeting was attended by Paul Manafort and Kushner, according to The New York Times. In his statement, Trump Jr. said he had asked Kushner and Manafort to attend, but "told them nothing of substance."
The reason for the meeting was first reported by The New York Times.
Asked about the reports, Putin's spokesman Dmitry Peskov said on Monday the Kremlin does not know who the lawyer is and added that the Kremlin "cannot keep track" of every Russian lawyer and their meetings in Russia or abroad.
Earlier, Trump Jr. described it as a "short introductory meeting" in which he asked Kushner and Manafort to "stop by." He said the three discussed a disbanded program that used to allow U.S. citizens to adopt Russian children. Russia ended the adoptions in response to American sanctions brought against the nation following the 2009 death of an imprisoned lawyer who spoke about a corruption scandal.
"We primarily discussed a program about the adoption of Russian children that was active and popular with American families years ago and was since ended by the Russian government, but it was not a campaign issue at that time and there was no follow up," said Trump Jr. in a statement to CBS News on Sunday.
Trump Jr.'s statement added, "I was asked to attend the meeting by an acquaintance, but was not told the name of the person I would be meeting with beforehand."
Additionally, Mark Carollo, a spokesperson for Mr. Trump's lawyer, Marc Kasowitz, told CBS News in a statement on Sunday, "We have learned from both our own investigation and public reports that the participants in the meeting misrepresented who they were and who they worked for."
The statement went on to say, "Specifically, we have learned that the person who sought the meeting is associated with Fusion GPS, a firm which according to public reports, was retained by Democratic operatives to develop opposition research on the President and which commissioned the phony Steele dossier. "
Fusion GPS issued a statement to CBS News on Sunday denying that they had anything to do with the meeting, saying "any claim that Fusion GPS arranged or facilitated this meeting in any way is absolutely false."
Appearing on Fox News Sunday, White House Chief of Staff Reince Priebus called the meeting a "big nothing burger", seemingly a nod to CNN anchor Van Jones, who once referred to the ongoing investigation into Trump associates' ties to Russia as "a nothing burger."
"Talking about issues of foreign policy, issues related to our place in the world, issues important to the American people is not unusual," he said of the discussion.
Thanks for reading CBS NEWS.
Create your free account or log in
for more features.