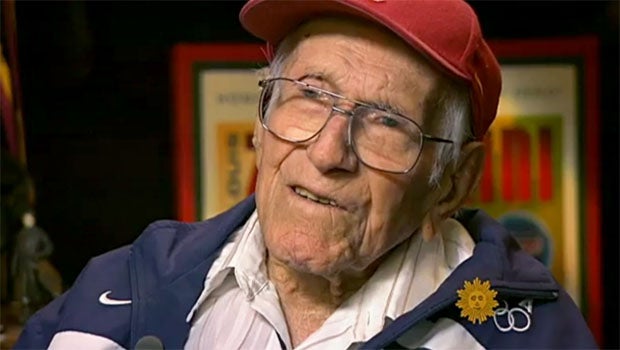 ​Remembering the "Unbroken" spirit of Louis Zamperini
A FINAL SALUTE now to Louis Zamperini, an American hero in both war and peace who died this past week at the age of 97. The suffering he endured during World War II was matched only by the remarkable forgiveness he later extended to his former tormentors.
Chip Reid's visit with him two years ago is this Independence Day weekend's Cover Story:
[An earlier version of this story was broadcast on May 27, 2012.]
"The house is full of antiques," said Louis Zamperini. "Including me!"
Zamperini's home is too small to hold memories of a life so large. There are the trophies honoring his athletic accomplishments, including the five torches he carried at five different Olympic Games
And then there are the souvenirs from the prison camps where he spent two years of his life, including a bamboo fork, and an old belt buckle he still has.
"I'm surprised the Japanese didn't take it away from me, 'cause they were short of brass," he said.
But Zamperini's story was pretty much ancient history -- an elderly man waving in a parade -- until a bestselling book, "Unbroken," reminded the world of his harrowing tale.
His first fame came when he was just a teenager. In 1936, he made the U.S. Olympic team; at 19, he was the youngest qualifier in the 5,000 meters.
He didn't win, but Louis Zamperini became a household name -- a sports hero.
A few years later, the nation was at war, and Zamperini was a bombardier in the Army Air Corps. In May 1943, his B-24 crashed into the Pacific.
"Our number one engine, the rpm stopped," he recalled. "This plane was barely flying with four motors, and with two gone, it just dropped like a rock. And so we hit the water nose down. I felt like someone hit me on the forehead with a sledgehammer. The plane was completely blown apart."
As documented in a 1998 CBS News story from correspondent Bob Simon, Zamperini spotted a life raft floating rapidly away from the burning water. He swam to it. He spent 47 days in the inflatable raft.
"I never prayed before," Zamperini said. "When you're on a raft, you pray like in a foxhole."
He fought off sharks, and battled the sea.
Things went from bad to worse. Zamperini was near death when he was captured by the Japanese and taken to a place known as "Execution Island," where every known prisoner had been put to death.
"They took great joy in telling us we were going to be executed," he said. "They'd always go through the motions [slitting throat]"
It got even worse. His fame back home led to hours of torture and beatings at the hands of a sadistic guard nicknamed The Bird. "I couldn't bear to look at his eyes. I just couldn't do it. To me, they were that sadistic," he said.
When he wasn't being beaten, he was starved, like most of the Americans held by the Japanese. But somehow, he survived.
Louis Zamperini returned home a hero. There were TV appearances, including "This Is Your Life." His life appeared to return to normal.
But the war years, while gone, were anything but forgotten. Haunted by nightmares, he turned to alcohol.
Then, in a last-ditch effort to save his marriage, and perhaps his life, Zamperini joined his wife Cynthia at a prayer service led by a young Billy Graham. Graham's sermon touched on the power of forgiveness.
"That was the first night in two-years-and-a half that I didn't have a nightmare, and I haven't had one since," recalled Zamperini. He said forgiveness "was the complete healing factor in my life."
Which is why Zamperini decided to commit himself to a lifetime of forgiveness.
And that meant he had to go back to Japan, to see the prison guards who'd tried so hard to destroy him.
"The most important thing in my Christian life was to know that I not only forgave them, verbally, but to see them face-to-face and tell them that I forgave them."
That was more than 60 years ago -- and our story would end there, were it not for the book "Unbroken."
He became a celebrity all over again. Readers clamored to see him, to hear him, to applaud his life.
Reid asked, "When you finished reading that book, what did you think?"
"It put me back in prison," he replied, "and I had to stop and look out the window and make sure I wasn't back in prison."
Did he ever imagine it would be a bestseller? "Well, she's a great writer," Zamperini said.
"She" is author Laura Hillenbrand. Her last book was the bestseller "Seabiscuit." "Unbroken" took her seven years to research and write. But in all that time, you may be surprised to learn that the author and the subject of her story never met, not even once.
Hillenbrand never met him because at the time she was suffering from a chronic illness that made it difficult for her to leave her home in Washington, D.C. So, as Zamperini did, we spoke with her by telephone.
She said of her ailment, "Patients often go into times when they are literally unable to get out of bed for weeks or months or years. And it was something that helped me identify with Louie, because his story is largely about suffering."
Hillenbrand says she thinks NOT meeting Zamperini actually made her book better: "Because when he was telling me his stories, I wasn't looking at a 90-year-old man. I was thinking about a 17-year-old runner, or a 26-year-old guy out on a life raft. And I was able to visualize it."
But while Hillenbrand came to know nearly everything about Zamperini, he knew almost nothing about her.
"When the papers printed her story, I couldn't believe it," he said. "The only thing I could do, and I felt was proper, I sent her one of my Purple Hearts. And I said, 'You deserve this more than I do.'"
Reid asked, "Why did you feel she deserved it more?"
"Well, she's been suffering for 30 years. I suffered for a couple of years."
Turns out the 47-year-old author and the aging veteran share much more than the past:
"Laura has said that when times get really tough for her, she calls you," said Reid.
"We talk to each other on the phone. People said, 'Oh, yeah. Louie's my inspiration.' Well, I might say that she's my inspiration."
When we talked, Zamperini said he hoped one day to meet Hillenbrand, and that he had a message: "Well, I don't think we'll tell each other very much, except 'I love you.'"
Not long after, that hope became a reality. While in Washington in 2012, he paid a visit to her home.
Hillenbrand said, "He told me, as we were hugging each other and saying goodbye, he said that the book was the crescendo of his life. And he believes he's lived this long so he could see it written and read. And that was the loveliest thing he's ever said to me."
As for Louis Zamperini, he had something to share with all his newfound admirers.
"You forgave your Japanese enemies," said Reid. "Do you think Americans forgive enough?"
"No, I think it's the hardest thing in life, is [to] forgive," he said. "Hate is self-destructive. If you hate somebody, you're not hurting the person you hate. You're hurting yourself. And that's a healing. Actually, it's a real healing, forgiveness."

For more info:
Thanks for reading CBS NEWS.
Create your free account or log in
for more features.