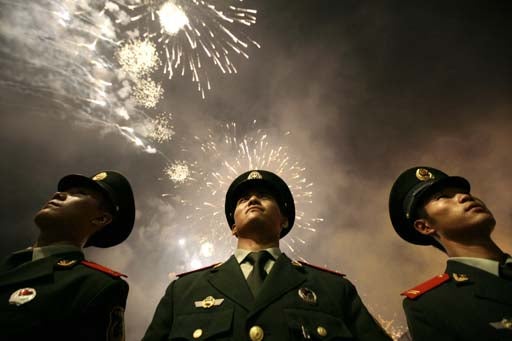 Reducing air pollution during 2008 Beijing Olympics boosted residents' heart health, research reveals
(CBS News) An interesting new study of the 2008 Beijing Olympics lends new evidence to the link between air pollution and heart health. The study found that the Chinese government's cleanup efforts to reduce the smog and chronic air pollution that plagues the city led to a temporary boost in heart health, only to worsen after the games.

"We believe this is the first major study to clearly demonstrate that changes in air pollution exposure affect cardiovascular disease mechanisms in healthy, young people," said study author Dr. Junfeng (Jim) Zhang, a professor of environmental and global health at the Keck School of Medicine of the University of Southern California, said in a university news release.
Published in the May 15 issue of the Journal of the American Medical Association, the study details the cleanup efforts in Beijing that the Chinese government spent $17 billion on the prepare the city for the games, which included closing down factories and limiting automobile traffic from July 20 to Sept. 17 to encompass the duration of the Olympics and Paralympics.

"Beijing is one of the most polluted cities in the world, and the Chinese government had proposed to reduce pollution levels to be comparable to other Olympic host cities," Zhang said. "We wanted to take advantage of such a huge intervention and look at what happens to people biologically."
Zhang's team recruited 125 male and female resident doctors who were an average age of 24 and worked at a hospital in central Beijing - all were non-smokers. Researchers examined their heart rate, blood pressure and biological markers for inflammation and blood clotting, which can be suggestive of heart disease risk.
What did they find? During the Olympics, the researchers observed significant reductions in biomarkers called "Von Willebrand factor" and "soluble CD62P levels" that are associated with blood clotting. Following the Olympics, soluble CD62P levels shot back up along with systolic blood pressure levels, changes that are associated with atherosclerotic plaque instability, which can lead to a heart attack or stroke.
"I'm young, I'm super healthy, I shouldn't worry about those things, is how young people think," Zhang told The Atlantic. "But this study shows that even if you're young and healthy, your physiology can actually detect the impact of air pollution."

A study this February in the Archives of Internal Medicine also reported a link between air pollution and heart health, finding people who live near polluted cities or major highways are at a higher short-term risk of having a heart attack, Reuters reported.

The study underscores the fact that people's health and the environment are indelibly linked, says Dr. Caroline Dilworth, program administrator from the National Institute of Environmental Health Sciences (NIEHS), which provided funding for the study, said in the news release.
Said Dilworth, "When air pollution levels are lowered, the health benefits can be immediate,"
Thanks for reading CBS NEWS.
Create your free account or log in
for more features.