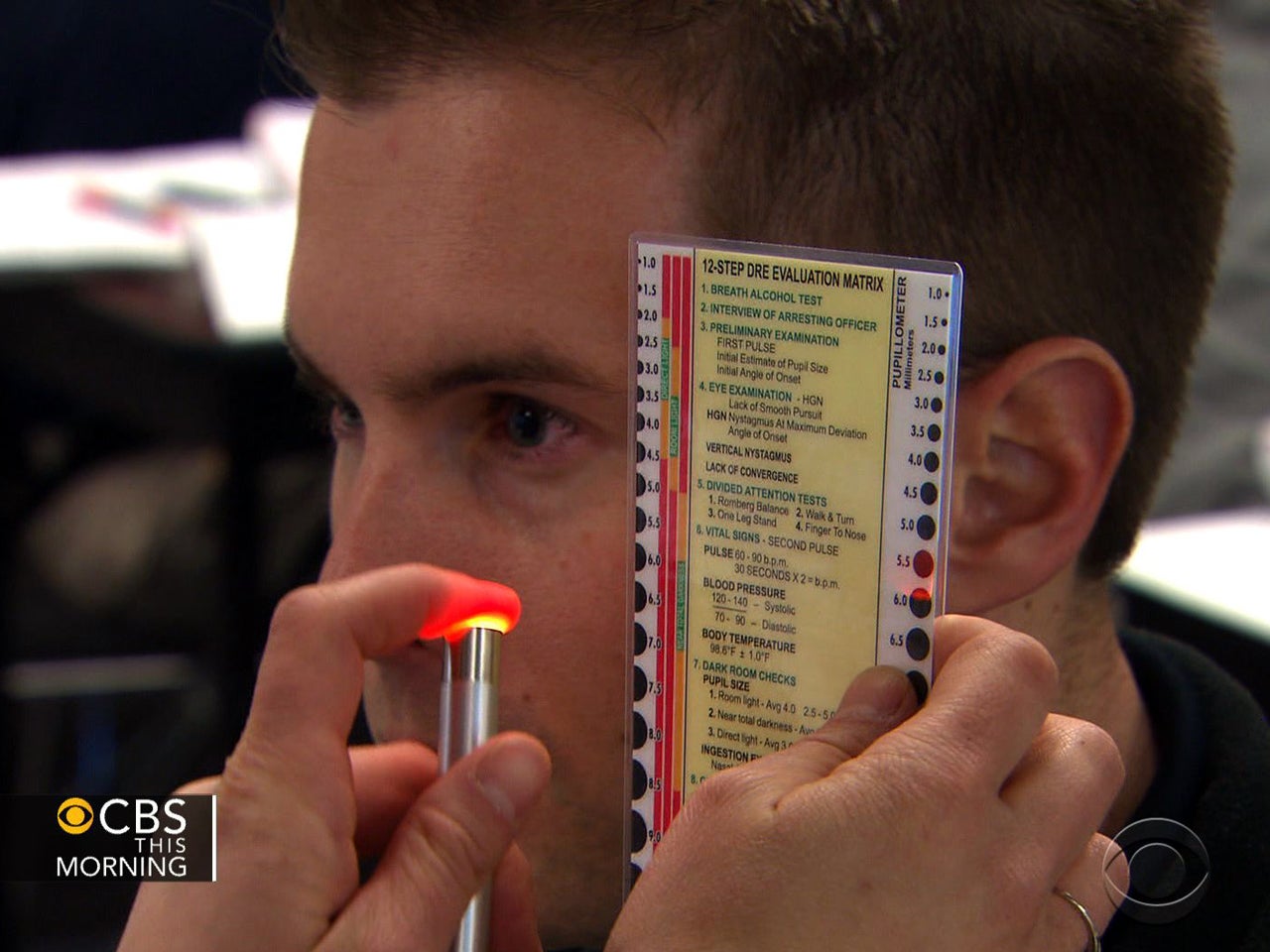 Recreational pot: Colorado police going to new lengths to spot high drivers
The Colorado Department of Transportation will unveil a series of advertisements Thursday aimed at preventing "stoned" driving. The signs are the first of their kind. But that's not all the state is doing to keep its roadways safe.
The law legalizing recreational marijuana in Colorado says the state must "regulate marijuana like alcohol."

And like alcohol, pot can have dangerous consequences behind the wheel.
However, unlike drunk drivers, it can be very hard to actually identify a stoned driver, so authorities are launching an offensive, and Colorado police are learning to take a harder look.
Keeping Colorado roads safe starts with the latest in training in a Denver classroom where the material sounds more like science than police protocol, CBS News' Barry Petersen reported.
Spotting impaired drivers might not be new, but learning to identify stoned drivers is a work in progress.
State troopers take part of a nine-day course, specifically training to spot drivers under the influence of marijuana. Police officers, following the training, are certified as "drug recognition experts." Armed with knowledge on how to administer a range of tests at a highway stop.
Sgt. Blake White, of the Colorado State Patrol, said, "We're kind of learning along, as it goes, as far as how much it's affecting people."
White says he encounters high drivers at all times of day. "There tends to be people that get up in the morning and part of their routine is they smoke marijuana," he said. "That's something they do prior to work."
Asked what he's looking for, White said, "A thing I like to look for is varying speeds. People are speeding up, slowing down, kind of really just driving erratically in general. Driving is a divided attention task. So marijuana kind of stops that, effectively. You can't do it as well."
An officer makes a roadside assessment if he suspects marijuana, but unlike alcohol, it can't be detected with a breathalyzer test. Marijuana does however, have a limit -- five nanograms of active THC in your blood, but the only way to measure whether someone has reached or passed that limit is in a hospital with a blood test.
But perhaps the biggest challenge for authorities might be overcoming the stoned driver stereotype -- slow, but harmless. On the contrary, marijuana was cited as a factor in 15 percent of impaired driving citations so far this year -- the first year Colorado authorities have kept track.
But marijuana is not new to Colorado. Residents have been using it medicinally for four years. Now, with recreational pot legal to anyone over 21, the number of users has exploded.
Keeping the state safe in this new era is a top priority for Colorado Gov. John Hickenlooper. "I think our job right now is to regulate it vigorously, make sure that kids don't get it. Make sure people don't drive when they're high. And if it turns out it is harming our state -- we're going to do everything we can to make sure it doesn't -- but if it does, we're going to make sure the public hears that as well. Let's say it doesn't work out, I want to be able to say, 'We did everything we could to try and make sure this transition to recreational, legalized marijuana was done effectively, fairly and still didn't work.' And then the voters should look at it again."
And a hard look is the promise from police on new signs "Drive high, get a DUI."
Even with all this preparation, Petersen said there's still a lot we don't know about marijuana's effects. There are numerous strands of cannabis that can produce different highs, and people metabolize THC -- the active ingredient that makes you high -- at different rates. So, in the end, individuals simply may not be aware of their levels of intoxication.
Thanks for reading CBS NEWS.
Create your free account or log in
for more features.