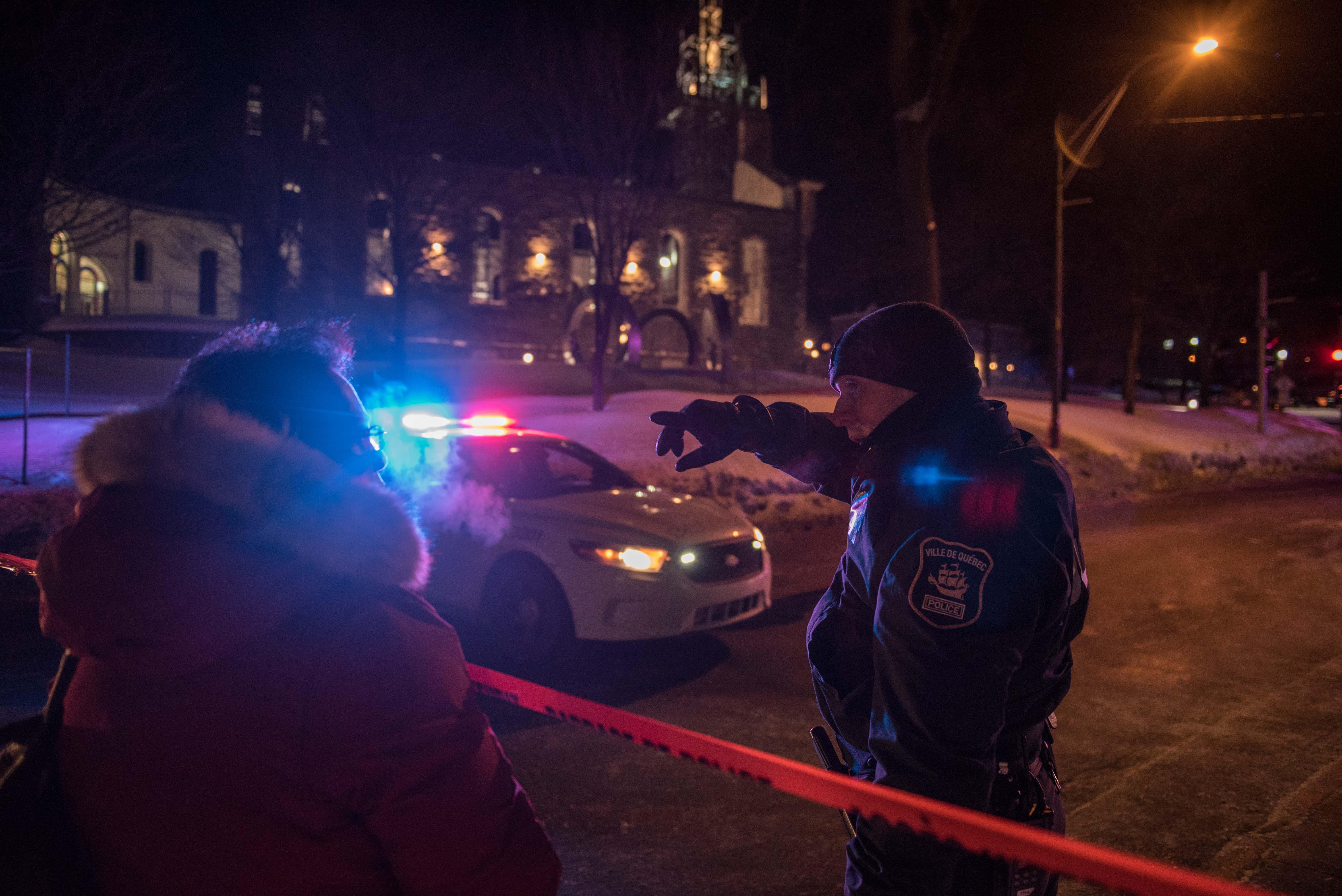 Quebec mosque shooting a terrorist attack, Canadian PM Justin Trudeau says
QUEBEC CITY – A shooting at a mosque here was a terrorist attack, Canadian Prime Minister Justin Trudeau said late Sunday night.
Six people were killed and eight injured in the shooting, which happened during evening prayers. Authorities reported two arrests, but one was later cleared and released.
Quebec provincial police spokeswoman Christine Coulombe said early Monday some of the wounded were gravely injured. She said the dead were approximately 35 to 70 years of age. Thirty-nine people were unharmed. More than 50 were at the mosque at the time of the attack.
One suspect was arrested at the scene and another nearby in d'Orleans, Quebec. Police say they don't believe there are other suspects. They did not release names of the two.
"The Muslim community was the target of this murderous attack," Quebec Premier Philippe Couillard said at an early morning press conference Monday.
Couillard said there will be solidarity rallies across Quebec on Monday and says the province's people will all be together to express horror.
Quebec City Mayor Regis Labeaume appeared visibly shaken.
"No person should have to pay with their life, for their race, their color, their sexual orientation or their religious beliefs," Labeaume said.
Quebec City Islamic Cultural Centre President Mohamed Yangui said the shooting happened in the men's section of the mosque.
Canadian Prime Minister Trudeau quickly took to social media to express his condolences:
Later, Trudeau issued a statement reading in part, "We condemn this terrorist attack on Muslims in a centre of worship and refuge.
"On behalf of all Canadians, Sophie and I offer our deepest condolences to the family and friends of all those who have died, and we wish a speedy recovery to those who have been injured.
"While authorities are still investigating and details continue to be confirmed, it is heart-wrenching to see such senseless violence. Diversity is our strength, and religious tolerance is a value that we, as Canadians, hold dear."
Quebec Premier Philippe Couillard also called it a terrorist attack, depicting it as "barbaric violence" and expressing solidarity with the victims' families.
The attack came amid heightened tensions worldwide over President Trump's travel ban on certain Muslim countries.
The mayor of Gatineau, Quebec near Canada's capital of Ottawa, said there would be increased police presence at mosques around his city following the attack.
The New York Police Department said it was stepping up patrols at mosques and other hours of worships in its city.
The NYPD issued a statement Sunday night saying Critical Response Command personnel had been "assigned to extended tour coverage" at certain mosques.
"NYPD is providing additional protection for mosques in the city. All New Yorkers should be vigilant. If you see something, say something," New York City Mayor Bill de Blasio said on Twitter.
"Our prayers tonight are with the people of Quebec City as they deal with a terrible attack on a mosque. We must stand together," de Blasio said in another tweet.
In the summer of 2016 a pig's head was left on the doorstep of the Quebec Islamic Cultural Centre.The incident occurred in the middle of Ramadan, when Muslims fast from dawn to sunset. Practicing Muslims do not eat pork.
Editor's note: An earlier version of this story referred incorrectly to Canadian Prime Minister Trudeau; his first name is Justin, not Pierre (Pierre was his father).
Thanks for reading CBS NEWS.
Create your free account or log in
for more features.