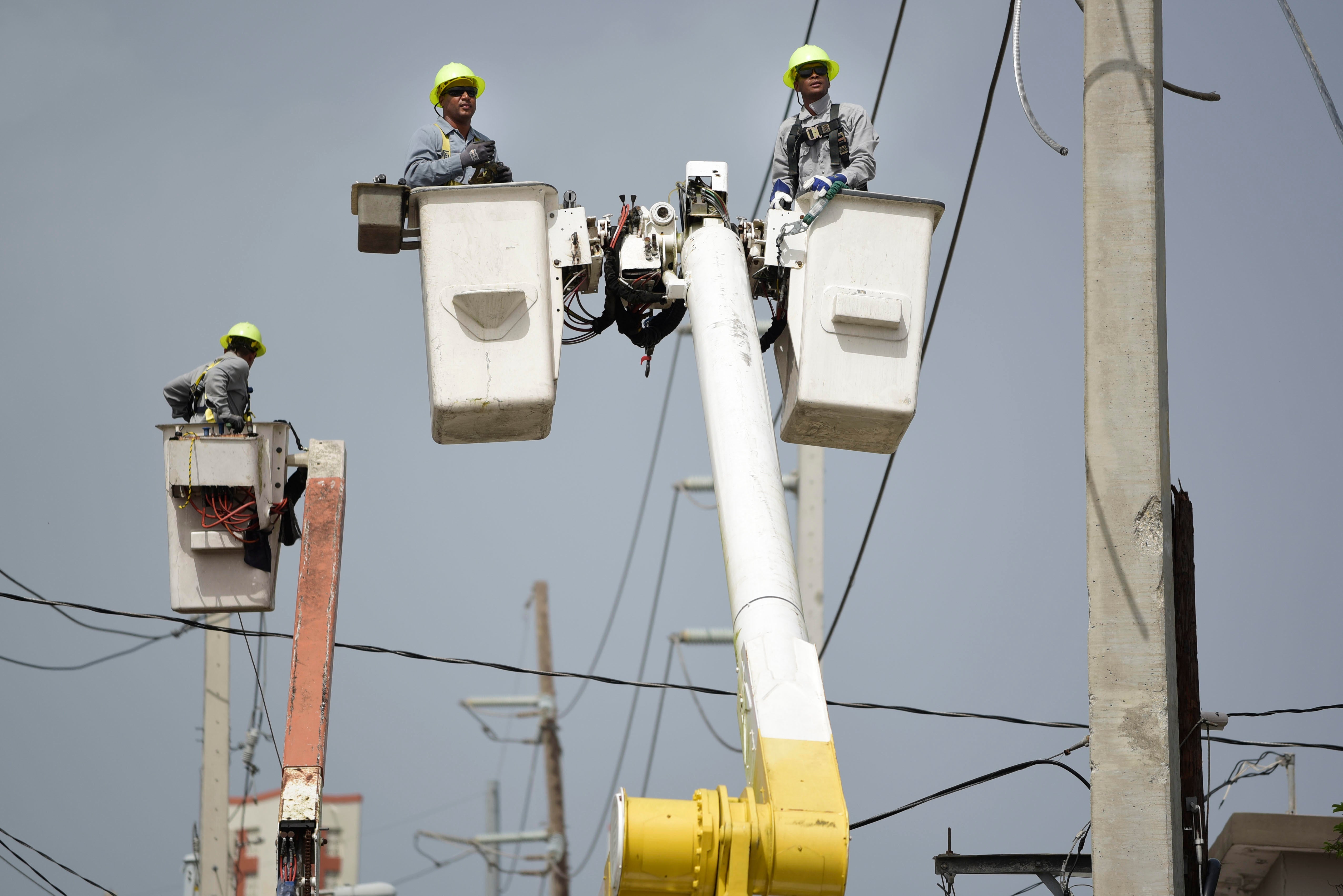 Puerto Rico seeks $300M loan, warns of power company shutdown
SAN JUAN, Puerto Rico -- A federal control board urgently sought a $300 million loan for Puerto Rico's power company on Friday after a judge rejected a previous $1 billion loan request despite warnings the U.S. territory would have to start rationing electricity. The latest request comes as nearly 400,000 power customers across the island remain in the dark more than five months after Hurricane Maria hit the island, causing the longest blackout in U.S. history.
The board filed the scaled-back request before dawn and said Puerto Rico will have to reduce power generation and personnel if it does not obtain the funds by Feb. 20. It also said Puerto Rico's Electric Power Authority is in jeopardy and that $300 million would only allow the company to operate until late March.
"This will further jeopardize service to customers and leave many customers without power," the board said in Friday's filing.
A federal judge found Thursday that neither the board nor government officials provided sufficient evidence to prove the power company needed a $1 billion loan.
Meanwhile, some Puerto Ricans fumed on social media about receiving expensive power bills despite not having lights. They also criticized the government's threat to impose outages due to a lack of funds, with one person saying it would be like reliving Sept. 20, the day the Category 4 storm destroyed two-thirds of the power distribution system.
Just hours before the board filed its latest request, the company announced it was reducing employee working hours from seven to five days a week for safety reasons. It is unclear how that measure will impact power-restoration efforts across the island, and union leader Angel Figueroa did not immediately respond to a request for comment.
But the board also said in its filing that it would seek an additional large loan in the next two to four weeks to help keep the power company running.
Board members and Puerto Rico government officials said they would meet with a group of creditors later Friday, although they did not provide any details.
On Wednesday, a group of creditors offered a $534 million competing loan that the government has not accepted. Puerto Rico's power company is already $9 billion in debt and operating with infrastructure that is nearly three times older than the industry average. The U.S. territory suffered frequent blackouts even before the hurricane, including an island-wide power outage in 2016.
Given the dire situation, Gov. Ricardo Rossello announced last month that he plans to privatize the company in the next 18 months.
Company director Justo Gonzalez said on Friday that power restoration efforts are ongoing and that work was completed on a key transmission line of 230,000 volts that would provide more stability to the damaged grid. He also said that 2,600 transformers will arrive next week, along with nearly 10,000 electrical posts and 922 miles of electric cable in the next two weeks.
"Although we have reached another significant goal, I want to assure those customers that still don't have power that we haven't forgotten about them," he said. "Our work is not done...No one deserves to be without power, so we appreciate your patience."
Thanks for reading CBS NEWS.
Create your free account or log in
for more features.