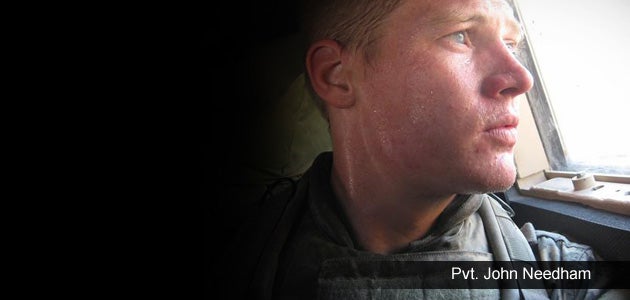 Private Needham's War: A soldier is accused of killing the woman he loves
By "48 Hours Mystery" correspondent Troy Roberts
It is hard to forget the shocking crime scene photos. John Needham pummeled Jacque Villagomez with his bare hands until her facial features were virtually unrecognizable. The blood-splattered walls resembled something out of a Quentin Tarantino movie. It was difficult to reconcile the soft-spoken California surfer with the images the orange county prosecutor showed me. At the time, I remember asking myself could post-traumatic stress disorder, or PTSD, really be responsible for this murder or did John kill in a drunken rage?
Sneak peek: Private Needham's war
That John suffered from the condition is not in dispute. He was hospitalized at Walter Reed Army Medical Center for PTSD and was later diagnosed with traumatic brain injury or TBI. His family told me that John exhibited the classic symptoms. There were explosions of anger and frightening flashbacks in the months leading up to Jacque's death. John was prescribed countless medications (possibly too much) to alleviate his symptoms, but nothing seemed to help him very much. And while he did receive medical care his family claims the military fell short in helping Private Needham.
Exactly how many of our returning soldiers like John Needham, suffer from PTSD is difficult to pin down. One study says that since 2000, eight percent of war veterans in the veterans health system were diagnosed with the condition. Yet another report puts the rate somewhat higher to 14 percent. Many researchers believe the illness may never be accurately reported because of a stigma attached to mental health issues. In fact, John claimed he was ostracized and punished when he sought medical attention for his psychological wounds in Iraq. The military culture may make it impossible to learn the full scope of the problem.
Harder still is getting a clear picture of the number of veterans who have difficulty integrating back into civilian life. Is there a link between the increased intensity of combat exposure and increased risk of violent behavior? In 2009, the Army released a report that acknowledged there may be a link between the stress of combat and violent behavior back home. But the Army was quick to point out combat stress doesn't cause violence, saying it's just one factor of many. While the Army may be reluctant to conclude there is cause and effect, John Needham had no history of violence or criminality before he went to war. And shockingly 14 soldiers from John's base were charged or accused of homicide or attempted homicide in a three year period. Two years ago, the New York Times found 121 cases in which veterans or Iraq and Afghanistan committed murder or were charged with one. It's reasonable to assume that number has risen.
With a nearly complete withdrawal of American military forces from Iraq fast approaching, the overburdened veteran care system will likely be tested to its breaking point. Right now, war veterans receiving care through the veterans system is at a historic high of 40 percent. I question how many soldiers like John Needham who return with psychological war wounds will fall through cracks in the system. How many more soldiers will end up as casualties of war once they return home?
More on 48 Hours Mystery:
Sneak peek: Private Needham's war

Post contributed by 48 Hours correspondent Troy Roberts.
Thanks for reading CBS NEWS.
Create your free account or log in
for more features.