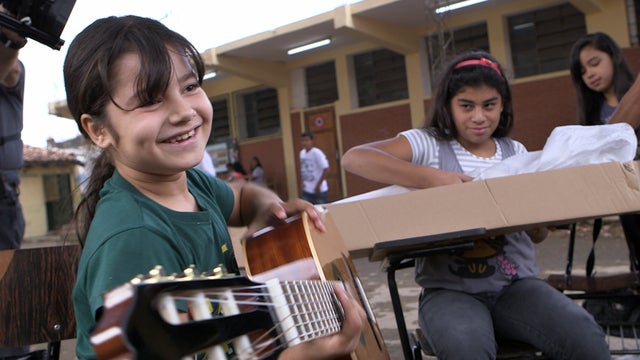 Price of success: Will the Recycled Orchestra last?
The most beautiful instrument that 60 Minutes producer Michael Gavshon found when he visited the child orchestra of Cateura, Paraguay, was a cello. The body of the cello was fashioned out of an oil barrel, and the tuning knobs were made from a hairbrush, the heel of a woman's shoe, and a wooden spoon--all salvaged by workers from the town dump.
For information on how you can help the Recycled Orchestra of Cateura, click here or email orquestareciclados@gmail.com
To learn more about the film "Landfill Harmonic," click here
The cello, and hundreds of other instruments like it, were created by a man named Don Cola, who lives and works in a shack beside the town dump.
"The guy's a magician," correspondent Bob Simon told Ann Silvio of 60 Minutes Overtime. "He had never seen a violin, he'd never heard a violin, he'd never heard any classical music-- he was just working from what people told him to do and he did it, and now he just churns them out."
The 60 Minutes team spent time in Don Cola's workshop, filming him as he crafted a violin out of a paint can and an oven tray. Gavshon says they began to think of him as the "Stradivarius of South America."
Simon and Gavshon's story about the remarkable Recycled Orchestra of Cateura aired on the 60 Minutes broadcast this week, a stunning tale about a group of desperately poor children, who are changing their lives through the power of music.
"Okay, but let's be frank about this: they don't sound great," Simon said with a laugh. "You don't get inspired listening to the music, you get inspired looking at the kids and what they're working with."
The story of the Recycled Orchestra first came to the attention of 60 Minutes last year after Paraguayan filmmaker Alejandra Amarilla posted a short film trailer about the orchestra on the web. She and her collaborators had been filming the orchestra for several years for a documentary. Within days of releasing the trailer, millions of people around the world had seen Amarilla's footage, and donations for the film and new instruments for the children began to arrive in Cateura from well-wishers.
The 60 Minutes team was there to see one truckload of new instruments arrive for the children, a gift from an American music-shop owner.
When the children put down their ragtag instruments and began to unwrap shiny, new guitars, Gavshon said the amazement on their faces was palpable--many of them had never even seen a real instrument before.
It was a happy scene, but the 60 Minutes team also wondered what would become of the Recycled Orchestra, which had grabbed the world's attention because the children used instruments made from trash. Would anyone care about a recycled orchestra that stopped using recycled instruments?
"That's the catch 22, isn't it?" said Simon. "The minute you become famous, you get some money and you buy a proper instrument and then who are you? You're another kid violinist. There are thousands of those around the world."
"But there are no easy answers," said Simon. "I mean you can't ask a guy to be a drummer on an oil barrel when he can get a real drum."
Unbelievably, the Recycled Orchestra of Cateura is now on tour, performing with big-name musicians in the U.S. and Europe--still performing on their recycled instruments.
As for Cola, he continues to make instruments in his workshop by the dump, and he says he finds joy in the fact that the children can soon stop playing on his instruments made from old forks, oven trays, bottle caps, paint cans, and industrial waste: "I'm happy because that trash will be replaced by instruments that have real value."
Photos of the documentary film production and video of the short trailer are courtesy of the Landfill Harmonic movie. "Landfill Harmonic"
Thanks for reading CBS NEWS.
Create your free account or log in
for more features.