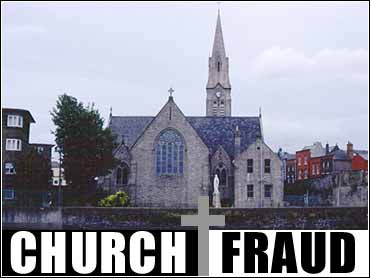 State regulators say 90,000 victims were preyed on by people they prayed with, reports CBS News Correspondent Bob Fuss — almost $2 billion ripped off by con artists with religious investment schemes. And those are only the ones they've caught.
In the past three years, securities regulators in 27 states have taken actions against hundreds of companies and individuals that used religious or spiritual beliefs to gain the trust of more than 90,000 investors.
The biggest so far is Gerald Payne, who ran the Greater Ministries International Church, allegedly a $448 million scheme based in Tampa, Fla. Payne, an ailing, 65-year-old minister, was sentenced Monday to 27 years in prison on fraud charges.
"The fact that you used the word of God to perpetuate a fraud is absolutely despicable," U.S. District Judge James Whittemore told Payne in sentencing him Monday.
The organization's promoters used Bible verses — like Luke 6:38: "Give, and it shall be given unto you" — promising the faithful that God would double their money if they gave it to Greater Ministries. Some 20,000 investors nationwide were persuaded to mortgage their homes, run up big credit-card debts or cash in their retirement funds on the promise of huge returns from investments in cargo ships and gold, platinum, silver and diamond mines in the Caribbean and Africa, the regulators say.
Payne's wife, Betty, was sentenced to nearly 13 years behind bars for her part in the scheme. Investigators have yet to find the missing millions, which they believe might be stashed in secret, offshore accounts.
State investigators say more and more con artists are preying on the faithful, using religion to lure people into phony investment schemes.
Forrest Bomar lost his life savings when he fell for the pitch.
Bomar, a retiree with most of his life savings in brokerage accounts, was tired of the market's swings and attracted by the 6.7-percent return offered on investments by the Baptist Foundation of Arizona.
He and his wife, Lee, are Baptists and were impressed by the salesman who came to their home in Tucson and seemed to share their values. "So we plunged in, repeatedly," Bomar recalled. "I was foolish enough to not ask for an annual report."
Now, the Bomars have lost nearly all of their $236,166 investment in what turned out to be a scam. The foundation declared bankruptcy and was shut down by state regulators, and three foundation officials have pleaded guilty to defrauding investors.
Forrest Bomar said he went through stages of disbelief, shock and deep depression from which he has not fully recovered. Still, in the end, he said Tuesday at a news conference, "My faith was tested; my faith was not taken."
More than 13,000 people around the country, many of them elderly Baptists, invested some $590 million in the organization, state securities regulators said.
Washington State Director of Securities Deborah Bortner said Tuesday that investmen schemes that sound too good to be true, are...even if they're sold in church.
"I've seen more money stolen in the name of God than in any other way," Deborah Bortner, president of the North American Securities Administrators Association, said at a news conference with Bomar. The association represents securities regulators in the 50 states, the District of Columbia, Puerto Rico, Canada and Mexico.
"Always do your homework," urged Bortner. "Be as skeptical and careful when you invest with someone who shares your faith as you would with anyone else."
©MMI CBS Worldwide Inc. All Rights Reserved. This material may not be published, broadcast, rewritten, or redistributed. The Associated Press contributed to this report
Thanks for reading CBS NEWS.
Create your free account or log in
for more features.