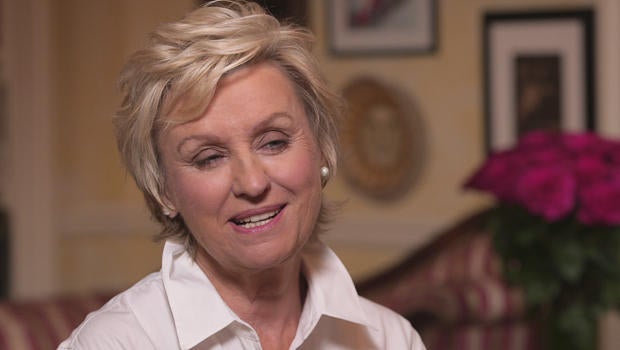 Tina Brown on Harvey Weinstein: "I had no idea what was going on"
Legendary magazine editor Tina Brown opens up about her career, her new book, her relationship with President Donald Trump and her interactions with disgraced film producer and former business partner Harvey Weinstein in an interview with Tony Dokoupil for CBS' "Sunday Morning," to be broadcast November 12.
Brown, whose resume includes editing two of the most respected magazines in America, Vanity Fair and The New Yorker, was partners with Weinstein on a magazine called Talk. Brown tells Dokoupil she never suspected the producer's alleged dark side. She also tells Dokoupil she had no reason to dig deeper into Weinstein at the time.
"No, because it wasn't my business to pry into what he did after hours. I had no idea what was going on," Brown tells Dokoupil.
She also says she was never sexually harassed by Weinstein. "Never. I think Harvey's taste was girls of 21 who were in high-heeled shoes from Hollywood. But you know, it's a very shocking and disturbing story."
In a wide-ranging interview, Brown talks about some of the highlights of her nearly 40 years at the top of the magazine world, including the decision to put the famed image of a pregnant and nude Demi Moore on the cover of Vanity Fair, as well as her recipe for success; her marriage to Sir Harold Evans; her book, "The Vanity Fair Diaries: 1983-1992"; and her interaction with Donald Trump when he was just gossip page fodder in New York.
"Donald Trump always came on the line with a gag, and in a funny way it did win him the hearts of the press, I think," Brown tells Dokoupil. "I found him very beguiling, actually. He had a kind of freshness and bravado that made me laugh. But then he got less and less entertaining."
It changed, she says, because "the desire for publicity made him so impossible to deal with. One of our best writers did a piece on him, and she noted in the piece that he had Hitler's speeches in his office. And he went absolutely ballistic."
A few months later, the future President got his revenge at a party by dumping wine down the back of the writer's dress, she says.
The Emmy Award-winning "CBS Sunday Morning," hosted by Jane Pauley, is broadcast on CBS Sundays beginning at 9:00 a.m. ET. Executive producer is Rand Morrison.
Be sure to follow the program on Twitter (@CBSSunday), Facebook, Instagram (#CBSSundayMorning) and at cbssundaymorning.com. "Sunday Morning" also streams on CBSN beginning at 9:30 a.m. ET, and is available on cbs.com, CBS All Access, and On Demand. You can also listen to "Sunday Morning" audio podcasts at Play.it.
For more info:
Thanks for reading CBS NEWS.
Create your free account or log in
for more features.