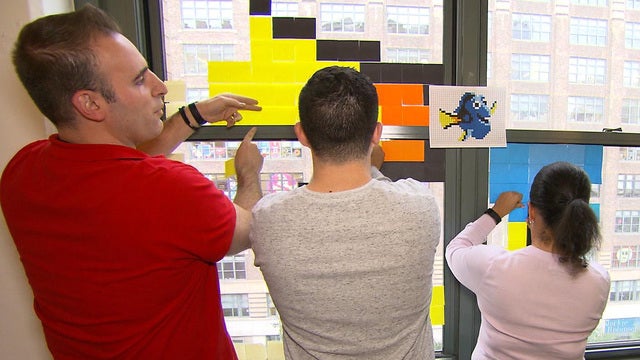 Rival companies tell each other to "stick it" with Post-it war
When advertising agencies go to war, it's typically over high-profile clients, ideas and talent.
But high above the streets of New York City, two companies facing each other on Canal Street are waging a new war using unconventional weapons: Post-it notes. They are transforming the office stationary into artwork in the windows, reports CBS News correspondent Anna Werner.
One of the firms entrenched in the Post-it note war of attrition is the advertising agency, Biolumina. The ammunition is inventive; the strategy, calculating; and the effort, exhausting.
"This is kind of taking over our life," said Kristina Bostley, Biolumina's editorial manager. "A lot of work goes into what details we need to figure out and what colors we have on hand and then we execute. We are pretty serious about it."
The first shot was fired last week - a simple "Hi" constructed out of the classic 3-by-3-inch stationary supply - and snowballed into a very competitive and very public display of artistic expression.
Just across Canal Street at Havas Worldwide, Ilana Waugh and Lisha Klopper are part of a team trying to "stick it" to their rivals.
"Yes, I am out to win. I'll admit it, yes," Waugh said.
"And we will win," Klopper added.
Waugh's going big to win. One of her artistic works is a Batman figure that takes up six windows.
"I wanted to win. Batman is large," Waugh said.
But Bostley clarified that it was a "friendly competition" - or at least she hopes.
"There's really no spying. We have communicated with the other building," Bostley said.
Post-it note maker 3M is joining the fray, but they're staying neutral, sending supply kits to a number of firms on both sides.
Bostley said the Post-it war helps boost creativity in the workplace.
"I think it's actually sort of inspired us to become more creative in our day-to-day work, so I think it's kind of helping us along," Bostley said.
It's also helping foster friendship in the workplace, among people who would have likely never crossed paths.
"It did bring a lot of us together ... We would go from floor to floor," Waugh said. "Everyone would go, 'What are you doing, what are you doing?' and you start to even help each other."
All of this however cannot go on forever. The building's owner says the war must end by May 31 because they don't want Post-it notes on their windows for the next year.
Thanks for reading CBS NEWS.
Create your free account or log in
for more features.