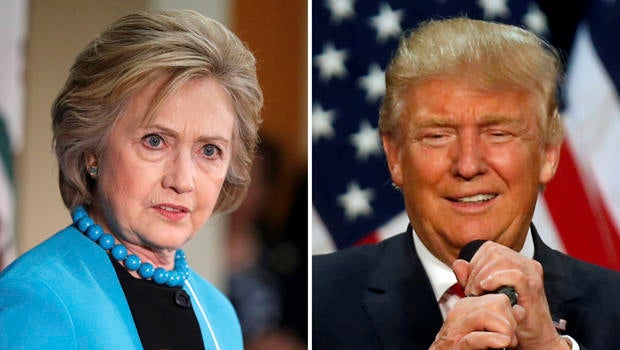 Poll: Women propel Hillary Clinton into battleground lead over Donald Trump
A big swing in the women's vote has propelled Hillary Clinton into a six-point lead across the battleground states, as seven in ten women feel Donald Trump does not respect them.
Last month the women's vote in these key states was five points more for Clinton; today it is 15 points in Clinton's favor – accounting for most of the swing, overall – and it even outweighs partisanship. Trump was at 84 percent among Republican women then, and has dropped to 77 percent today.
And in a sign of what's become a very personal presidential race, at least half of voters say they like Donald Trump's policies on the economy and defense, and even like them a bit more than Clinton's, but Trump is trailing in large part because voters say they dislike him personally.
Seventy percent of voters do not think Trump respects women. Seventy-three percent of women say this, 66 percent of men do. Although most (52 percent) Republicans think people are making too much out of the 2005 "Access Hollywood" tapes, 60 percent of independents find them offensive and 70 percent of women do. Nine in ten women who find the tapes offensive, and who were not already for Trump, say they wouldn't consider Trump now.
In the battleground state of Nevada, specifically, Clinton is out to a six-point lead, an increase from a two-point lead she had in our last survey.
In Utah – a reliably Republican state – Trump is at 37 percent, with independent candidate Evan McMullin at 20 percent and Hillary Clinton at 20 percent.
Despite the lead the poll finds trouble for Clinton coming out of the week. Only 33 percent believe she tells the truth, and after the leaked emails of her campaign chair John Podesta, a majority (55 percent) of voters say the email contents make them feel she has different motives in private than in public. Fewer than half of voters feel she has the character required to be president. Still, 54 percent of voters think it is inappropriate for Trump to suggest he'd try to jail Clinton if he wins.
In a week that's seen plenty of tension between many Republican elected officials and the Trump campaign and the withdrawal of some endorsements, voters want the party to get behind Trump. Seventy-four percent of Republicans feel the party should get behind him. (It's a little higher – 80 percent – among tea party supporters.) Twelve percent of Republicans think the party should try to get him out of the race and 14 percent say the party ought to do nothing.
Fifty-three percent of Republicans say GOP leaders who've left Trump do so for political motives, afraid to lose votes, and not principle; just 13 percent attribute those stances to principles. Thirty-five percent call it a combination of both. Thirty-seven percent of Republicans are influenced at least some by the views of their party's leadership, with 14 percent saying a lot and 23 percent somewhat.
But only 40 percent of the Republicans not currently voting Trump would still consider him going forward. This makes it harder for Trump to get back up to the mid-90's level of party support most nominees typically enjoy.
Trump might be able to have some impact on Republican candidates in a close race, but not a lot. For conservatives, 10 percent would be less likely to vote for a Republican Senate or Congressional candidate whom Trump didn't support. Four percent would be more likely and for 86 percent it would not matter.
Across the battlegrounds more dislike Trump as a person than dislike his policies, and in Utah this is even more so. Across all the battlegrounds 37 percent of conservatives and 34 percent of Republicans do not like Trump as a person. In Utah, 60 percent of conservatives and 59 percent of Republicans don't like him as a person.
Sixty-eight percent of women in the battlegrounds don't like Trump as a person, and 59 percent of men don't like him personally. Sixty-seven percent of voters (and 70 percent of women) do not think Trump "has the character required of a president." This is a similar 68 percent in Utah.
Voters of all stripes feel a president should be a role model (who also gets things done.) But 49 percent of Republicans – most of whom are voting Trump – and 47 percent of conservatives say a President doesn't need to be a role model, they only need to get things done.
Sixty-four percent in Utah do not feel Trump respects people of all faiths. In Utah, immigration matters: Sixty-four percent of conservatives in the battleground states feel immigrants should be deported. Fewer, 41 percent of conservatives in Utah feel this way.
This CBS News 2016 Battleground Tracker is a panel study based on 4,211 interviews conducted on the internet of registered voters in Nevada, Utah; and North Carolina, Pennsylvania, Arizona, Colorado, Florida, Georgia, Iowa, Michigan, New Hampshire, Ohio, Virginia, and Wisconsin. The margin of error is +/- 2.5 in the battleground states; +/-5.7 in Utah; +/- 4.5 in Nevada.
Thanks for reading CBS NEWS.
Create your free account or log in
for more features.